Last week, Army veteran Robert Pressley received a couple of letters that scared him to death.
Though very much alive, the letters from the Department of Defense and Veterans Affairs came to his house addressed to his ex-wife with two checks for the Wilmington, North Carolina, man's funeral.
He wasn't dead though.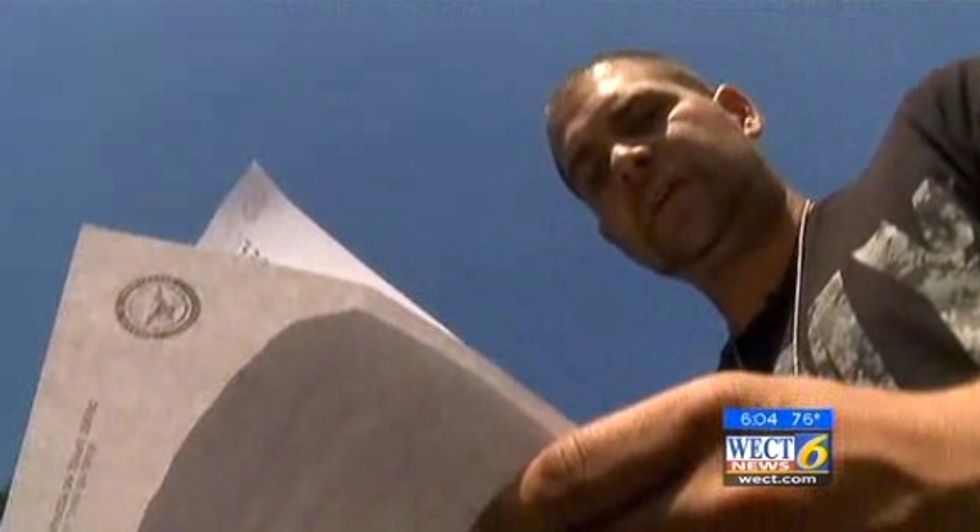 Robert Pressley received letters from the government that offered condolences for his death, but he's still alive. (Image source: WECT-TV)
"To prove that I am alive is just insane," Pressley told WECT-TV. "And it scares me to death that at a touch of a button or because of someone's clerical error my whole life can be taken away from me and it is."
Pressley said that the notice cancelled many of the benefits that he and his family depend upon. What's more, he told WECT that he's informed the departments of his divorce a couple of times, but the letters were still addressed to his ex-wife.
"Gentleman have to wait one, two, three years to get their benefits back," he told the news station. "I don't have that time span."
Watch WECT's report:
Pressley told WWAY-TV that without the benefits, he fears he and his family will need to move to a homeless shelter.
"This is is my only income, you know?" he said. "I depend on this, and without this, I can do the best I can. You know it's either that or I start selling everything I own just to make sure I meet my ends. That's the only other thing I can do."
According to both news outlets, Pressley contacted the VA several times since receiving the notice without success at fixing the problem yet. The outlets also contacted the VA, DOD and others for comment but did not receive a statement about the situation. The VA also did not immediately respond to TheBlaze's request for comment.
(H/T: WNCN-TV)