A self-described "middle-class millennial female" penned a scathing letter aimed at Hillary Clinton Tuesday, skewering the Democratic presidential candidate over criminal justice reform and accusing of her of lacking transparency.
I wrote a letter to @hillaryclinton. Still waiting on a response... http://t.co/TDBpdOanPl

— Kat Timpf (@Kat Timpf)1430867418.0
The open letter, written by National Review reporter Katherine Timpf, took issue with Clinton's announcement in a speech last week that it's "time to end the era of mass incarceration."
"I have some questions," Timpf said at the outset of her letter.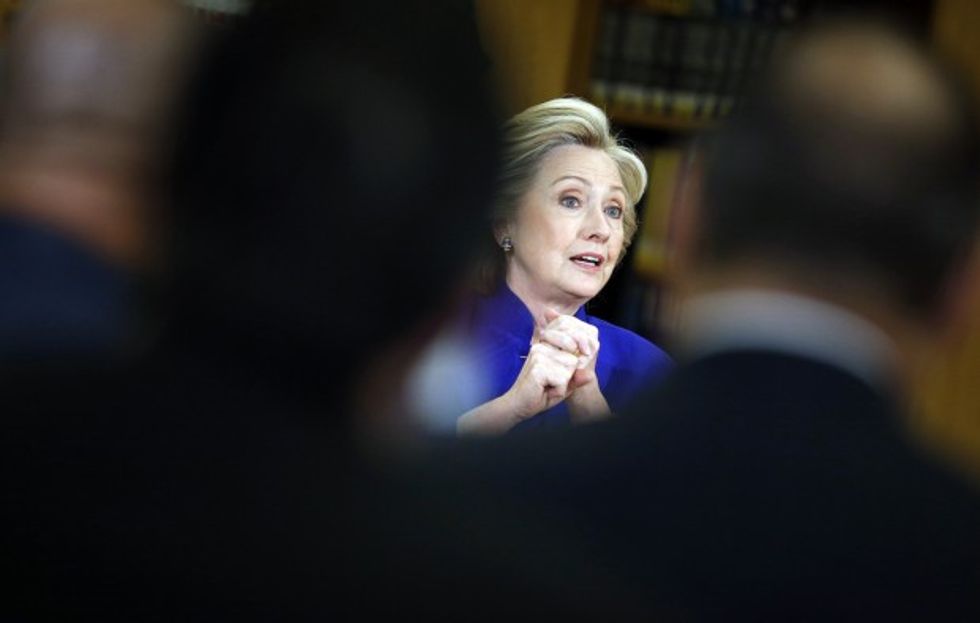 Democratic presidential candidate Hillary Rodham Clinton speaks at an event at Rancho High School Tuesday, May 5, 2015, in Las Vegas. (AP Photo/John Locher)
Timpf wrote that she found Clinton's current position odd, given her previous record as first lady.
Now, I do agree with that statement — and I don't mean to be all judgies or whatever — but I gotta say I was pretty surprised to hear it coming from you. After all, your record seems to suggest that you do think that locking people up is the answer. During your time as First Lady, while Bill was enacting policies that provided funding to build more prisons and pushed states to adopt harsher sentencing laws, you cheered him on.

You made sure everyone knew that this "tough on crime" approach wasn't just your husband's — it was yours, too. During a speech in 1994, you said we need "more prisons" (why would you want more if you thought they did "little to reduce crime"?) and "more and tougher prison sentences for repeat offenders" (people like Freddie Gray, whose plight you now suddenly seem to sympathize with).
Timpf then took aim at Clinton over recent accusations she wasn't transparent during her time as secretary of state.
You also talked about wanting body cameras for police to record their every move, for the sake of "transparency and accountability." I love this idea. Imagine being able to watch every single move that these officers make just to make sure that the people we trust with so much are serving us the way that they promised they would. Honestly, transparency sounds wonderful to me and to so many in my generation who are fed up with finding out that politician after politician has been lying to us and keeping secrets. I have to ask, though, if you want cops to turn over camera footage of every single moment of their shifts, why did you turn over only some of your e-mails from your time as secretary of state? What is the difference?
Speaking to TheBlaze Tuesday evening, Timpf said she has received a "pretty positive response" to her letter.
"A  lot of people have the same questions as I do, but apparently she doesn't seem to think she has an obligation to answer questions or explain herself to anyone," she said.
"Criminal justice reform is no doubt a very important issue, and the current system has been devastating to a lot of people and their families," Timpf added to TheBlaze. "Given this, you'd think Hillary would have the class to acknowledge that she was wrong to support the kinds of policies that contributed to the problem before blatantly exploiting the people they affected people for her own political gain."
—
Follow Oliver Darcy (@oliverdarcy) on Twitter