Former Arkansas Gov. Mike Huckabee announced his second campaign for president by taking a shot at President Barack Obama's famous campaign slogan and tying it to his own hometown of Hope.
"The promise of hope was all talk," Huckabee said. "Now we really need the kind of change to get America from hope to higher ground."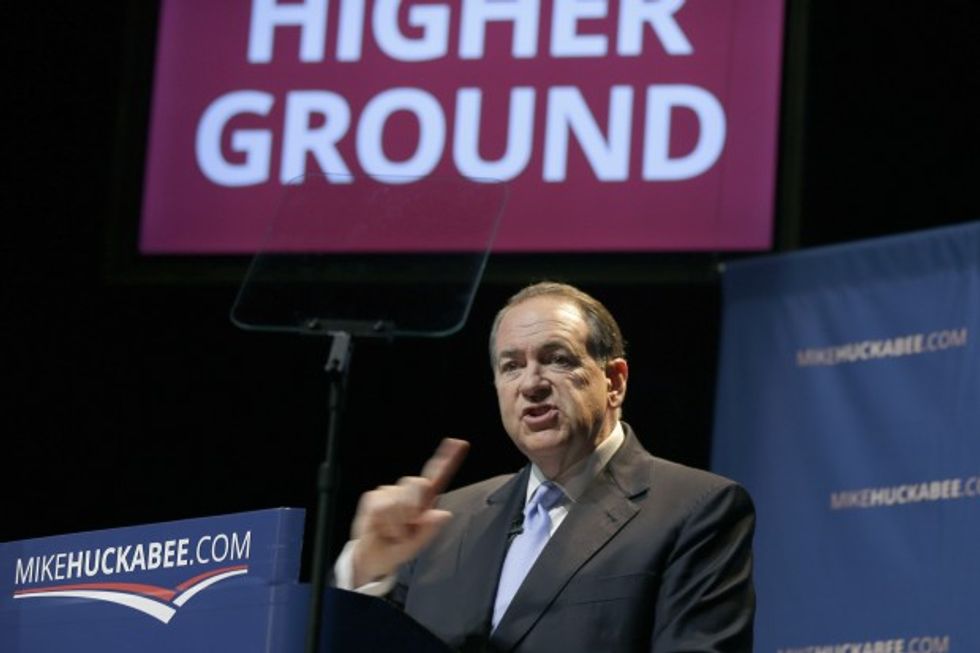 Former Arkansas Gov. Mike Huckabee announces his intention to seek the Republican nomination in the race for president in Hope, Ark., Tuesday, May 5, 2015. Huckabee pitched himself Tuesday as the best GOP candidate to take on Democratic favorite Hillary Rodham Clinton. (AP Photo/Danny Johnston)
In an announcement steeped in religious references, Huckabee, a former pastor, spoke against the "criminalizing of Christianity" in regard to religious freedom and gay marriage.
"The Supreme Court is not the supreme being," he said. "It cannot overturn the laws of nature or nature's god."
Casting himself as a working man's candidate, Huckabee said, "I grew up blue collar, not blue blood" and vowed to "never be the candidate of the Washington-to-Wall Street corridor."
With former Secretary of State Hillary Clinton as the overwhelming favorite to be the Democratic nominee, Huckabee said he has already beaten the Clinton political machine once in Arkansas. He ascended to the Arkansas governor's office in 1996 after then-Gov. Jim Guy Tucker resigned over a conviction in the Whitewater scandal. Huckabee was twice elected in his own right and served until January 2007.
Huckabee won the Iowa caucus in 2008 and seven other states that year, but failed to capture the Republican Party's nomination.
Huckabee was popular with evangelical and social conservative voters in 2008, but competed in a largely centrist field against the likes of John McCain, Mitt Romney and Rudy Giuliani.
By contrast, the 2016 GOP field is more conservative and younger. Texas Sen. Ted Cruz also has strong appeal for social conservatives, as does former senator and 2012 Republican Iowa caucus winner Rick Santorum, who appears poised to launch another bid as well. Huckabee, an avowed opponent of libertarianism, will also be facing Kentucky Sen. Rand Paul in the Republican primary.
The former governor referenced his signature economic proposal of the 2008 campaign — a national sales tax known as the fair tax – to replace the federal income tax.
"I'll work to pass the fair tax, which will no longer penalize work," Huckabee said. "The IRS will disappear and April 15 will be another beautiful spring day."
He also took a hawkish stance national security.
"We will not merely contain jihadism, we will conquer it," Huckabee said. "Israel will know we are their trusted friend and Iran ayatollahs will known that hell will freeze over before they get a nuclear weapon."
Talking about the Department of Veterans Affairs waitlist scandal, he vowed that as president, "our veterans are not going to be left in waiting rooms to rot. They are going to be treated with the dignity they deserve."
After losing the GOP nomination in 2008, Huckabee hosted a weekly Fox News show, keeping his name in the public realm. He gave up the show to explore the possibility of a second White House run.