The Defense Department – which provides some of the highest priced contracts in the federal government – put together a "Better Buying Power" initiative to promote efficiency and save tax dollars by having more companies compete to do business with the Pentagon. That was 2010.
Since the initiative began, fewer than half of all Pentagon contracts have been awarded in a competitive bidding process, according to the Government Accountability Office, the government's internal watchdog.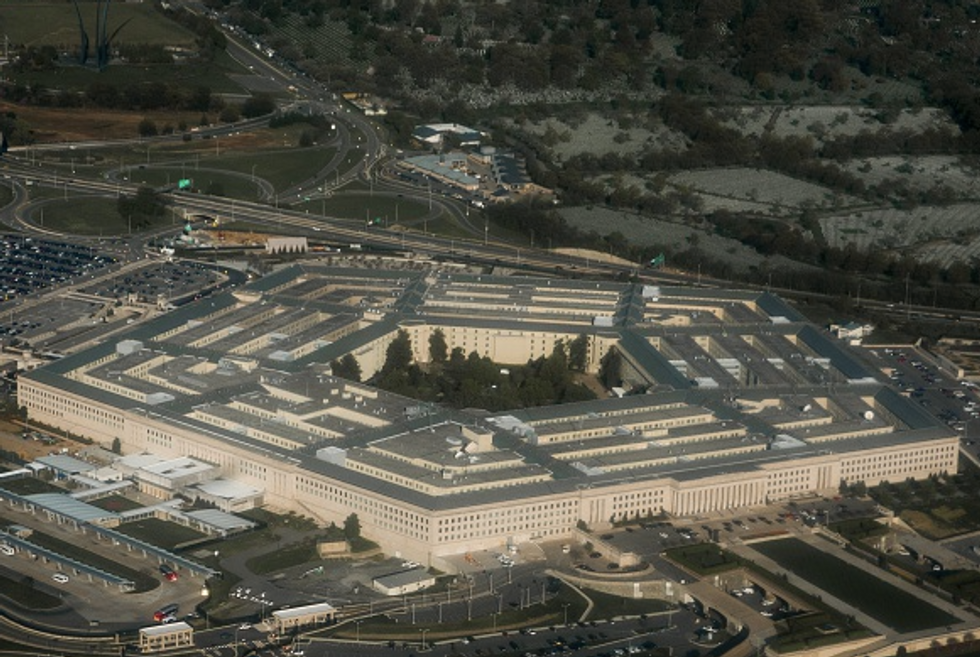 The Pentagon in Arlington, Virginia outside Washington, DC is seen in this aerial photograph, April 23, 2015. (Photo credit should read SAUL LOEB/AFP/Getty Images)
The audit found the Defense Department awarded $284.4 billion in contracts for products and services in fiscal year 2014, of which 58.2 percent were put out for competitive bidding. However, the GAO reports goes on to explain, "DOD's competitive one-offer awards represented roughly 13 percent of all competed obligations for fiscal years 2013 and 2014."
That means about 45.2 percent of all contracts over the last two fiscal years had more than a single company bidding.
"When only a little more than four out of 10 military contracts had multiple bidders that's a problem," Scott Amey, general counsel for the Project on Government Oversight, told TheBlaze. "I think the DOD wants as much competition as possible because it saves money and leads to more efficiency, but there are several factors why there is not as much competition."
Broken down further, just 43 percent of all products the Pentagon bought were through a competitive bid process. But, for services, it's up to 71 percent. The 2012 National Defense Authorization Act directed the GAO to report on the progress of the DOD's 2010 initiative.
The law requires competitive bidding in all government agencies to protect taxpayers and avoid favoritism. However, there are several exceptions for federal agencies, such as urgency or if only one company is qualified to provide a product or service. In the case of the Defense Department, the most often cited exemption was "only one responsible source" to contract with.
The breakdown among branches varied. The Navy used the "only one responsible source" in 83 percent of its contracts in fiscal year 2014, while the Air Force and the Army each used the exemption to award 58 percent of it's contracts.
It's difficult to determine if single bid or no bid contracts for any federal agency indicate corruption, Amey said.
"We have the revolving door of a lot of federal government employees going to work as lobbyists and giving a firm a leg up," Amey said. "At the end of the day, we can only hope that these contract officers are civil servants looking out for the best interest of the DOD and the taxpayers."
—