A California couple who turned to a surrogate living in Mexico to bear their child is now stuck in the country, having trouble getting a birth certificate for their newborn baby boy.
"We just want to get home," Christy Amireh from San Jose, California, told KPIX-TV in a Skype interview from Tabasco, Mexico, this week.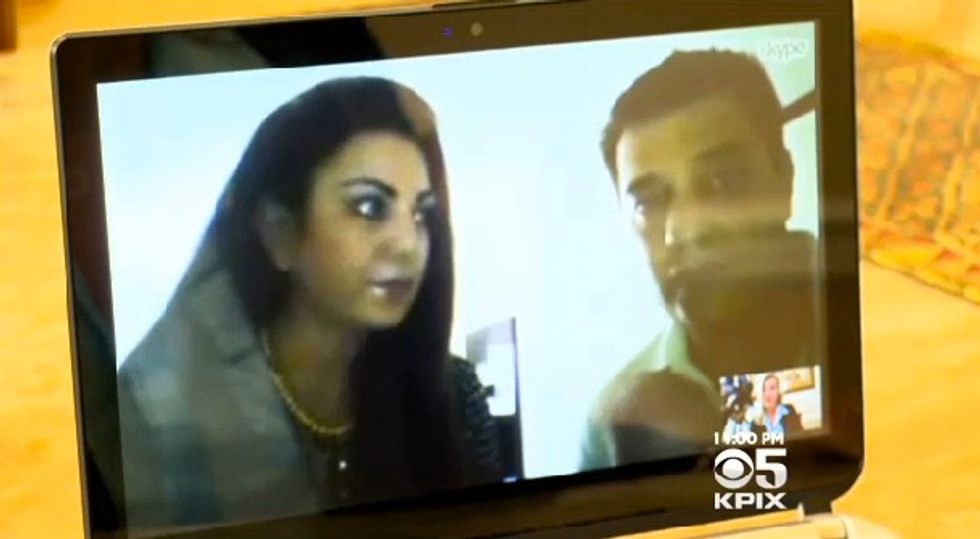 Christy Amireh and her husband spoke to the news station using Skype from Mexico where they are stuck with their newborn son, unable to get him a birth certificate at this time. (Image source: KPIX-TV)
According to a GoFundMe page for the family, Amireh's son, Grayson, was born on April 16. She and her husband were in Mexico for his birth — and they've been there since.
Without a birth certificate, they told KPIX, they cannot get a passport to bring their son home.
Rep. Eric Swalwell (D-CA) told the news station Tabasco Gov. Andres Rafael Granier Melo apparently put a moratorium on birth certificates for children of surrogates.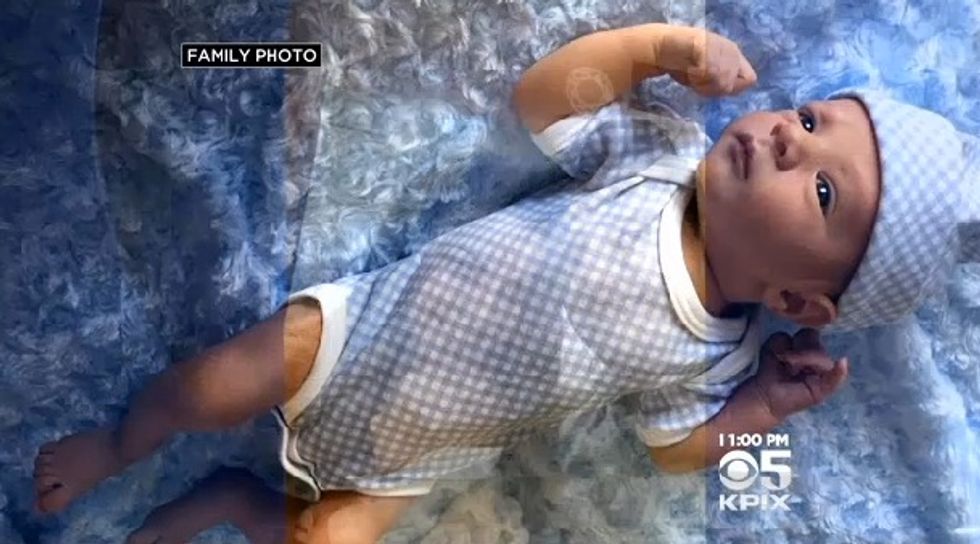 Grayson Amireh was born to a Mexican surrogate. His parents are U.S. citizens. For several weeks, they have been stuck in Mexico waiting for documentation that will allow them to come home. (Image source: KPIX-TV)
"I think this highlights why it's really important to understand the laws of any country you are traveling to, to make a health care decision," Swalwell said.
Watch KPIX's report:
The Amireh's are not the first to face this situation. Earlier this year, a couple from British Columbia fought to receive birth certificates for their surrogate twins born in Mexico and a gay couple from Spain had trouble getting a passport for their child born there as well.
Even if there aren't issues with getting a birth certificate or passport, the group Surrogacy Beyond Borders notes that the normal exit process can take weeks:
Exit processing times from Mexico are longer than India or the US and can vary. While I have personally seen the exit process take 3-4 weeks, the embassies are quoting about 5 weeks due to DNA processing times. You will not be able to travel from Tabasco to Mexico City (where most embassies are located) for at least 10 days past birth (more if there are medical issues requiring NICU). Your process with the embassy will not start until you arrive in Mexico City and meet with the embassy. This adds to your time and can mean you will end up in Mexico for 5 weeks (three weeks longer than India's 2 week estimation). Make sure your agency has a relationship with your embassy and you know WELL in advance what documents you will need. It will help to speed up the process as much as possible.
A story published by the Guardian last year described the increase of surrogacy businesses in Mexico that especially markets to same-sex couples, showing how the surrogates face their own horror stories as well.
The U.S. State Department allows children born to foreign surrogates to be U.S. citizens if their genetic material is from parents who are citizens. For citizenship purposes, the law considers them a child born out of wedlock.
"The status of the surrogate mother is immaterial to the issue of citizenship transmission," the State Department document said on the topic. "The child is considered the offspring of the biological parents [...]."