Brandon Valle was in the library studying for finals at the University of Nebraska at Omaha on Wednesday when another student's loud cellphone conversation had gone on long enough.
Valle asked the guy to take his call elsewhere so everybody could hit the books undisturbed. His request, however, wasn't politely received.
In fact, Valle said, the fellow student pulled a pocketknife and began making threats.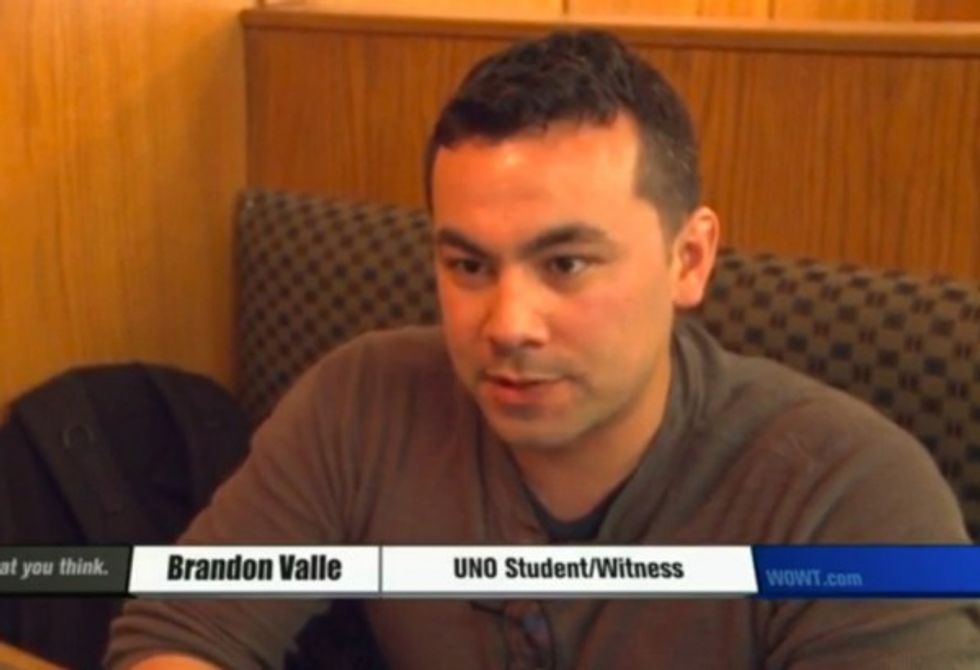 Image source: WOWT-TV
But little did he know that Valle, 30, is also an Army soldier with 12 years of experience in the service and ROTC and has been trained to handle such situations.
"He's screaming out he's going to kill us and slit people's throats," Valle told WOWT-TV. He said that once he "knew it was a threat and this person had crossed a line, it was time to do something about it."
Valle grabbed the student's wrist, twisted it and wrestled him to the carpet. Two other students came to Valle's aid, knocking away the knife and holding down the student until campus and Omaha police arrived.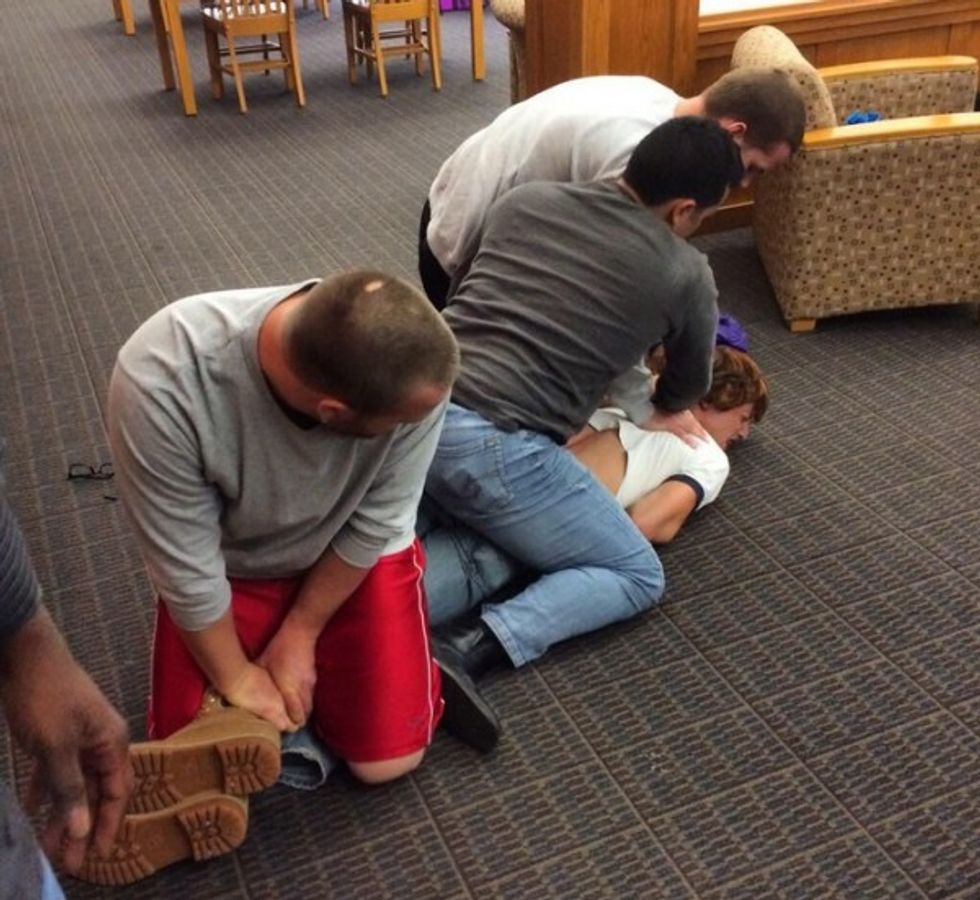 Valle is the student in the middle, in the dark shirt and jeans. (Image source: Imgur)
According to WOWT, the other student actually had three knives in his possession.
Leo Labogen, 20, was charged with attempted felony assault and three counts of carrying a concealed weapon; he's not an unfamiliar sight to police, who intervened in a fight between him and his roommate last June, the station reported.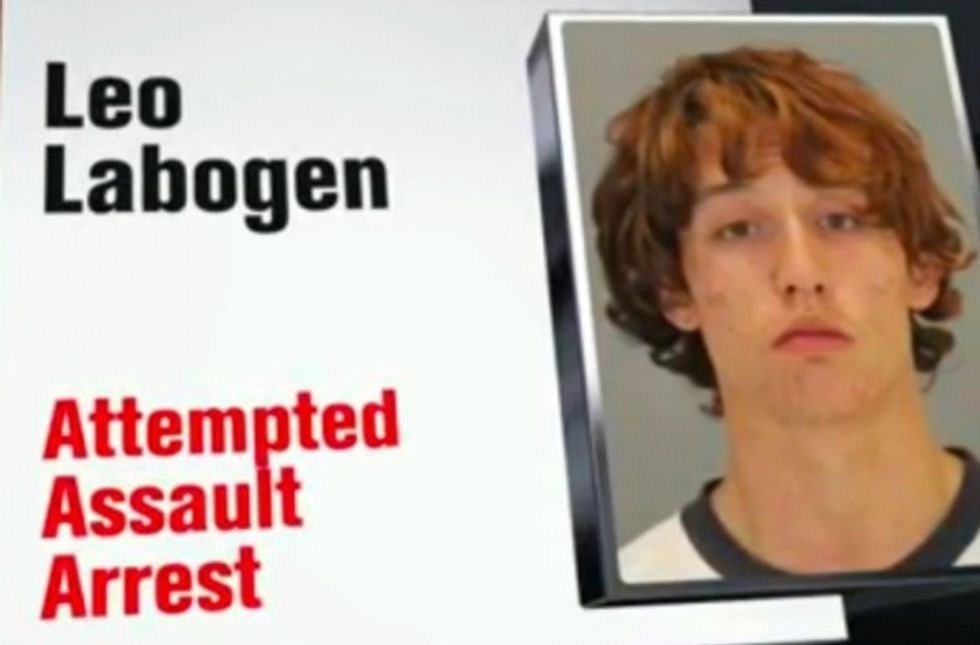 Image source: WOWT-TV
Valle's actions didn't go unnoticed by appreciative peers.
"Knowing there are people on campus that are ready to help out and do what's necessary to keep people safe is a relief," Jennifer McDanal, who also was studying in the library, told WOWT. "It's really a blessing."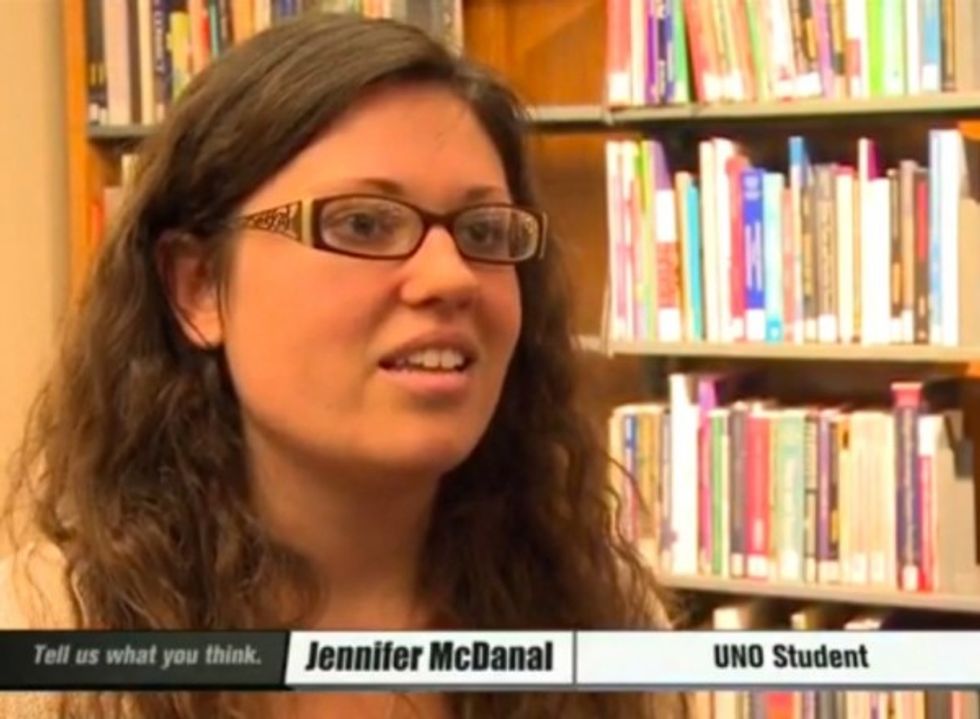 Image source: WOWT-TV
But asked if he felt like a hero, Valle grinned, looked down and shook his head.
"No," he said. "No, absolutely not."
(H/T: Reddit)
—
Follow Dave Urbanski (@DaveVUrbanski) on Twitter