© 2023 Blaze Media LLC. All rights reserved.
Video: The Tense Moments Inside the Texas Muhammad Event Right After the Shooting
"A police officer's been shot and two suspects have been shot."
When two gunmen opened fire outside the Curtis Culwell Center in Garland, Texas, cameras were rolling inside where a Muhammad cartoon contest was underway.
The United West, a Florida-based nonprofit dedicated to "defending and advancing Western civilization against the kinetic and cultural onslaught of Shariah Islam," was live-streaming the event, and captured the tense moments inside as attendees learned what was unfolding. A nine-minute clip culled from the three-hour video stream shows what happened as the news broke inside.
United West Executive Director Tom Trento was streaming interviews with some of the attendees who had just heard speeches from Dutch politician Geert Wilders, Pamela Geller and others when a police officer announced that there had been a shooting. The officer told the crowd that due to concerns about possible explosive devices or additional suspects in the area, the people inside were going to be moved to a location farther away from the front of the building.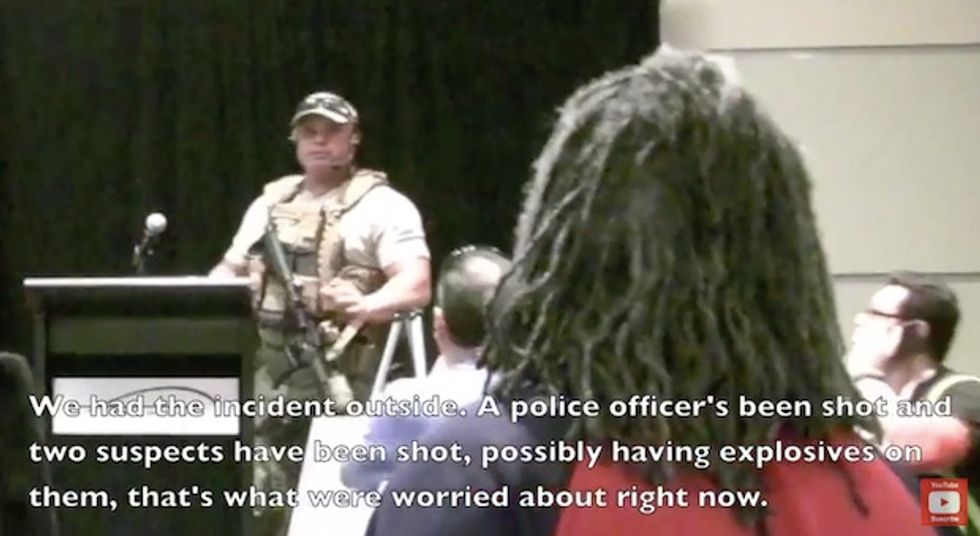 Image source: YouTube
SWAT officers from local law enforcement moved everyone into a large arena on the other side of the building.
Trento told TheBlaze they were held inside the arena for two hours, provided pizza, and then were bused to a firehouse about 10 miles away. He continued recording all the way to the firehouse, noting the police presence at every intersection, as well as groups of people taking pictures and video of vehicles like theirs.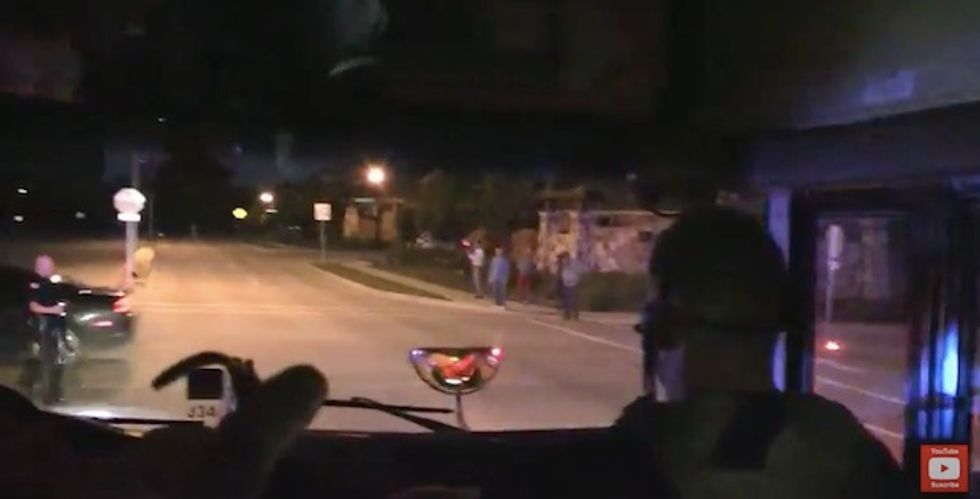 Image source: YouTube
Inside the fire station, a building Trento described as "surrounded by law enforcement," the group was given some additional details and instructions from the Garland police.
"We were interviewed by local detectives and then FBI agents," Trento told TheBlaze. "We were asked to sign affidavits, swearing to what we saw or didn't see."
Inside the firehouse, they were told they could call family and friends to let them know they were safe but were asked not to reveal their location on the calls or go on social media.
"You guys realize you were just involved in a terrorist event?" an officer said.
After all of the witnesses were interviewed and had completed the FBI paperwork, most were transported back to their hotels, but due to the concern over possible explosive devices, those parked near or staying at a hotel within two miles of the Culwell Center were not allowed to return to them and instead were driven to a hotel Trento described as "outside the possible blast zone" and put up for the night.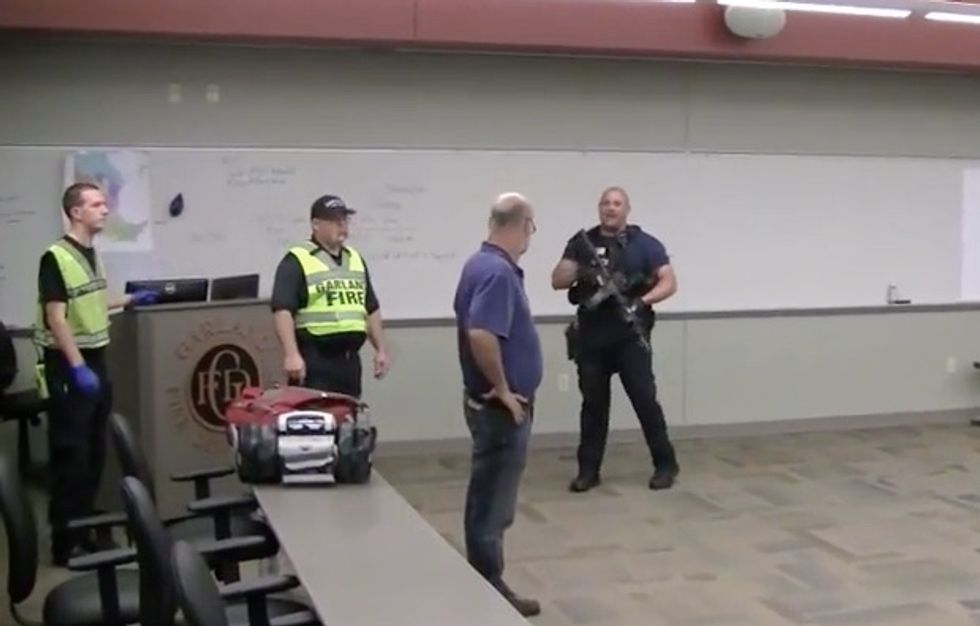 Image source: YouTube
Trento, who was prevented from retrieving his car or returning to his hotel until late Monday afternoon, gave high praise for the FBI and all local law enforcement involved in the response: "We were given first-class treatment through the entire experience," he said.
Despite a claim of responsibility for the attack by the Islamic State, the White House said there is no confirmation that it was the work of any specific group.
—
Follow Mike Opelka (@Stuntbrain) on Twitter
Want to leave a tip?
We answer to you. Help keep our content free of advertisers and big tech censorship by leaving a tip today.
more stories
Sign up for the Blaze newsletter
By signing up, you agree to our
Privacy Policy
and
Terms of Use
, and agree to receive content that may sometimes include advertisements. You may opt out at any time.