© 2023 Blaze Media LLC. All rights reserved.
Prominent Businessman in Oklahoma Town Was Pulled Over for DUI Suspicion. Who the Police Chief Says Tried to Get Him Off the Hook Is 'Highly Unethical.
"We live in a good ol' boy system here in this town."
A small town in Oklahoma with a population of less than 2,000 has a police force with officers who are just trying to do their job and follow the law. But after a recent incident that some have chalked up to be evidence of a "good ol' boy system," some of the cops say their employment has been threatened.
Here's what happened.
Two months ago, in Chelsea, Oklahoma, officer Nicholas Pappe pulled over local businessman Brian Haggard for suspicion of drunk driving, KTUL-TV reported. Haggard would go on to be arrested for allegedly driving under the influence, but apparently not without some of the city's top officials trying to come to his aid first.
Officer Nicholas Pappe pulled over a Chelsea businessman a couple of months ago. (Image source: KTUL-TV)
Assistant police chief Travis Hogan told the news station that the police commissioner phoned him about the situation in progress and he said the city manager even made a personal appearance during the traffic stop.
"I was shocked when I received the phone call from the police commissioner," Hogan told KTUL. "I thought he knew better than that. But for him to call me and ask me if I would allow him to leave his home to the traffic stop and pick that individual up and take him home in lieu of even a citation much less an arrest, I find that highly unethical."
"If you would give me a free pass tonight, I would sure appreciate it," Haggard can be heard saying in the dashcam video of his arrest after the city manager arrived on the scene.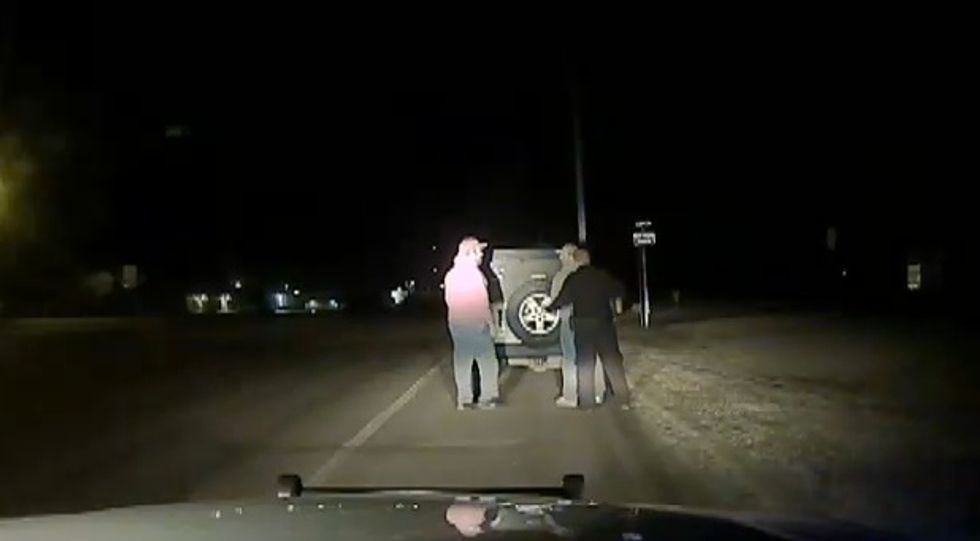 Here a man the assistant police chief identified as the city manager arrived during Haggard's arrest. (Image source: KTUL-TV)
Ever since Pappe went through with the arrest, Hogan said he and other officers have had their jobs threatened.
"[Haggard] has made it a point to tell anybody that will listen in this town that 'I will have the job of the chief, the assistant chief, and Nick Pappe,'" Hogan told KTUL.
"We live in a good ol' boy system here in this town," Hogan told the news station of the backlash the department has been facing since Haggard's arrest.
Haggard wouldn't speak to KTUL on camera, but denied making threats and said the "cops are ruining the reputation of the city."
Watch the report:
KTUL.com - Tulsa, Oklahoma - News, Weather
(H/T: Reddit)
Want to leave a tip?
We answer to you. Help keep our content free of advertisers and big tech censorship by leaving a tip today.
more stories
Sign up for the Blaze newsletter
By signing up, you agree to our
Privacy Policy
and
Terms of Use
, and agree to receive content that may sometimes include advertisements. You may opt out at any time.