Police in Delaware have released dashcam video showing a white officer kicking a black man in the face.
The incident occurred in August 2013 but the Dover Police Department didn't release the video until Thursday when a federal judge ruled the footage should not be confidential. Its release came just three days after the arrest of the officer, Thomas Webster, who is seen kicking Lateef Dickerson.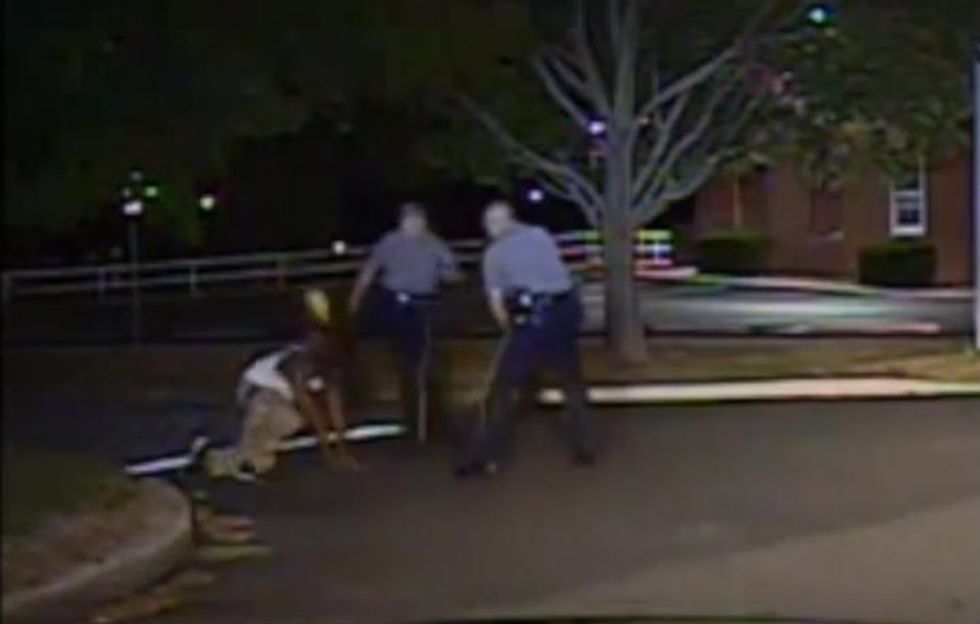 Image source: Dover Police Department via YouTube
The now-30-year-old Dickerson put his hands up after he was cornered by cops. The officer whose dashcam shows the confrontation got out of his patrol car while yelling at the suspect to "get on the f***ing ground." He then runs over to Dickerson where he meets another officer, Webster, who was coming from the opposite direction.
Webster and the other officer whose name has not been reported both aimed their guns at Dickerson as he surrendered and knelt to the ground. Right as Dickerson began cooperating, however, Webster hauled off and kicked the suspect in the face. The sudden blow left Dickerson unconscious and with a broken jaw.
The Dover Police Department placed Webster on paid administrative leave in November 2013 pending an internal investigation and a review by the Delaware attorney general. The state's top law enforcement officer took the case before a grand jury but it did not return any indictment. Webster returned to work in June 2014.
But this week, Delaware's newly-elected Attorney General Matt Denn took the case before a second grand jury, which did offer an indictment. Webster, 41, was arrested Monday on charges of felony assault but he was later released on $5,000 bond.
The officers confronted Dickerson while responding to a call about a fight at a gas station. Fox News reported that Dickerson has a record of criminal history, including drunken driving and weapons charges.
The video was released during a time of escalated tensions between citizens and police officers. Other officer-involved deaths have sparked protests and riots around the country, the most recent in response to Freddie Gray's death while in Baltimore police custody.
Attorney General Loretta Lynch announced a new federal investigation of the Baltimore Police Department Friday after Mayor Stephanie Rawlings-Blake asked the Department of Justice to consider it.
The Dover Police Department is slated to hold a news conference at 3:30 EDT Friday. TheBlaze will bring you any updates as soon as they are available.
(H/T: Fox News)