After best-selling author Jon Krakauer took the bold step of physically snatching a microphone from a critic's hand in front of an audience earlier this week, reaction from the Montana crowd — and more recently on social media — appears to point to one result.
Krakauer has won himself a few more fans.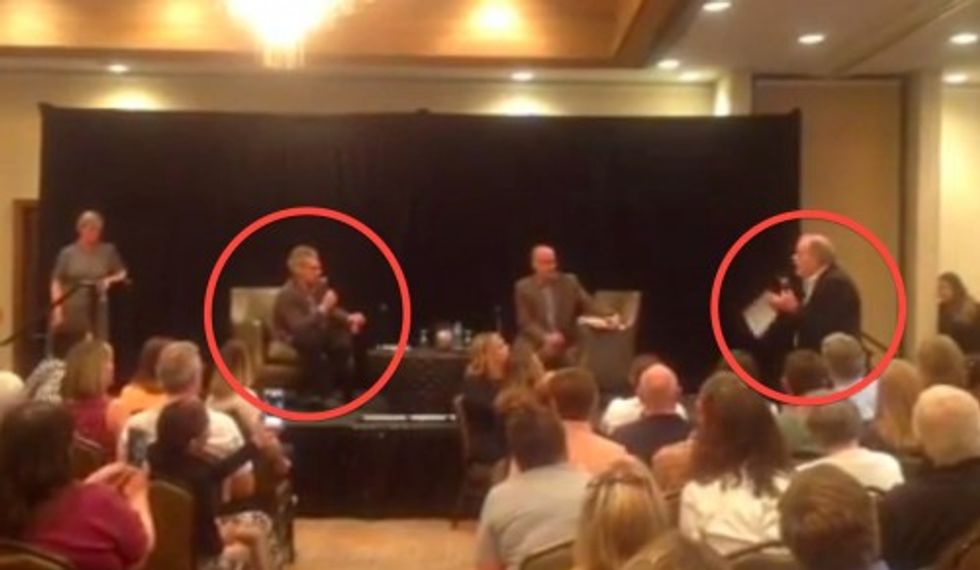 Krakauer on left; Dole on right. (Image source: YouTube)
The author of iconic titles "Into the Wild" and "Into Thin Air" was in Missoula to give critics a chance to address him regarding his newest book, "Missoula: Rape and the Justice System in a College Town."
The non-fiction New York Times best-seller employs stories of several women from the University of Montana to show the struggle rape victims on a wider scale face as they try to convince authorities to help them. Critics have called Krakauer's account, among other things, one-sided.
At the end of the live interview Wednesday, a man who identified himself on a microphone as local attorney Thomas Dole needed hardly any time to peeve Krakauer. About 10 seconds into Dole introducing himself, Krakauer interrupted him and asked if he had a question, which got the audience stirring and muttering. After a minute and a half of Dole casting doubt on Krakauer's journalistic integrity, the author — and the crowd — had lost all patience.
"It's not a public forum!" one woman from the audience yelled.
Then Krakauer rose from his seat onstage.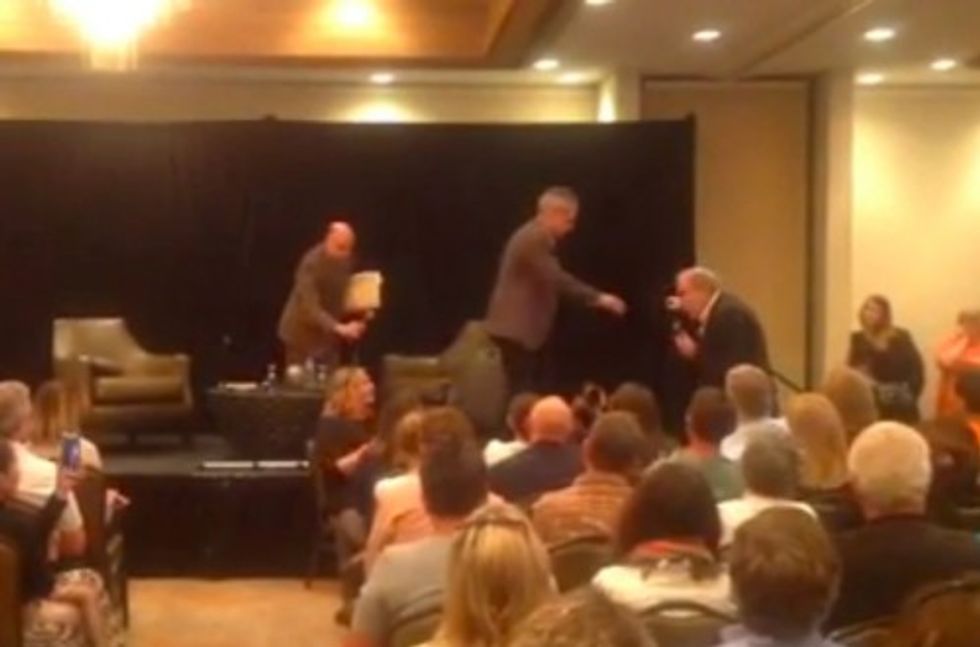 Image source: YouTube
At the same moment another audience member hollered, "Rape is real! Rape is real!"
Many joined in and booed the critic.
As Krakauer walked over to Dole, it wasn't immediately clear what he would do.
But then he extended his hand toward the critic's microphone, grabbed it and sat it down.
And that got the crowd of more than 500 applauding and cheering the author.
"Get out of here!" one man from the audience was heard yelling.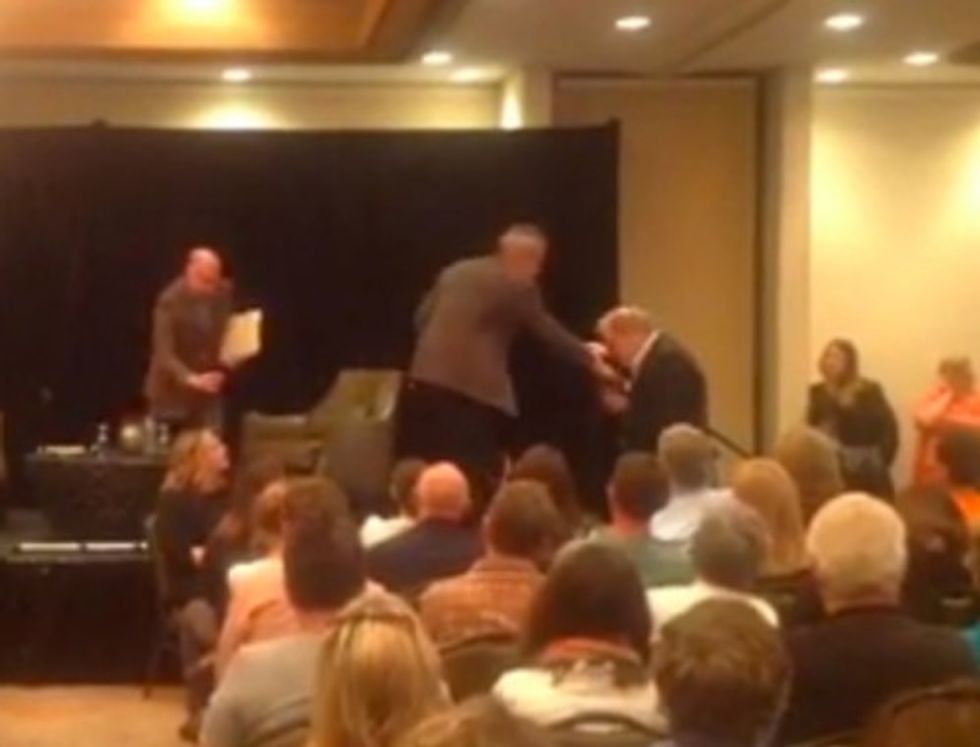 Image source: YouTube

It should be noted that Krakauer didn't just turn and walk away from Dole; he stepped offstage and motioned to him so the pair could throw down without their words being broadcast throughout the room — a chat that lasted a little over 30 seconds.
Author Jon Krakauer finds a standing ovation, and a heckler, at forum about book on university rape cases: http://t.co/VIjNirUqkC

— The Associated Press (@AP) May 7, 2015
After the moderator thanked the crowd for coming, Dole yelled to the crowd without a mic a series of charges against the book, to which he again was roundly booed.
While it's obvious the audience was in full support of Krakauer's method of cutting off his critic, a number of observers on social media have since chimed in with their takes. While some questioned Krakauer, many agreed with the Missoula audience, some going so far as to call Dole a "heckler" even though the main session had ended and Krakauer wasn't speaking at the time:
Jon Krakauer taking that mic away from that guy is my new everything.

— Kymberly Bishop (@KymberlyBishop) May 8, 2015
I liked Jon Krakauer tremendously before, but he just became my new favorite person. https://t.co/D0Zhv0LJp4

— la.donna.pietra (@ladonnapietra) May 8, 2015
OMG this video of Jon Krakauer silencing a heckler is SO SATISFYING http://t.co/clp14qT9Nw

— ✨super pom✨ (@pom_pom_puri) May 8, 2015
Jon Krakauer knows exactly how to shut down a heckler: take his mic away. #missoula http://t.co/Fqs1dUOVIw pic.twitter.com/B9D9Ztfone

— Penguin Random House (@penguinrandom) May 8, 2015
rachelfershleiser: penguinrandomhouse: When a real mic-snatch becomes a metaphorical mic-drop: Jon Krakauer... http://t.co/N8HwK1QYhj

— Lemuria Bookstore (@LemuriaBooks) May 8, 2015
Jon Krakauer is a BOSS. http://t.co/PXPT5GPSqt

— Taryn C (@tarynor) May 8, 2015
This story has been updated.
(H/T: Gawker)
—
Follow Dave Urbanski (@DaveVUrbanski) on Twitter