The state of Florida is suing the Department of Health and Human Services, alleging that the federal government is using coercive tactics to force the state to expand Medicaid.
Florida Gov. Rick Scott, less than 24 hours after meeting with HHS Secretary Sylvia Burwell, filed the suit along with Florida Attorney General Pam Bondi in U.S. District Court in Pensacola, Florida, the Sunshine State News reported.
The suit asks the court to prohibit the federal government from using "the same coercive threats that the Supreme Court has already held unconstitutional."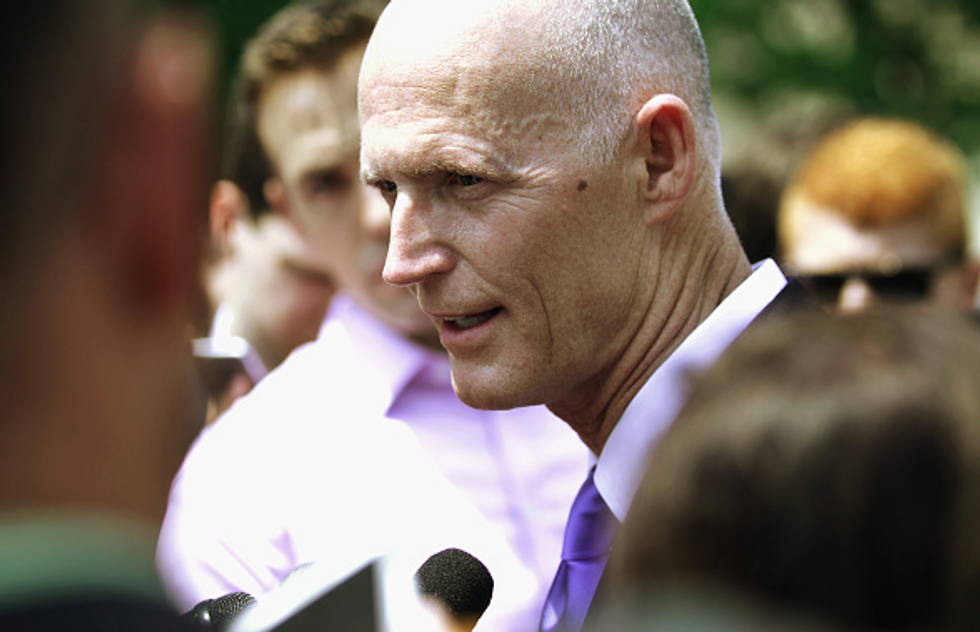 Governor Rick Scott (R-Fla.) speaks to reporters after meeting with Secretary of Health and Human Services Sylvia Burwell, May 6, 2015 in Washington. (Alex Wong/Getty Images)
The 35-page motion quotes from the 2012 U.S. Supreme Court case that upheld Obamacare.
"The Supreme Court held that the federal government may not threaten to withhold preexisting Medicaid funding to coerce states to expand their Medicaid programs in the manner that the Affordable Care Act (ACA) envisions," the motion says. "Yet, not three years later, the federal government is at it again."
The motion further alleges that was some interesting timing by the federal government to push the Medicaid expansion.
"Just before the Florida legislature's constitutionally mandated responsibility to pass a balanced budget was due, the federal government informed the state that it would be withholding more than $1 billion in federal funding for a critical, longstanding Medicaid waiver program unless Florida agrees to participate in the ACA's Medicaid expansion," the motion said.
"Unless this unconstitutional coercion is redressed, it will have immediate and devastating consequences for Florida, its health care providers and its residents," the motion continues. It later adds, "As a practical matter, the loss of more than $1 billion in federal funding will spell the end of this program, all because Florida has exercised its constitutional prerogative not to participate in Medicaid expansion."
After Scott, a Republican, met with Burwell Wednesday in Washington, to advise against withholding funds, Burwell's office issued a statement saying Florida's request "falls short of the key principles HHS will use in considering proposals regarding uncompensated care pool programs." Burwell further said Florida was alerted a year ago that it could love federal fund to reimburse hospitals.