In an age where technology is king, cameras are popping up just about everywhere.
Residents of Paradise Valley, Arizona, recently noticed crews installing cameras in cacti. One woman even said crews were putting up fake cacti in an apparent effort to hide them.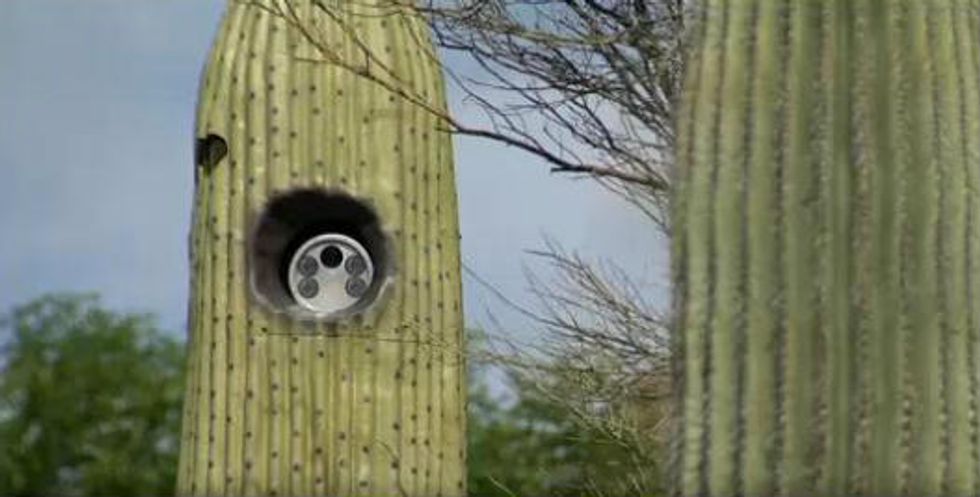 Image source: KSAZ-TV
"There were these guys on ladders. There were three 12-foot ladders and they were working on the top of the cactus, putting the cactus together, a fake cactus," Susanne Chamberlain told KZAZ-TV.
So just what are these cameras for, and why weren't they brought to the public's attention until residents found out on their own?
The cameras will serve as license plate readers to help locate stolen cars or vehicles that are the subjects of Amber alerts. But town manager Kevin Burke said the move was never meant to be secretive. He added that he requested police not announce them until they were all together and everybody was on the same page.
"We want to make sure we're answering everybody's questions about data retention, how the things will be used, we want to make sure that is vetted before we turn these things up," Burke told KSAZ.
Asked by a local reporter why the technology hadn't been vetted before it was even installed, Burke admitted that's a legitimate concern.
"It probably is fair. This is technology. We're always learning about it, and so every time you think you've got it covered someone brings up a new idea," Burke said.
Burke explained the town had decided to use the desert plants since there were no light poles in the area and fake cacti offered an aesthetically pleasing alternative.
The cameras are reportedly part of a $2 million technology upgrade the Paradise Valley city council passed last year. Burke said the cameras won't be operational until all of them have been installed.
Listen to what more residents had to say:
FOX 10 News | fox10phoenix.com
This story has been updated.
(H/T: KSAZ-TV)
–
Follow Jon Street (@JonStreet) on Twitter