© 2023 Blaze Media LLC. All rights reserved.
Can You Guess the 'Best' and 'Worst' U.S. Cities to Start a Career? New Map Shows One State Is Home to Several of the Most Promising
Do you live in or near any of these?
Know of a college graduate looking to get themselves established? Texas might be just the place to do it.
Photo credit: Shutterstock
WalletHub ranked the country's 150 most populous metropolitan areas based on "professional opportunity" and "quality of life" and found that cities in the Lone Star State generally scored well in both of those categories.
Check out this interactive map to see how your favorite cities compete:
A number of factors within each of the categories were taken into account before determining each respective score and their overall ranking. For example, the "professional opportunity" category look at things like the number of entry level jobs, median starting salaries and annual job growth rate, among several other factors.
Below are the items that were considered and their "weight" in the overall ranking:
Number of entry-level jobs per 10,000 inhabitants: Full weight
Monthly median starting salary (adjusted for cost of living): Full weight
Annual job growth rate (adjusted for population growth): Full weight
Median income growth rate: Full weight
Economic mobility: Full weight
Workforce diversity: Full weight
Unemployment rate: Full weight
WalletHub "entrepreneurial activity" ranking: Full weight
The ranking also took into account each city's "quality of life." Among the factors in this category were median annual income; arts, leisure and recreation options and the percentage of people living there who are between 25 and 34.
Here are all of the factors WalletHub considered in its "quality of life" score and their "weight" in the ranking:
Median annual income (adjusted for cost of living): Full weight
Number of arts, leisure & recreation establishments per 100,000 Inhabitants: Full weight
Percentage of the population aged 25 to 34: Full weight
Strength of social ties: Full weight
Percentage of the population with a Bachelor's Degree or Higher: Full weight
Population growth (2042 vs. 2012): Full weight
Housing affordability (median annual family income divided by housing costs): Full weight
WalletHub "recreation" ranking: Full weight
WalletHub "families" ranking: Full weight
WalletHub "single people" ranking: Full weight
WalletHub "weather" Ranking: Half weight
Having determined each metropolitan area's score in each category, the cities were then assigned an overall ranking. No specific category was definitive in deciding the rankings but most cities that made the top 10 also scored well in the "professional opportunities" category.
However, the places that offer the most potential for one's career aren't necessarily the places that scored well in terms of quality of life. For example, Irving, Texas, ranked as No. 1 in the professional opportunities column but came in at No. 38 in the quality of life column. Nonetheless, Irving's overall ranking was still No. 1.
Similarly, Austin, Texas, ranked as No. 11 in terms of professional opportunities but ranked much higher – No. 1 – for its quality of life, landing the Lone Star State capital the overall ranking of No. 3.
Listed below are the rest of the 10 "best" cities to start a career and their rankings in each of the two categories: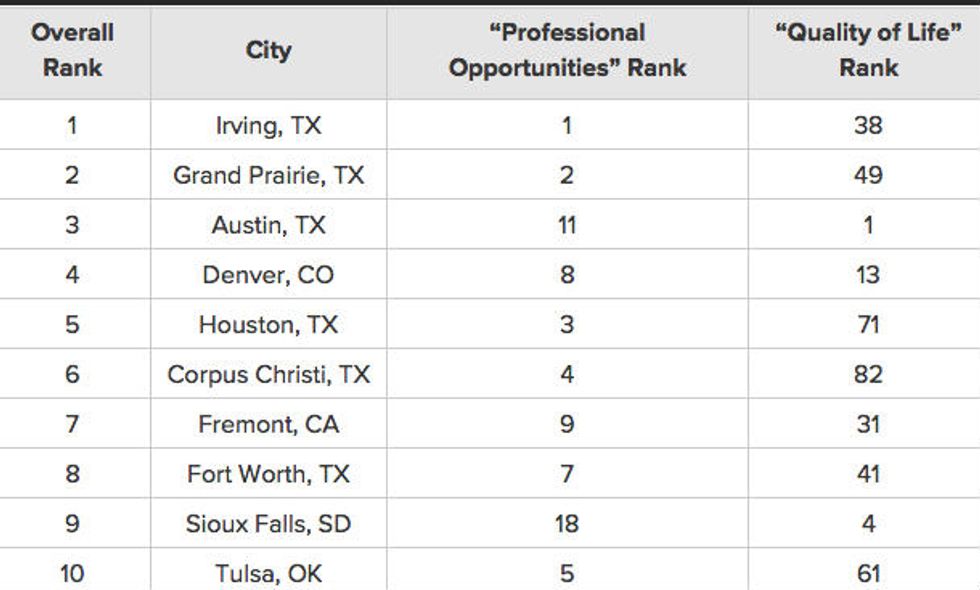 Image source: WalletHub
There's no doubt that Texas bodes well for recent graduates. It should be noted, however, that the chances of Texas taking six of the top 10 slots were dramatically increased because of its mere size and subsequently the number of cities it has compared with other states.
The list of 150 most populous cities included a number of other Texas towns but no city in the Lone Star State ranked any lower than No. 85. Arlington came in at No. 11, Dallas was No. 14 and Plano was No. 19. Amarillo (26), San Antonio (36), Garland (41), El Paso (59), Lubbock (76), Laredo (79) and Brownsville (85) were among the other Lone Star State cities on the list.
Cities in the bottom 10 are located throughout the Upper-Midwest, the Deep South and California. Three of the "worst" cities to start a career – Modesto, Stockton and Fresno – are found in the Golden State, while the Milwaukee, Cleveland, Toledo, Ohio and Detroit also didn't fare well. Mobile, Alabama, Augusta, Georgia and Columbus, Georgia rounded out the bottom 10.
Below is the order of the 10 "worst" cities to start a career and their respective scores for the professional opportunities and quality of life categories: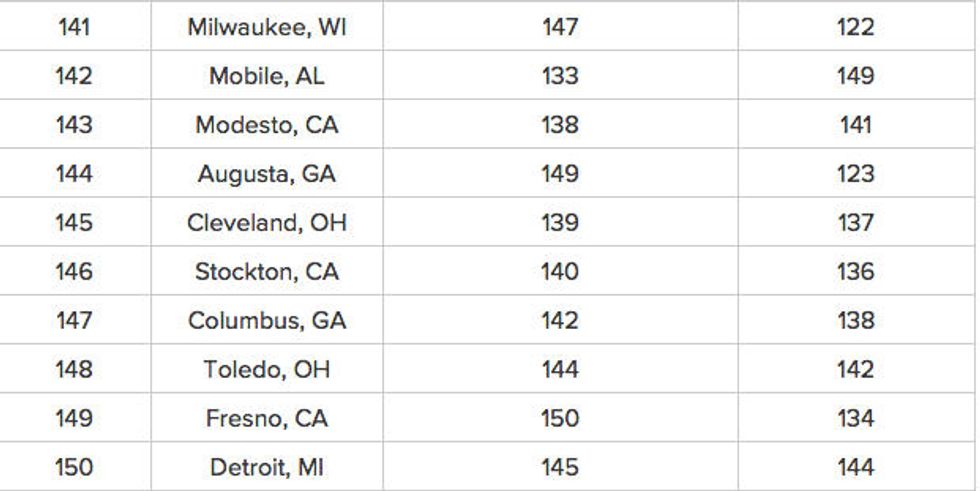 Image source: WalletHub
See WalletHub's entire ranking here.
–
Follow Jon Street (@JonStreet) on Twitter
Want to leave a tip?
We answer to you. Help keep our content free of advertisers and big tech censorship by leaving a tip today.
more stories
Sign up for the Blaze newsletter
By signing up, you agree to our
Privacy Policy
and
Terms of Use
, and agree to receive content that may sometimes include advertisements. You may opt out at any time.