Iranian naval officials claim they pressured U.S. and French warships and military aircraft to change directions after being warned away from an Iranian military flotilla sailing in the Gulf of Aden off the coast of Yemen, Iranian media reported Sunday.
The official government Tasnim News Agency headline stated: "Iran's Navy Shoos Away U.S., French Aircraft, Warships in Gulf of Aden."
The semi-official Fars News Agency ran a nearly identical, "U.S., French Warships Shooed Away by Iranian Fleet in Gulf of Aden."
The Pentagon did not immediately comment on the assertions, though it had denied any such interaction after a similar report last week.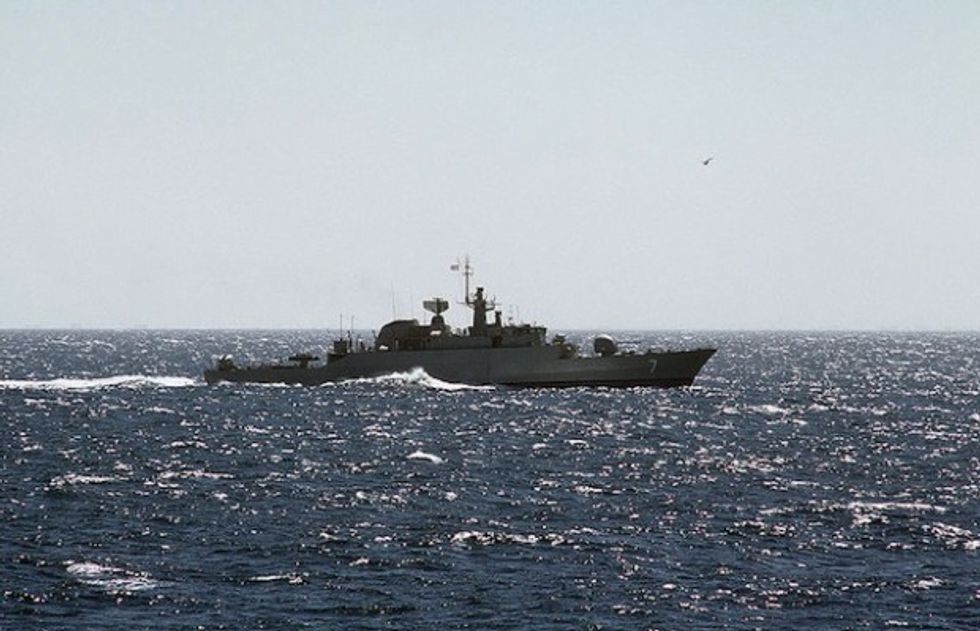 An Iranian frigate at sea. (Image source: Wikipedia/DefenseImagery.mil)
Tasnim reported Sunday about the alleged incident involving its 34th fleet, which includes the Bushehr logistic warship and Alborz destroyer:
Iranian naval forces warned American and French forces on Saturday to stay away from Iran's 34th fleet of warships, which was sailing in international waters in the Gulf of Aden. […]

On Saturday night, when the Iranian fleet was cruising 30 miles off the coasts of Yemen's southern seaport city of Aden, French and American forces in the area showed sensitivity to the Iranian Navy presence and deployed their jets, choppers and warships to approach the Iranian fleet and pass it at a distance of 5 miles.

However, Iranian command officers on board the Alborz destroyer issued a serious warning, making the intruders to apologize and change their track, according to Iran's Navy.
Iran insists its naval forces are deployed in the area to protect Iranian ships from pirates, rejecting accusations the warships are moving arms to Shiite Houthi rebels in Yemen.
Fars reported last week that a U.S. warship and military planes had changed direction on May 4 after being warned to move away from a group of Iranian naval vessels.
Despite its ongoing negotiations with the U.S. and five world powers over its nuclear program, Iran continues to issue belligerent statements against the U.S., including last week when Islamic Revolutionary Guards Corps Brigadier General Hossein Salami said a war with the U.S. would be "no big deal" and would even be welcomed.
"We have prepared ourselves for the most dangerous scenarios and this is no big deal and is simple to digest for us," Salami said. "We welcome war with the U.S. as we do believe that it will be the scene for our success to display the real potentials of our power."