© 2023 Blaze Media LLC. All rights reserved.
Take a Look at What Cameras Captured Regarding Some Celebrity Lawns and You'll See Why They're Being Accused of Environmental Hypocrisy
"They need to cut back just like everybody else."
Though brown lawns are pretty common right now in California amid a historic drought and water restrictions, some seem to have maintained a pretty lush landscape.
Kim Kardashian and Kayne West's landscape is green compared to the dry land next door. (Image source: KCAL-TV)
A flyover some homes in KCAL-TV's report shows some celebrity lawns appear pretty green and are a stark contrast to landscapes next door:
The New York Post's Page Six recently published a story with other aerial photos by photographer John Chapple of celebrity yards. Some of their representatives though pointed out that the greenery might be deceiving from above.
Jennifer Aniston's yard, her rep Stephen Huvane told Page Six, doesn't have too much lawn.
"Her entire front courtyard is mostly stone and trees," he said.
Non-celebrity locals told KCAL they don't like what they see.
"It gets me mad because I feel that it should apply to everybody," one woman said.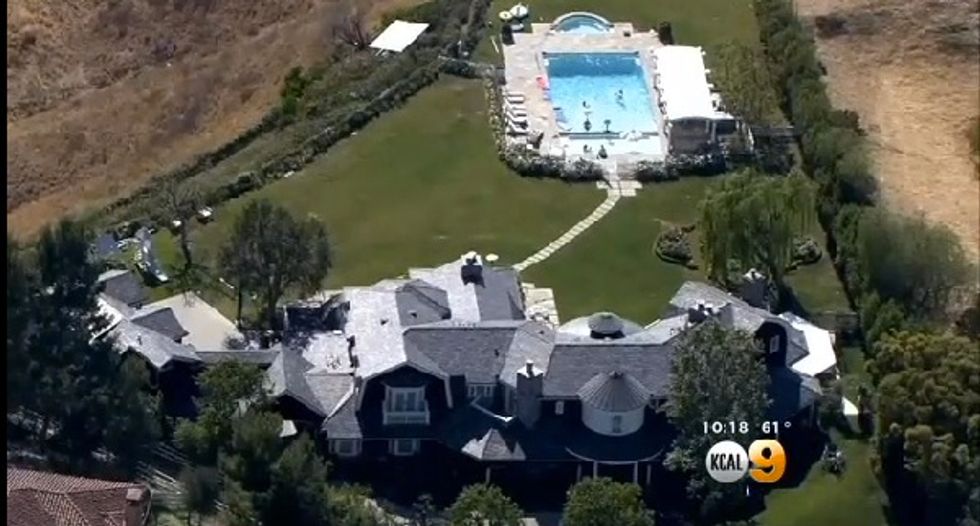 An aerial view of Jessica Simpson's home. (Image source: KCAL-TV)
One man told the news station "they need to cut back just like everybody else," but another commented that they could be using recycled water for their irrigation purposes.
Here's what some on Twitter had to say about it:
You live in the desert, hypocrite, not the back 9 at Augusta. What celebrities' lawns look like during Ca's drought http://t.co/Ee9Odk6MTp

— Foxy McHorndog (@FoxyMcHorndog) May 11, 2015
Water drought in California but liberal Barbara Streisand continues to water lawn. Yep, another hypocrite liberal.

— chris (@bisignano912704) May 11, 2015
Love me a good, liberal hypocrite. Water conservation is good only for the "little people..." http://t.co/nNM6vUfW5h

— Robert Wheeler (@robb_wheeler) May 10, 2015
Hollywood hypocrites at it again . . . Selfish celebrities ignore California's drought to keep lawns green http://t.co/RBZTb9d9SI

— Nigel Rathbone (@Nigel__politics) May 10, 2015
Celebrities are not the only ones accused of excessive water use in the restricted drought conditions. Just last week, someone sent KCAL cellphone video of California Department of Transportation sprinklers running along a freeway as it rained in the area, something that is not a best practice. A similar issue was noticed last month outside of the California Community College's headquarters.
Department spokesman Patrick Chandler defended the use of sprinklers in some areas over all though.
"There are a number of reasons why we have to water our vegetation in Los Angeles, a lot of places where the vegetation actually provides erosion control," Chandler told KCAL. "We have to have erosion control there or the vegetation to hold them in place."
Gov. Jerry Brown mandated urban water use be reduced 25 percent when compared to 2013 usage levels. But dozens of cities have blasted the water reduction targets as unfair and unrealistic. Areas that had embraced conservation for years say they're unfairly being lumped in with cities that just started metering water use. Others say they are being punished with large cuts even after preparing for the drought by building local storage supplies and water-saving technology.
Communities that have pitiful savings will face hefty fines, although the state water board said that's a last resort. The board said it will focus on helping communities find ways to drive down use. The state does have the power to intervene, including compelling new restrictions and raising local water rates, but has never done so. Gov. Brown wants to give local agencies the authority to issue fines up to $10,000, but more than half of communities that reported their enforcement efforts have not issued any fines at all.
(H/T: Daily Mail)
—
The Associated Press contributed to this report.
Want to leave a tip?
We answer to you. Help keep our content free of advertisers and big tech censorship by leaving a tip today.
more stories
Sign up for the Blaze newsletter
By signing up, you agree to our
Privacy Policy
and
Terms of Use
, and agree to receive content that may sometimes include advertisements. You may opt out at any time.