Getting cut off by someone deciding to merge at the last minute in heavy traffic is never pleasant, but a school bus caught on camera doing it has the driver under fire by even his union.
"Oh really? Really?" a driver shooting video of the Houston Independent School District bus squeezing into the lane in front of him said in disbelief. "And with kids on the bus."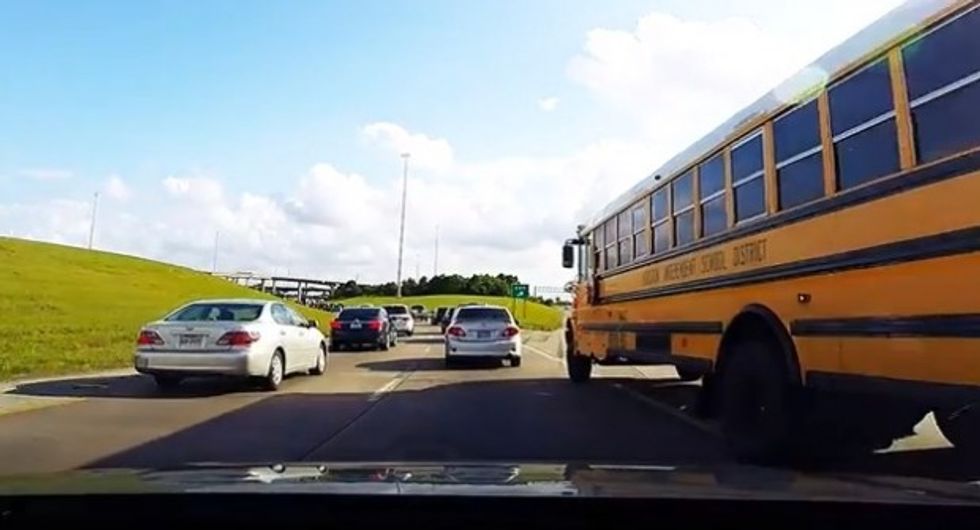 Image source: YouTube
Taking advantage of the phone number posted right on the back of bus #9443 to report the driver, the couple in the car with its dashcam rolling to capture the incident filmed even more unsafe driving.
"He's pulling into the emergency lane to pass traffic," a woman in the car said while on the phone with the safety hotline, the showing the bus on the right-hand shoulder, kicking up dust as it passed other cars.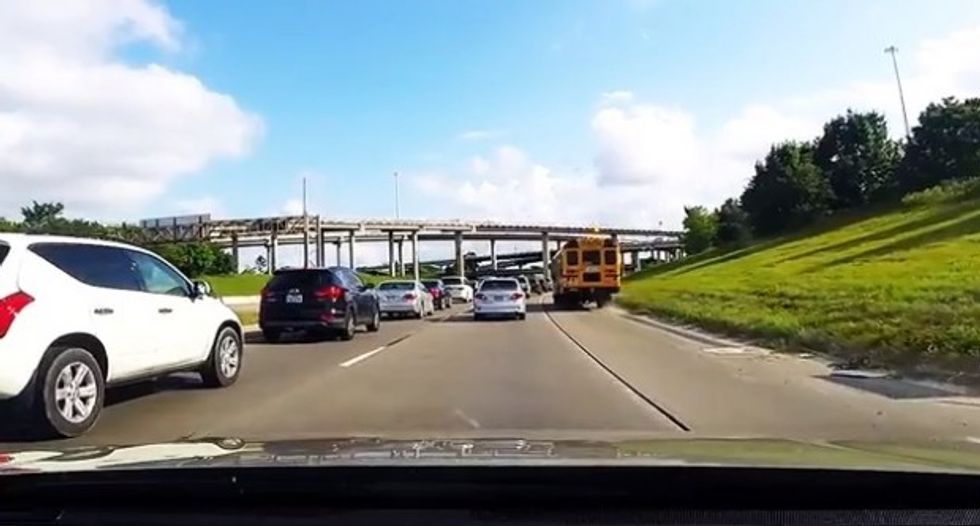 Image source: YouTube
Watch the footage:
Parents shown the video by KHOU-TV didn't think it was appropriate driving for anyone, let alone a school bus driver.
"I wouldn't want my son to be in a situation like that, to be on the bus with a driver like that," one parent told the news station. "You can't take a chance like that and cut around traffic."
And Wretha Thomas, president of the union that represents the bus drivers, said the union does "not condone this type of driving from our drivers."
A spokeswoman for HISD told the Houston Chronicle this bus shuttled students from two elementary schools. After seeing the footage, the driver was removed.
"HISD has zero tolerance for drivers who put student lives at risk," the district said in a statement, according to the newspaper. "Upon learning of the allegations, the transportation department immediately launched an investigation. The bus driver in question has since been removed from his position, and appropriate disciplinary action is being taken. The safety of our students and staff is always our top priority."
This isn't the only school bus driver-related incident this week. In New York, a school bus driver was allegedly driving drunk with students on board and hit a pole.