House Republicans called up and passed legislation on Wednesday that would ban abortion after 20 weeks, making good on a promise from January when they tried unsuccessfully to pass similar legislation.
Republicans set up the vote to mark the two-year anniversary of the conviction of Dr. Kermit Gosnell, who was convicted of first-degree murder after being charged with killing live babies.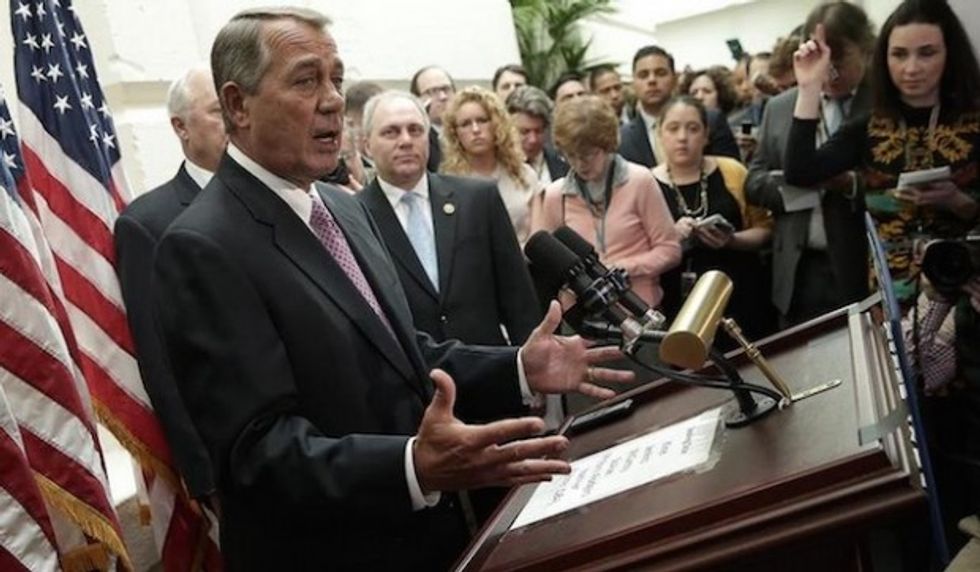 House Republicans, led by Speaker John Boehner (R-Ohio), won a vote Wednesday to ban abortion after 20 weeks.
As expected, the House passed the bill on a mostly party-line vote. It passed 242-184 — all but five Republicans voted for it, and all but four Democrats opposed it.
The concept behind the bill is that a fetus is capable of feeling pain after 20 weeks, and that abortion after that time should be prohibited. Republicans cast it as a ban on late-term abortion that most Americans support, and stressed it would essentially ban abortion after five months.
An emotional House Speaker John Boehner (R-Ohio) made a rare appearance on the House floor to argue for the bill just before the vote, and said Congress needs to protect the innocent who cannot defend themselves.
"Growing up with 11 brothers and sisters, I didn't need my parents to tell me that every child is a gift from God," he said as he choked back tears. "But let me tell you, they did. They did it often."
"H.R. 36 is the most pro-life legislation to ever come before this body," he added.
Many other Republicans also rose to speak in favor of the bill, including freshman Rep. Mia Love (R-Utah).
"I want every American that is watching this today to think of their children," she said. "Think of their nieces, their nephews, their grandchildren, the ones that they love. Would they inflict this kind of pain to keep them from coming into the world?"
But many Democrats opposed it as an attack on women's right to abortion. Rep. Barbara Lee (D-Calif.) charged the bill is "nothing more than another ideological attack on women's rights."
Several others argued that Republicans were trying to play doctor by saying abortions should be banned after 20 weeks, when the real issue is the viability of the fetus. House Judiciary Committee ranking member John Conyers (D-Mich.) said viability is generally seen as something that happens at 24 weeks, and said as a result, Republicans are limiting current abortion rights.
"Pain is not the issue, viability is," added Rep. Steve Cohen (D-Tenn.).
In January, the House tried to pass a similar bill, but had to pull it after it became clear that some Republican women thought it was too restrictive.
Specifically, the original bill included exceptions to the abortion ban to save the life of the mother, and in cases of rape and incest. However, it also included a provision saying the rape and incest exceptions could only be used if the crime had been reported to authorities.
That's the language that had some GOP women worried that the bill might be overly restrictive, and would be opposed by younger voters.
After several months, Republicans finally worked out a compromise that will allow exceptions to the ban to be granted as long as a doctor has been consulted. In return for that concession, the bill also requires a doctor to be in the room at the time of the procedure, and requires doctors to perform the abortion in a manner that "provides the best opportunity for the unborn child to survive."
Under the bill, an effort must also be made to save children born alive after attempted abortions.
The White House made its opposition to the bill clear shortly before the vote.
"It's disgraceful that House Republicans would be considering a party-line vote on a piece of legislation that would continue to impose even additional harsh burdens on survivors of sexual assault, rape and incest," White House press secretary Josh Earnest said Wednesday afternoon. "I guess you can tell from my comments that the administration strongly opposes this bill."
Earnest added, "You hear Republicans, particularly in their discussions about health care, articulating that it's a priority for them to keep the government out of the doctors office. But, in fact, this piece of legislation would actually, ironically enough, insert the government right between a woman and her doctor."