Studying the effects of secondhand pot smoke is not entirely novel, but a group of scientists recently conducted a new "hotbox" experiment in light of the increased potency of marijuana over the last few decades and to better understand how nonsmokers were affected emotionally and behaviorally.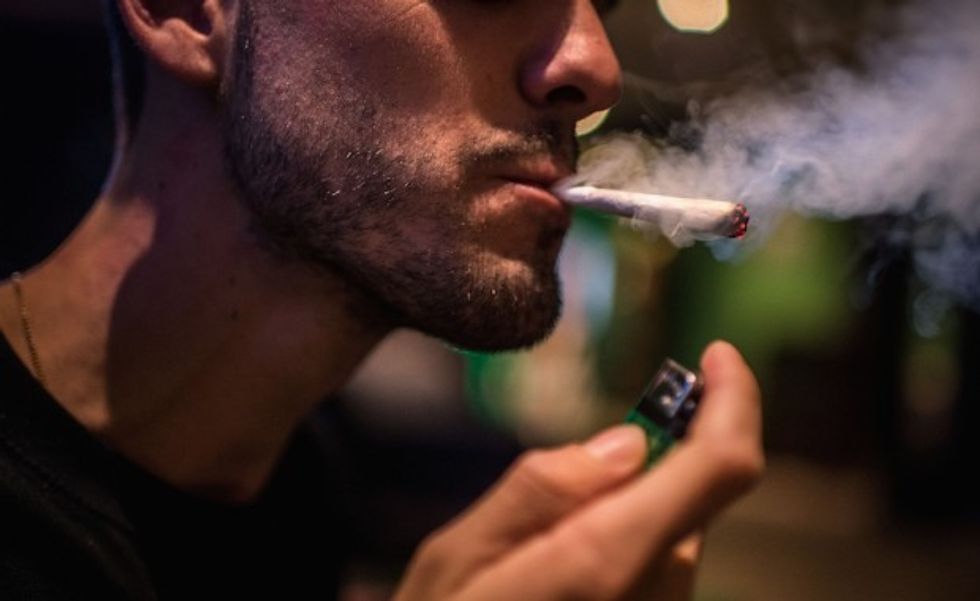 A member smokes a marijuana joint in a cannabis club on August 22, 2014 in Barcelona, Spain. Researchers with Johns Hopkins University recently tested the effect of secondhand marijuana smoke on nonsmokers in an extreme situation. (David Ramos/Getty Images)
"This study is a significant update in our knowledge of cannabis smoke effect on nonsmokers and has implications in many arenas, including drugs and driving," Dr. Edward Cone, who performed some of the early secondhand marijuana smoke studies in the 1980s, said in a statement.
The effect of marijuana, including secondhand exposure, is increasingly being called up in front of lawmakers as many states have approved the use of medical marijuana as well as others that have gone so far as to legalize recreational use.
Scientists at Johns Hopkins University created a 10-by-13-foot plexiglass room where they had six somewhat regular weed smokers sit there and smoke in the presence of six nonsmokers — people who had not used cannabis within at least six months prior to the experiment and who tested negative for other drugs and alcohol. In one session, the researchers had ventilation fans running and in another they did not, allowing the room to fill with smoke.
After the sessions, all study participants' blood, urine, saliva and hair were measured for tetrahydrocannabinol, the active ingredient in marijuana that gives people a high.
When the room was ventilated, none of the nonsmokers tested positive for THC, but they did test positive in their urine and blood for up to three hours afterward when the room remained unventilated.
Now, what about how the nonsmokers felt? Did they get what's known as a "contact high"? According to the research, when the ventilation system was running, the nonsmokers did say they felt hungry afterward. New York Magazine pointed out that it might not have been the munchies though.
"Lunch hour was approaching," the study authors wrote.
When the room was not ventilated, however, the nonsmokers did report experiencing some symptoms of a high, such as feeling "pleasant," tired and less alert.
In a cognitive test afterward, the researchers found nonsmoking participants in the unventilated room completed the test faster but made more mistakes than when fans were running.
"The behavioral and cognitive effects were minor and consistent with a mild cannabis effect," Dr. Evan Herrmann, a postdoctoral fellow at the university, said.
The effects of exposure to the drug through secondhand smoke were considered mild, but Herrmann said they were significant enough that "some participants did not pass the equivalent of a workplace drug test."
Herrmann explained that this study presented a "worst-case scenario."
"It could happen in the real world, but it couldn't happen to someone without him or her being aware of it," he said.
The small size and lack of a placebo where sessions were conducted with smokers using cannabis without THC are considered limitations to this study.
These findings were published in the  journal Drug and Alcohol Dependence.
(H/T: Reddit)