Nothing says "Summertime!" like a wool jacket and a tight smile.
Right?
The "Saturday Night Live" crew spoofed Hillary Clinton's grim march toward the White House this week with a musical number that shows just how uncomfortable the presidential candidate is with laid-back fun.
"Why don't you tell your parents to vote for me?" she asks a pair of "kids" as she lounges against her White House sandcastle.
"They don't like you," one responds.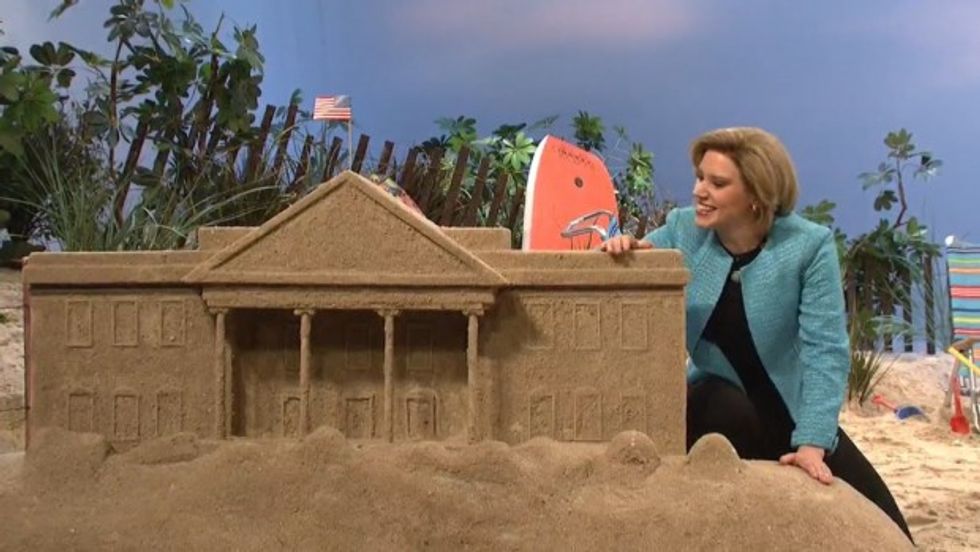 Image via NBC
"Well what can I do moving forward to earn their vote?" "Clinton" queries.
"Um, I think nothing, 'cause they said they don't like you and they just, um, never will!" comes the chipper response.
"What a fun thing to hear for almost 20 years," "Clinton" groans.
Surfers, picnickers, bike-riders — all seem really weirded out by Clinton's persistent, early campaigning.
"Bill Clinton," on the other hand, seems to be having a ball at the beach.
"It's my mom," he tries to explain to his lady friend when his wife shows up.
Watch the whole clip below:
—
Follow Zach Noble (@thezachnoble) on Twitter