CNN commentator Marc Lamont Hill accused TheBlaze TV's Tara Setmayer of being "sexist" on the air Monday after she argued Hillary Clinton's "strong point" is her last name and having a husband "that people adore."
"Oh, that's sexist," Hill quickly interrupted. "That's absolutely sexist."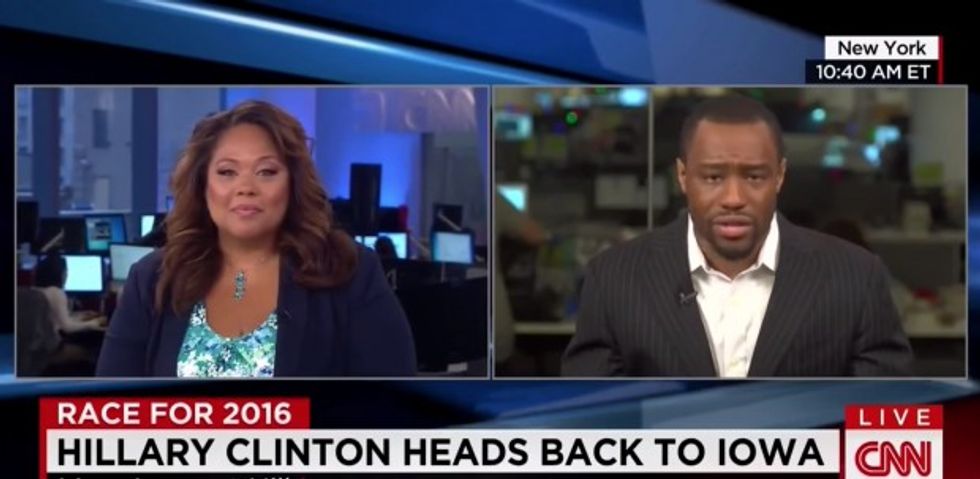 (CNN)
But when Setmayer asked Hill what Clinton actually accomplished as secretary of state, he brought up several contentious examples.
"Opening up Myanmar, resetting Russia," Hill said.
"How'd that work out?" Setmayer asked sarcastically.
Hill also argued that Clinton helped implement some of the "most important sanctions" in decades against Iran. He added, "To say that the secretary of state and a former senator has nothing going for her but her last name, to me, reeks of sexism."
The debate turned tense when Setmayer brought up Bureau of Labor Statistics data that suggests 53 million women are out of the workforce and asserted the U.S. economy is "stagnant." Hill proceeded to lecture her on how to properly interpret labor statistics.
"As a trained social scientist, I'm explaining to you that the way you're interpreting those statistics is completely wrong," Hill said.
"Don't insult me, Marc! That's actually sexist of you to sit there and say that I don't understand it, I can't interpret the numbers that come from our government that go out and say there are 53 million women that are out of the workforce," she replied. "Don't insult me, Marc."
"I'm not saying it because you're a woman, I'm saying it because you're wrong," Hill shot back.
Watch the rest of the segment and Hill's data explanation via CNN:
(H/T: Mediaite)
---