A priest's claim that he was fired from his Catholic university post after sharing a Facebook photo about LBGT discrimination has led thousands to sign a petition asking for him to be reinstated.
The Rev. Warren Hall was the director of Seton Hall University's campus ministry in South Orange, New Jersey, until he claims that sharing a simple photo on social media led to his dismissal.
"I've been fired from SHU for posting a pic on FB supporting LGBT 'NO H8,'" Hall reportedly wrote Friday morning on Twitter before later deleting the message. "I'm sorry it was met with this response. I'll miss my work here."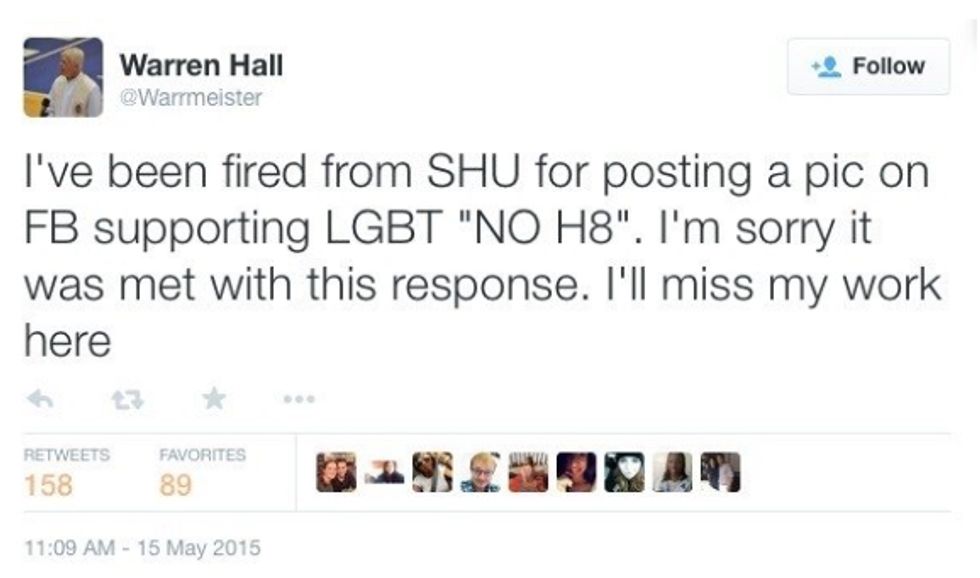 Twitter via @Warrmeister
While the initial tweet is no longer available, a subsequent message encouraging people not to be angry and to use the purported firing as an opportunity to discuss LGBT issues is viewable on Hall's Twitter stream.
"Grateful for all the support. Dont be angry!!," he wrote. "Turn this into an opportunity for open/reasonable discussion on LGBT issues on a Cath Campus."
The priest is still listed on Seton Hall University's campus ministry staff page as the director of the spirituality office — a position that is specifically appointed by the Archdiocese of Newark; the university falls under its jurisdiction, according to the Huffington Post.
In an intriguing twist, the archdiocese has denied that Hall was fired, claiming, instead, that his tenure at the school has merely ended.
"His tenure is ending at the university as director of campus ministry and he is available for another assignment ... I think people are misconstruing an awful lot," spokesman Jim Goodness said in a statement to the Huffington Post. "The church has long taught that every person is to be treated with dignity and respect."
Seton Hall University students launched an online petition asking that Hall be reinstated and decrying the purported firing; the petition had more than 3,800 signatures as of Monday morning.
"This action is not in line with the teachings of Jesus Christ, nor is it line with the words of Pope Francis, current leader of the Roman Catholic Church," the Change.org petition reads in part.
(H/T: Huffington Post)