White House press secretary Josh Earnest asserted on Tuesday that the Obama administration's "overall" strategy against the Islamic State has been a success, sparking surprise and relentless mockery online.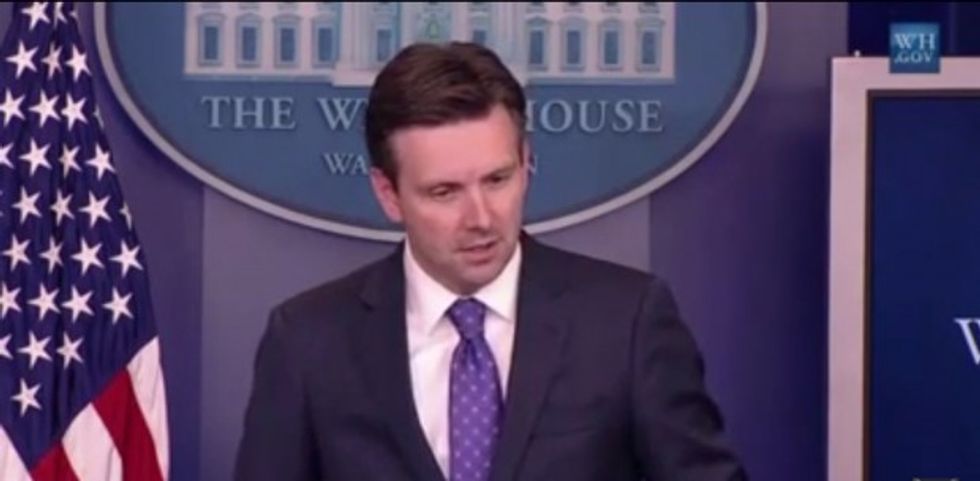 (WH.gov)
"Overall, yes," Earnest responded when asked if the administration's strategy to fight the Islamic State has been successful. "That doesn't mean that there haven't been areas of setback as we saw in Ramadi."
ABC News reporter Jonatan Karl pressed, "Exporting terror to Libya, taking over the capital of Iraq's largest province — this is overall a success?"
Earnest answered by touting a "coalition of 60 nations" around the world that have "joined the United States in this fight." Watch the exchange below:
Earnest's claim comes as many are now questioning the effectiveness of the Obama administration's approach in Iraq following the fall of Ramadi. The Associated Press describes the strategy as a "blend of retraining and rebuilding the Iraqi army, prodding Baghdad to reconcile with the nation's Sunnis, and bombing Islamic State targets from the air without committing American ground combat troops."
The reaction online was swift:
white house bob says overall isis strategy (didn't know we had one) is a success. Thousands fleeing Ramadi cheer good news.

— dannio gaith (@david_dgaith) May 19, 2015
WH press sec. was just asked if ISIS strategy has been a success. "Overall, yes." Damn, I'd hate to see what these idiots consider failure.

— Ed Van Tassell (@EdVanTassell) May 19, 2015
If Obama White House had a time machine: "Obama's Airship Landing Strategy has been an overall Success" #ISIS . pic.twitter.com/zjh75z6N6S

— Noah Wehrman (@NoahWehrman) May 19, 2015
Incredible..."@StevenTDennis: —> @jonkarl Has Obama's strategy vs. ISIS been a success? @PressSec: "Overall, yes.""

— Bohemio (@El__Bohemio) May 19, 2015
Press Secretary says ISIS strategy has been an "overall success." (Falls under same success def as Solyndra, economy & Hindenberg)

— AJ (@SeeTac7) May 19, 2015
Good grief. "@StevenTDennis: —> @jonkarl Has Obama's strategy vs. ISIS been a success? @PressSec: "Overall, yes.""

— Kathleen McKinley (@KatMcKinley) May 19, 2015
---