Michelle Malkin appeared on The Glenn Beck Program Tuesday to share the stories of the "tinkerpreneurs" who changed America and the world with their inventions, whether it was as small as a bottle cap or as vast as the work of scientist Nikola Tesla.
"Restoring the reputation of ethical capitalism in this country is so important," Malkin said. "You see so many of these big-government cronies, the U.S. Chamber of Commerce types who are so willing to jump into bed with the AFL-CIO and Barack Obama. ... Well there was a time -- and of course our kids don't learn this nearly enough -- when there were people of character, men of great character like George Westinghouse who understood the value of protecting individual and intellectual property rights."
But Malkin said entrepreneurs are increasingly struggling because of countless laws, regulations and mandates being sent down from the federal government.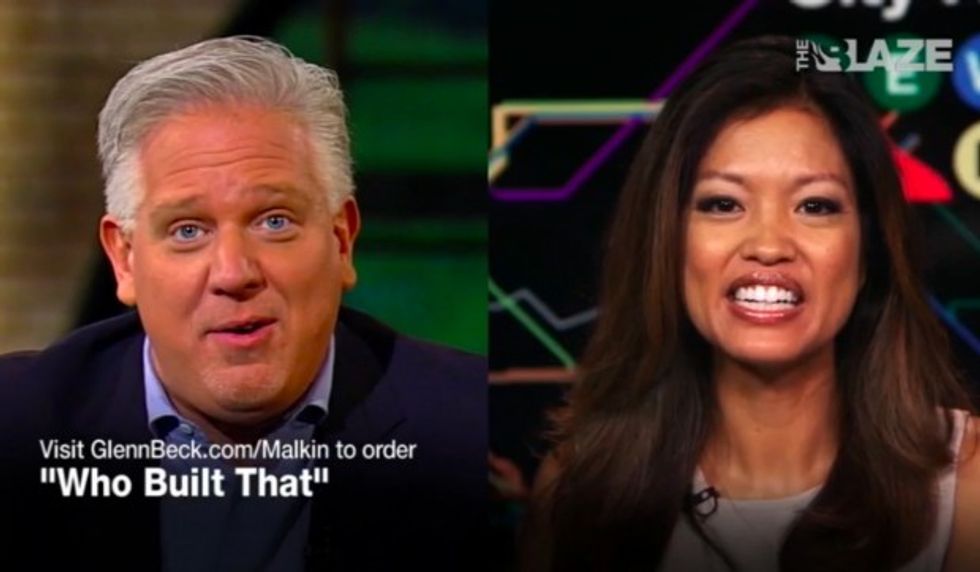 Michelle Malkin appears on The Glenn Beck Program May 19, 2015. (Photo: TheBlaze TV)
"The first chapter is about Anthony Maglica, the 84-year-old spry entrepreneur who came here from a tiny little island off of Croatia ... with nothing during the Depression, but the hunger to make something of himself," she said.
Malkin said Maglica drove across the country, at times pushing his car through the Rocky Mountains, before settling in California and coming up with the design for the Maglite flashlight. He never stopped innovating and currently holds roughly 200 patents, Malkin said.
Before the ban of incandescent light bulbs, Malkin said Maglica was working on a product to revolutionize the technology and planned to hire hundreds to produce his creation. Now the entire project has been forced to a halt.
"He told me he will never give up, not until the day he is no longer on this earth, to try to improve his products and bring people things that they want and need," she remarked. "That's what the American dream is about. It's not something that's decreed in Washington, D.C. And it's these kind of people that make America a great place. He hasn't given up hope, so neither will I."
But Malkin still had harsh words for those who she believes are putting inventors at greater risk.
"In 2011, Obama radically transformed and upended the idea that the inventor should be the one who's rewarded, rather than the one who's first to file," Malkin remarked. "Obama and the Congress rammed it through with very little debate in the mainstream public because it really is one of those arcane things, and 'globalized and harmonized' American patent law with the rest of the world."
"In other words," she remarked, "[we abandoned] those first constitutional principles that our founders knew guaranteed success."
[mlbvideo content_id=121933683]
The full episode of The Glenn Beck Program, along with many other live-streaming shows and thousands of hours of on-demand content, is available on just about any digital device. Click here to watch every Glenn Beck episode from the past 30 days for just $1!