A suspected bank robber in Largo, Florida, had his escape plan foiled when an MMA fighter took him down hard and then hog-tied him with duct tape until police arrived.
The suspect, identified as Michael Jon Neubecker, entered a Grow Financial location on Friday and handed the clerk a note. He took off with an undisclosed amount of cash — but the MMA fighter noticed that the man never pulled a weapon.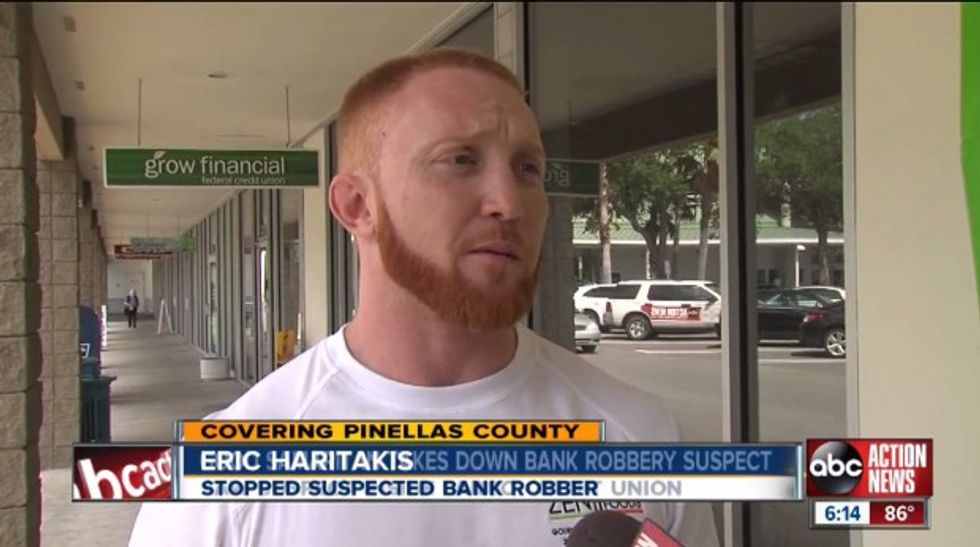 Eric Haritakis; Screengrab via WFTS-TV
That's when Eric Haritakis, who was inside the bank, made the decision to pursue and detain the robbery suspect.
"I saw the right time and I realized that if he had a weapon that he would have drawn it already. I just timed it right and took him down," he recalled to WFTS-TV.
The fighter got some help from a local business owner who reportedly brought him some duct tape so the suspect could be embarrassingly hog-tied until police could take him into custody.
Neubecker was ultimately charged with unarmed burglary.
While police advise against confronting criminal suspects, the MMA fighter said communities would be safer if more people stood together to deter criminals.
---