HONOLULU (AP) -- A second Marine has died of injuries he suffered when a hybrid military aircraft crashed last weekend during a training exercise in Hawaii, the Marine Corps said Wednesday.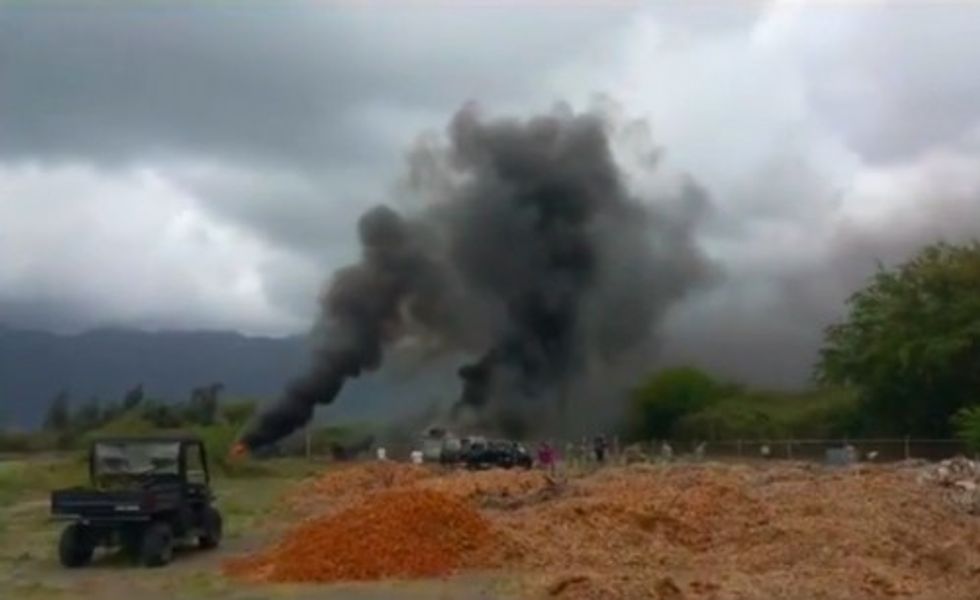 Image source: KITV-TV screengrab
Capt. Brian Block said in a statement that the Marine's next-of-kin have been notified, and his identity will be released later. The crash also killed Lance Cpl. Joshua Barron, 24, of Spokane, Washington.
U.S. Marine from Spokane killed in Hawaii crash http://t.co/OECEvlMx5V pic.twitter.com/qt6fA9WRmj

— KING 5 News (@KING5Seattle) May 19, 2015
The MV-22B Osprey, which can fly like a helicopter and a fixed-wing airplane, went down Sunday at a military base outside Honolulu with 21 Marines and a Navy corpsman on board. Two other Marines are still hospitalized in stable condition, Block said.
The Osprey had taken off from the USS Essex, a Navy ship 100 miles offshore. It was flying to Oahu to drop off infantry Marines for training on land, said Block, a spokesman for the 15th Marine Expeditionary Unit, which is based in Camp Pendleton, California.
The crash didn't stop the unit's exercises, Block said. The Marines also don't plan to ground their fleet of Ospreys, despite calls to do so from the governor of Okinawa, Japan, where many of the aircrast are based.
The Ospreys are taking part this week in the inaugural U.S. Pacific Command Amphibious Leaders Symposium at Bellows Air Force Station on Oahu. However, the training exercise that included the crash was not part of that event.
The Osprey is a tilt-rotor aircraft that can take off and land like a helicopter but flies like an airplane, which gives it a longer range than traditional helicopters.