If you've ever tried to back up a vehicle with a trailer hitched to it, trying to guide it in the right direction, you know how difficult, counterintuitive and frustrating this process can be.
Thank you Ford for creating technology that allows drivers to more intuitively control how they back up with their hitched cargo.
"Backing up a trailer can be tricky," Ford's news release stated. "The truck's front wheels have to be turned the opposite direction the customer wants the trailer to go. Turn too hard and the trailer can hit the vehicle, or jackknife. Whether working alone or with a spotter, backing up a trailer can be a tension-filled ordeal."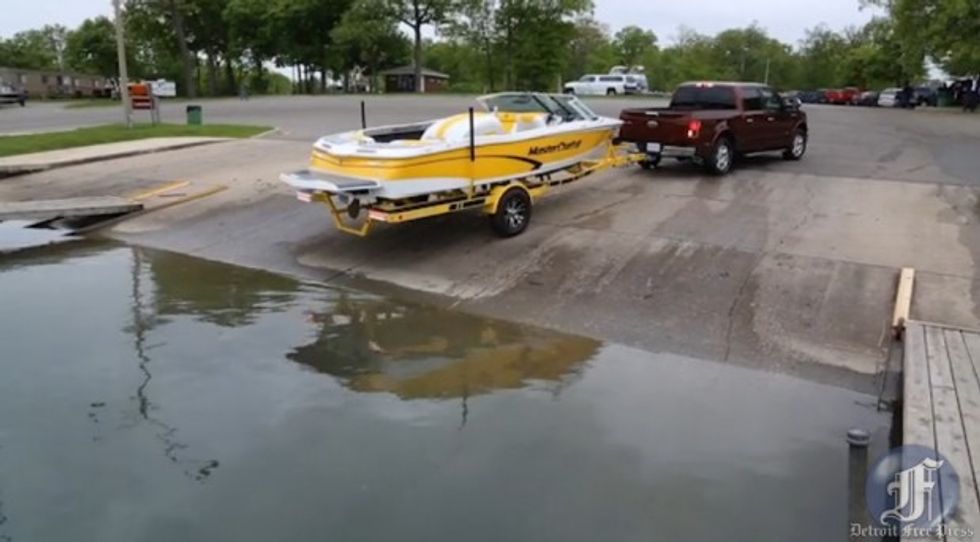 Image source: Detroit Free Press
The "Pro Trailer Backup Assist" will be available for all 2016 Ford F-150 trucks. The feature, which was in development for nearly a decade, allows the driver to turn a knob to indicate how the trailer should be steered as they watch it on a video screen on the front dash. The technology then allows the truck to take over the steering wheel and speed.
Autoblog pointed out that drivers need to measure trailers attached to the truck before using the feature to allow it to do its job properly.
"Pro Trailer Backup Assist is a smart solution to save time and increase productivity for our customers," Doug Scott, Ford marketing manager, said in a statement. "Instead of struggling to back up their trailer, they can spend more time on the job or enjoying the lake."
Autoblog, which participated in a demo of the system, said its immediate impression was that it "will be a boon to novices or first-time towers, a group of which your author is a member."
"It takes the mystery out of backing up a trailer, and while there's still a learning curve involved, it's significantly easier than doing things the old-fashioned way," Brandon Turkus continued for Autoblog. "The knob itself is easy to modulate, allowing drivers to make fine adjustments to the trailer angle as needed. You still need to have your wits about you when using the system, but in general, the overall process is far more straight forward."
Watch footage of how it works in this Detroit Free Press video:
So far, Ford holds five patents for the technology and said it has 10 pending.
If you're among the people who will be hitching up your boat or camper over this upcoming Memorial Day weekend, just dream about this technology while you suffer the frustration of backing up with a trailer. That is, unless you're already an expert at it, in which case, hats off to you.
—
Front page image via Shutterstock.