Humorous signs criticizing ABC's George Stephanopoulos over his close ties to Clintons have been spotted near ABC's "Good Morning America" studios in New York City.
The signs, first highlighted by The Weekly Standard's Mark Hemingway on Twitter Thursday, feature Hillary Clinton with her arm around Stephanopoulos with "PayPal" printed above their heads and a "donate" button printed below.
Spotted near @GMA's studios in NYC. pic.twitter.com/jqfFvqJQjk

— Mark Hemingway (@Heminator) May 21, 2015
The Washington Free Beacon also obtained some photos of the signs posted in different locations: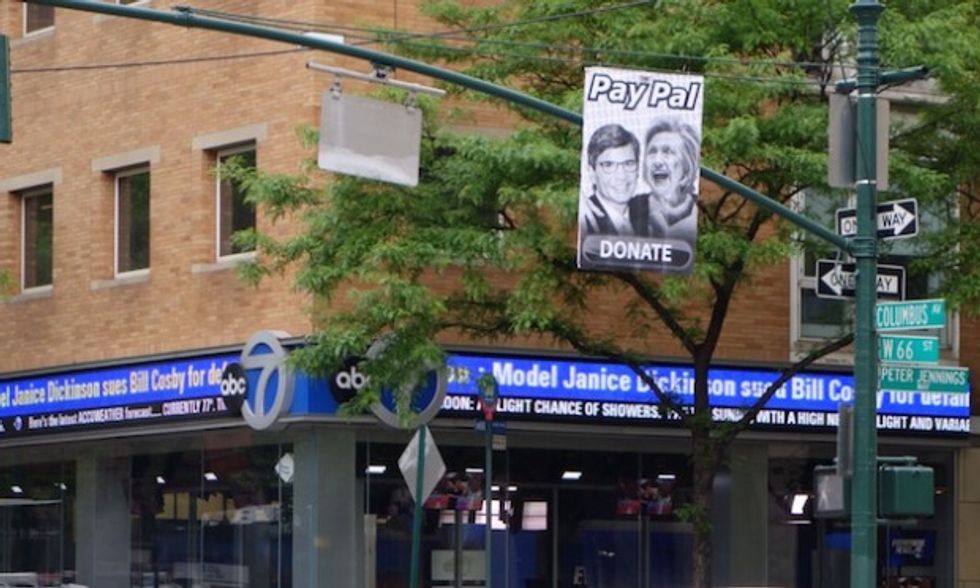 Source: Washington Free Beaon
See the rest of the photos here.
Stephanopoulos was forced to disclose that he had donated $75,000 to the Clinton Foundation in the last three years after the Free Beacon inquired about the donations. The newsman has been strongly criticized for not immediately revealing the donations, especially since he interviewed Peter Schweizer, the author of "Clinton Cash."
ABC News has decided not to discipline the anchor.
(H/T: Twitchy)
---