CLEVELAND (TheBlaze/AP) — After a long, technical explanation Saturday, a judge found a Cleveland police officer not guilty of voluntary manslaughter in the shooting deaths of two unarmed people in a 137-shot barrage.
"[Officer Michael] Brelo did not fire too quickly or at someone who was clearly unarmed or unable to run him over," said Cuyahoga County Common Pleas Court Judge John O'Donnell.
O'Donnell did find Brelo had committed felonious assault, but determined he was justified in his use of force, meaning the officer could walk free.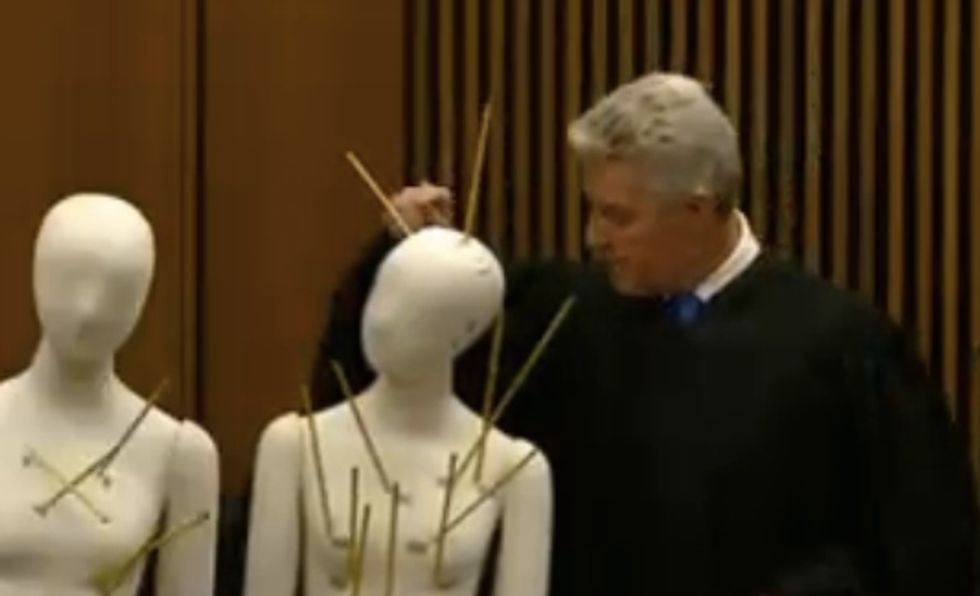 A judge reviews evidence as he announces the verdict in Michael Brelo's case. (Image via WJW-TV)
O'Donnell began with a lengthy preamble, ruminating on how the verdict in "a single criminal case" won't heal the wounds of police brutality, racial division and America's "original sin" of slavery.
He noted the growing "divide between the people and the police" in "mostly African-American communities," a divide "fed" by "police officers' affronts to honest people treated as criminals...and daily slights and disrespect, real or imagined."
O'Donnell also exhaustively reviewed the bullet wounds sustained by the victims in the massive police shooting, in which the accused, Brelo, was just one participant among many.
Brelo, 31, had been charged in the November 2012 deaths of Timothy Russell and Malissa Williams after a high-speed car chase.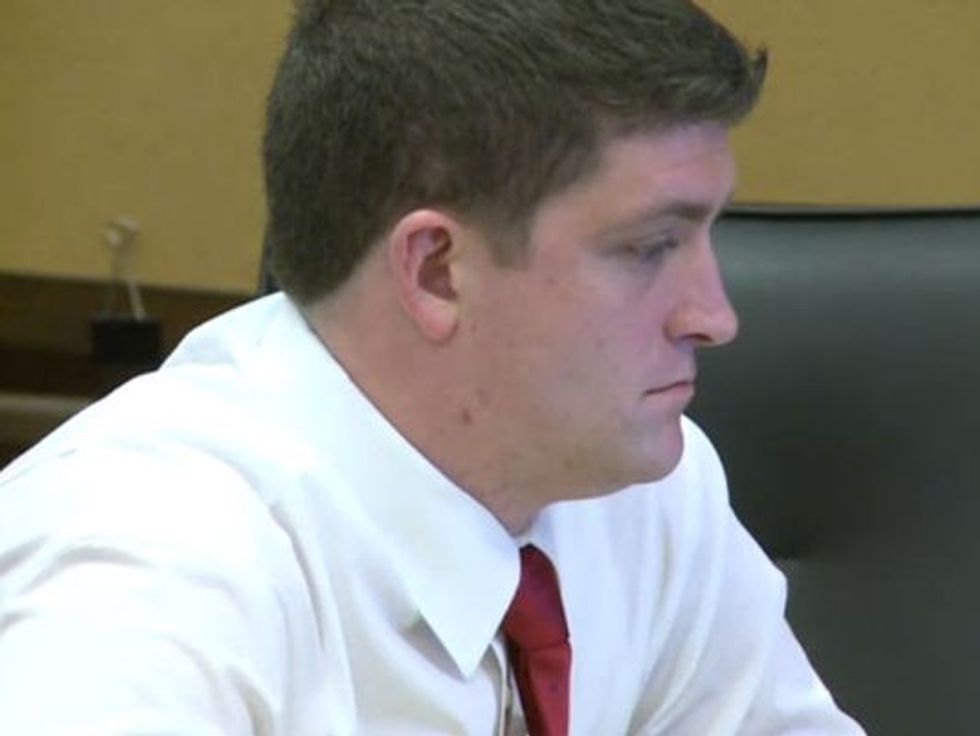 Michael Brelo. (Image via WKYC-TV)
Brelo is white, the two motorists were black.
"Police officers are forced to make split-second judgments" about deadly force, O'Donnell said.
The case had attracted growing attention around the country.
Michael Brelo jumped on the hood of the car of Timothy Russell & Malissa Williams. Shot them 15x. They were UNARMED pic.twitter.com/XSJ7d0sKJC

— Shaun King (@ShaunKing) May 19, 2015
Community and city leaders braced for the possibility of unrest in response to the verdict, which came as investigators worked toward making a decision on whether charges will be filed in the death of a black 12-year-old boy shot by a white rookie officer late last year.
The chase began after Russell's beat-up Chevy Malibu backfired as it sped past police headquarters, which caused officers to think someone in the car had fired a gun. Thirteen officers fired at the pair's car after a 22-mile chase, though only Brelo was charged criminally. Prosecutors said he waited until the car had stopped and the occupants were no longer a threat to fire 15 rounds down into the windshield while standing on its hood.
Prosecutors argued Russell and Williams were alive until Brelo's final salvo. Brelo's attorneys argued that other officers fired during the final barrage and that prosecutors couldn't prove in what order the fatal shots were fired.
Russell, 43, and Williams, 30, were each shot more than 20 times.
The shooting helped prompt a months-long investigation by the U.S. Department of Justice, which concluded last December that the Cleveland police department had engaged in a pattern and practice of using excessive force and violating people's civil rights. The city and DOJ are currently negotiating a reform-minded consent decree that a federal judge will approve and independent monitors will oversee.
On Saturday, O'Donnell said he "cannot find beyond a reasonable doubt" that Brelo had fired any of the four shots deemed fatal to Russell, but that Brelo had almost certainly fired between one and five of the seven separate fatal shots that hit Williams.
However, since other officers had fired so many lethal shots, the judge said he couldn't find beyond a reasonable doubt that Brelo's shots were responsible for killing either victim.
"His badge and gun offer no special protection here," O'Donnell said of Brelo.
O'Donnell also cautioned, "The verdict should be no cause for a civilized society to celebrate or riot."
Following the verdict, Brelo's lead attorney Pat D'Angelo spoke out strongly against the "coercion of the prosecution" and the "oppressive government" that had been hell-bent on locking up Brelo for "doing his job."
"I'd be damned if we were going to let a bully push us around," D'Angelo said, adding that he was pleased with the verdict.
This story has been updated.
—
Follow Zach Noble (@thezachnoble) on Twitter