The United Nations Foundation is going to "subsidize" media coverage of the U.N.'s Sustainable Development Goals (SDG).
Read: The foundation, created by billionaire environmentalist Ted Turner, is pumping $6 million in training and cash into news organizations, which will then turn around and report on the SDG.
The foundation swears it isn't just buying off reporters.
Fox News' George Russell reported on the effort, which comes ahead of a September U.N. summit at which the SDG will be discussed.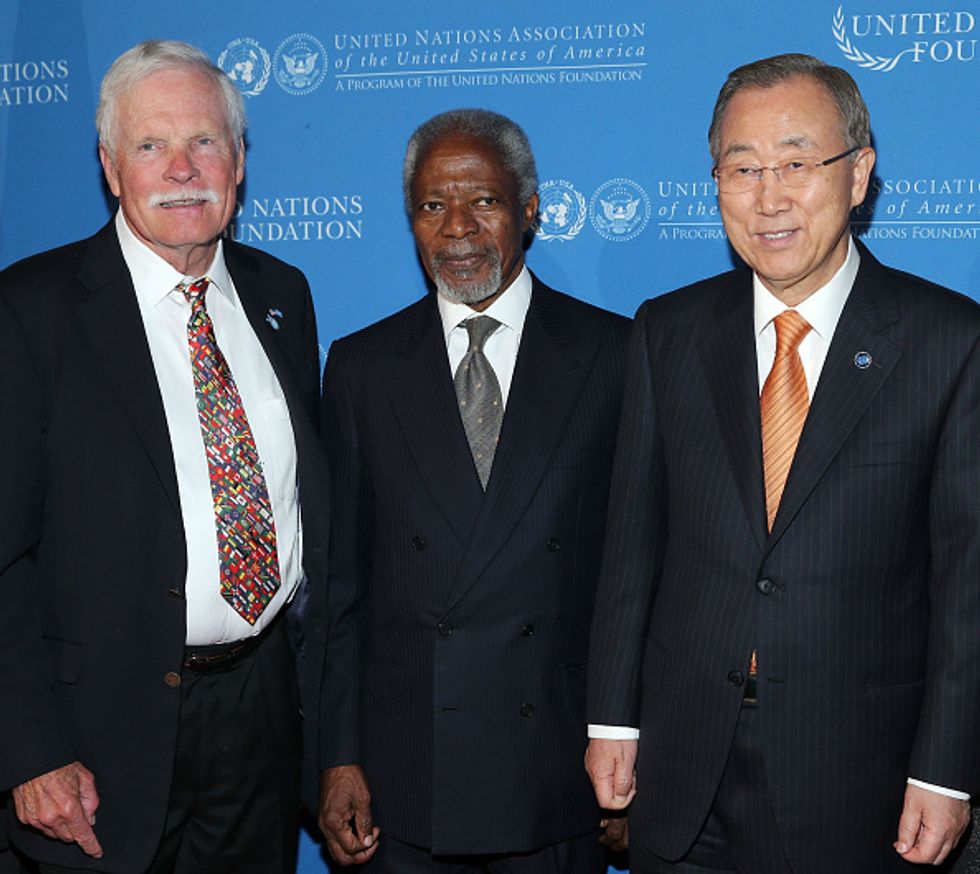 (L-R) Ted Turner, former UN Secretary General Kofi Annan and current UN Secretary General Ban Ki-moon attend the 2014 Global Leadership Dinner at Cipriani 42nd Street on October 22, 2014 in New York City. (Photo by Jemal Countess/Getty Images)
The push "comes at a time when people want to know what it will take to eradicate extreme poverty and tackle the big questions related to sustainability," Kathy Calvin, CEO of the U.N. Foundation, told Fox News. "If our work helps encourage the media to dive deeper into these issues, we are achieving something that is core to our mission but also a public good worthy of 2015's moment in history."
Media behemoth Thomson Reuters is joining the effort, and says the training will be useful to help journalists understand what's going on.
"Very often the problem of the UN is that the speeches long, full of acronyms, and the jargon is difficult to understand," Monique Villa, head of the Thomson Reuters Foundation, told Fox News. "Making the jargon of the U.N. understandable is quite important."
The SDG list is incredibly broad.
It includes such sweeping goals as ending hunger and poverty, ensuring global "gender equality" and securing "full and productive employment and decent work for all."
The list of news outlets that will be on the receiving end of U.N. Foundation subsidies is yet to be released, with 15 recipients slated to be named by the end of this month and 15 more named in June, Russell reported.
Each recipient will receive subsidies ranging from $25,000 to $100,000, he noted.
In the U.S., training sessions will take place in New York and Los Angeles, though the push is aimed at journalists around the globe.
The foundation claims it isn't trying to buy positive media coverage of the SDG.
"[G]rants [are] designed to enhance the capacity of media organizations to partner on these issues," a  U.N. Foundation spokeswoman told Fox News. "Full editorial control of content remains with the media outlet."
Read more at Fox News.
—
Follow Zach Noble (@thezachnoble) on Twitter