A 22-year-old Pennsylvania woman is beginning a search for information about her family history — her birth family's history.
Kathleen McGlade was born in Easton, Pennsylvania, on Sept. 21, 1992, and was given up for adoption through the Catholic Social Agency Diocese of Allentown.
McGlade told the Lehigh Valley News she has questions — her adoptive parents being given very little information about her birth family — that she hopes she will eventually find answers to. Her adoptive parents were told she did have a biological brother and sister.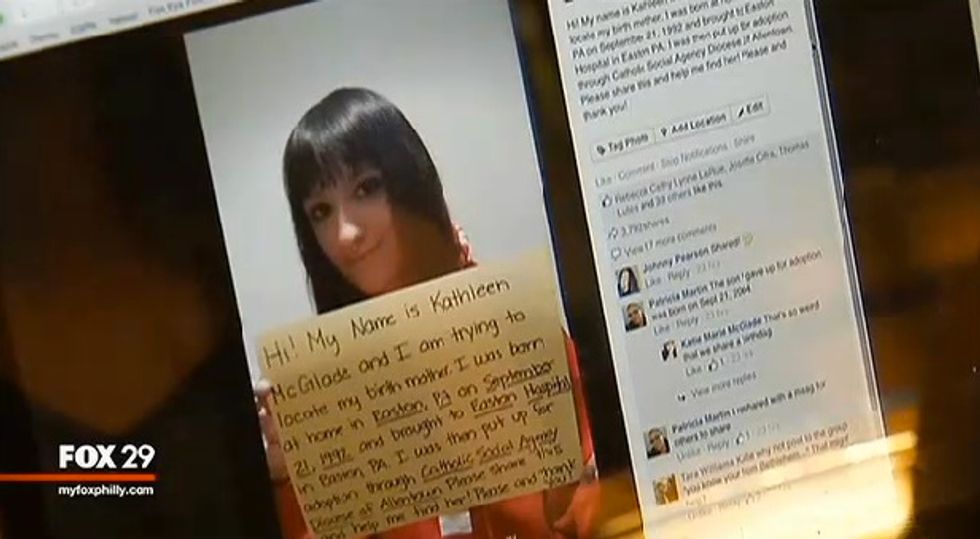 McGlade posted a sign on Facebook, saying she was searching for her birth mother. (Image source: WTXF-TV)
"The mom gave no information to the agency. I have no idea where I came from," McGlade told the newspaper. "...I always wanted to have a sibling and knowing there were two other there that I didn't know, that was really upsetting to me."
McGlade went on to say that the lack of information about her birth family has bothered "me my entire life."
"I've always wanted to know why. Why she gave me up for no reason," McGlade told the Valley News.
McGlade told WTXF-TV her adoptive parents "made me feel like I was their own child but in the back of my mind it was just eating and eating."
The agency McGlade was adopted from closed and legal avenues to find her birth mother didn't pan out. So on Sunday, she fashioned a sign and posted a picture of herself holding it on her Facebook page. Within just a couple of days, it had more than 5,000 shares and turned up one possible lead.
"Hi! My name is Kathleen McGlade and I'm trying to locate my birth mother," the post read. "I was born at home in Easton PA on September 21, 1992 and brought to Easton Hospital in Easton PA. I was then put up for adoption through Catholic Social Agency Diocese of Allentown. Please share this and help me find her! Please and thank you!"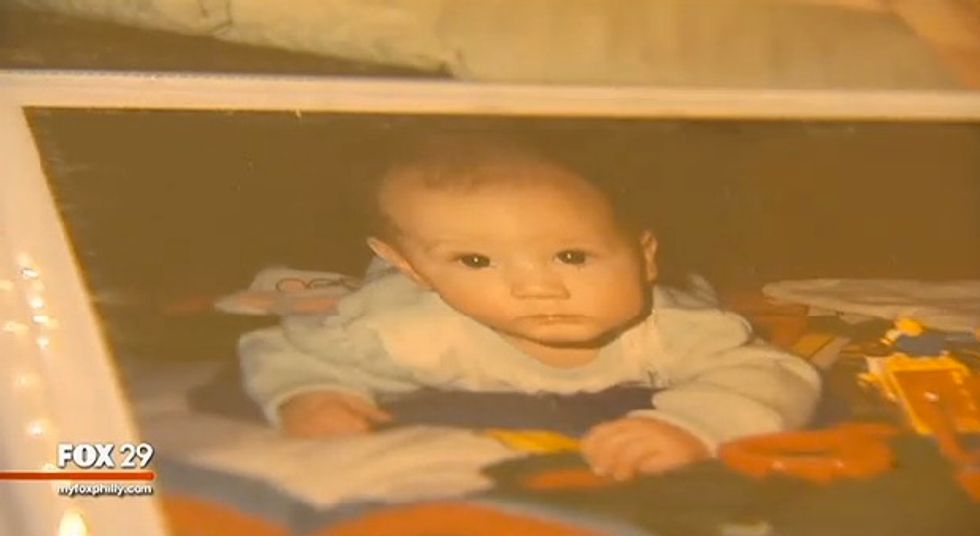 McGlade as a baby. (Image source: WTXF-TV)
The Valley News reported that within a day of posting the picture on Facebook a woman who lives in New York reached out, saying she was looking for her sister. According to the newspaper, McGlade said their stories seem to match and baby pictures look similar. The pair plan to meet for a DNA test.
Watch WTXF-TV's report:
(H/T: Daily Mail)