Researchers continue to train an advanced, robotic cheetah to do new tricks.
The latest accomplishment showcased by scientists at MIT's Biometrics Robotics Lab is not only that the cheetah can jump while running but that it can sense the obstacles over which it has to make the leap.
"A running jump is a truly dynamic behavior," Sangbae Kim, assistant professor of mechanical engineering, said in a statement. "You have to manage balance and energy, and be able to handle impact after landing. Our robot is specifically designed for those highly dynamic behaviors."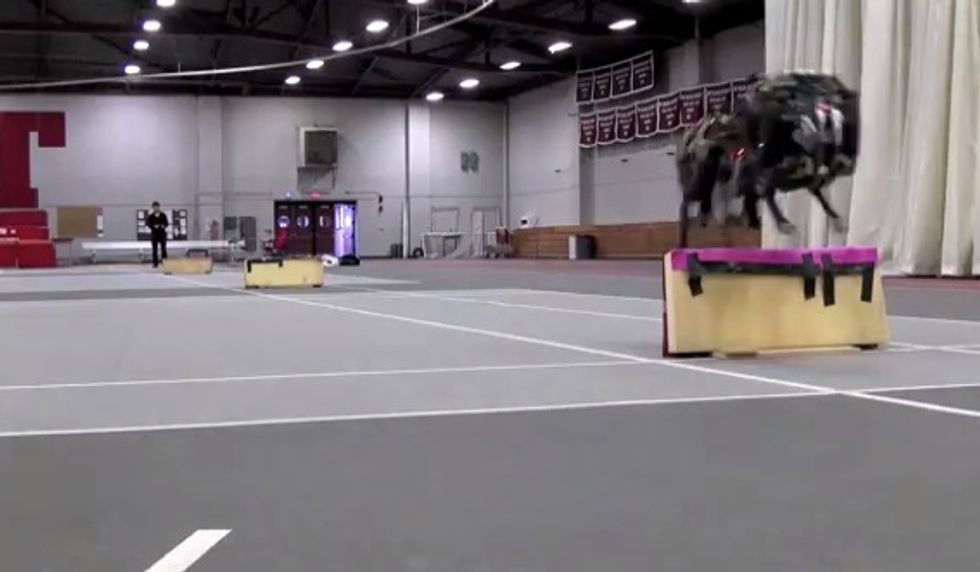 The robotic cheetah was able to run and jump over various hurdles on this indoor track. (Image source: YouTube)
The robotic cheetah running at 5 mph demonstrated on a treadmill and indoor track that it could jump over objects up to 18 inches tall, which MIT notes is more than half of the robot's own height. In terms of weight, MIT doesn't specify how heavy the robot is now, but a couple of years ago, it weighed about 70 pounds.
Using LIDAR, a type of sensing technology, and a path-planning system set up by the researchers, the robotic cheetah is autonomous in its running and jumping endeavors. The sensing system allows the cheetah to assess the size and distance of the obstacle in front of it, while MIT researchers devised an algorithm that then has the robotic system adjusting its remaining strides to appropriately time the leap over the object.
Watch footage of the tests on a treadmill and on the indoor track:
Kim admitted that the robotic cheetah is not necessarily the most efficient at jumping over an object and, in this case, that's OK.
"If you want to optimize for, say, energy efficiency, you would want the robot to barely clear the obstacle — but that's dangerous, and finding a truly optimal solution would take a lot of computing time," Kim said. "In running, we don't want to spend a lot of time to find a better solution. We just want one that's feasible."
So, sometimes the robot jumps higher over an object.
"This is one example where you just have to be good enough, because you're running, and have to make a decision very quickly," Kim said.
Next up for the robot is getting it to jump while running on softer ground, like grass.
The military's researcher arm, the Defense Advanced Research Projects Agency, funded some of this project.