Police in India have arrested a pigeon suspected of being a spy from Pakistan.
The bird was taken into custody after it landed at barber Ramesh Chandra's house in the Manwal village, about 2 1/2 miles from the India-Pakistan border.
'Spy' pigeon from Pakistan jailed in Pathankot http://t.co/WduJicbOJo … pic.twitter.com/mzZlDDk6d5

— Anil kumar (@simbamara) May 28, 2015
Chandra's 14-year-old son noticed the bird was carrying a stamped message written partly in the Pakistani language of Urdu. Numbers included in the message appeared to be a Pakistani landline telephone number, the Times of India reported.
Lo jee... --> India arrests 'spy pigeon' from Pakistan http://t.co/A6aq8wqyJD pic.twitter.com/ywitnZ8r4j

— omar r quraishi (@omar_quraishi) May 29, 2015
The boy took the pigeon to a nearby police station, where it was X-rayed. The examination didn't reveal anything unusual but police kept the bird in custody and logged it as a "suspected spy," according to the BBC.
"This is a rare instance of a bird from Pakistan being spotted here. We have caught a few spies here. The area is sensitive, given its proximity to Jammu, where infiltration is quite common," police Superintendent Rakesh Kaushal told the Times of India.
Jammu and Kashmir is an area near the India-Pakistan border that is claimed by both countries and is the site of frequent military exchanges.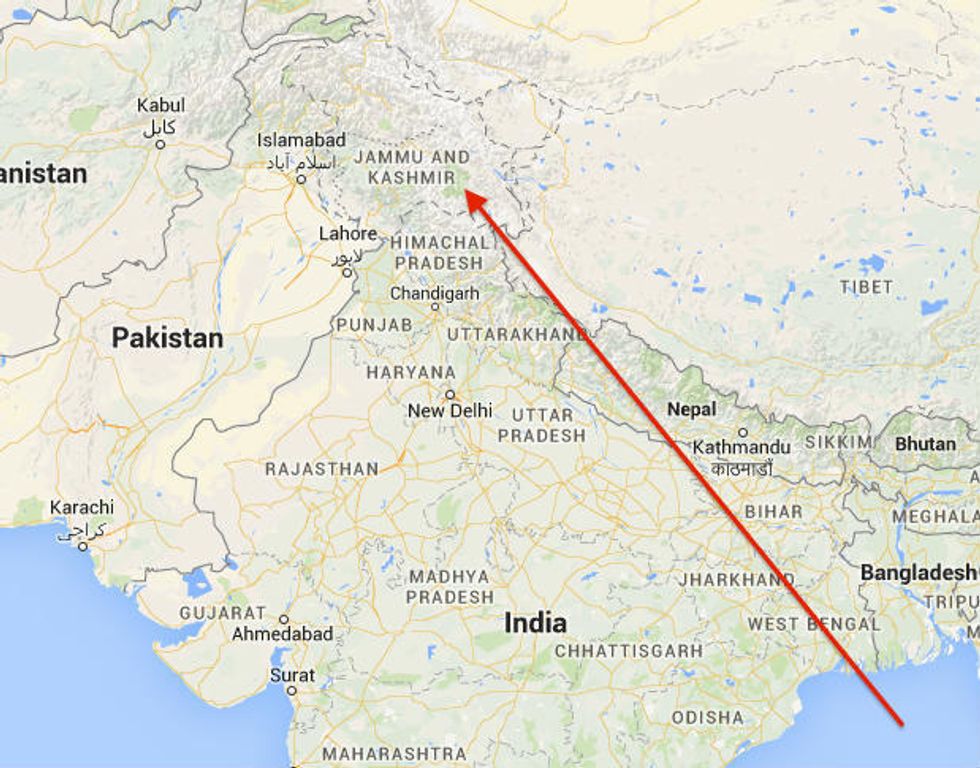 Image source: Google Maps
The pigeon was discovered the same day as a security meeting among Indian and Pakistani officials, according to the Times of India.
This isn't the first time a bird has been "arrested" on suspicion of spying. In July 2013, police in Turkey detained a bird thought to be gathering information for Israel.
In October of the same year, Lebanese officials captured an eagle sent from Israel because it was equipped with technology that could transmit images. Israel said the bird was sent to track migration patterns.
Officials in Egypt and Saudi Arabia have also detained birds accused of spying in the past.
(H/T: BBC)
—
Follow Jon Street (@JonStreet) on Twitter