A Palestinian man who was born into a prominent family of Hamas-backers is trying to stop efforts to deport him from Canada to the West Bank, because he believes that as a gay man and a convert to Christianity, he would face certain death.
"Please help me, I don't want to die," wrote the man, who changed his name to John Calvin following his conversion.
In a Sunday blog post in the Times of Israel, Calvin recounted the unlikely path to his conversion from Islam to Christianity and emphasized that if he revealed his birth name, one would know he is the scion of "one of the most pro-Hamas families in the West Bank" whose relatives have been convicted of terrorist attacks.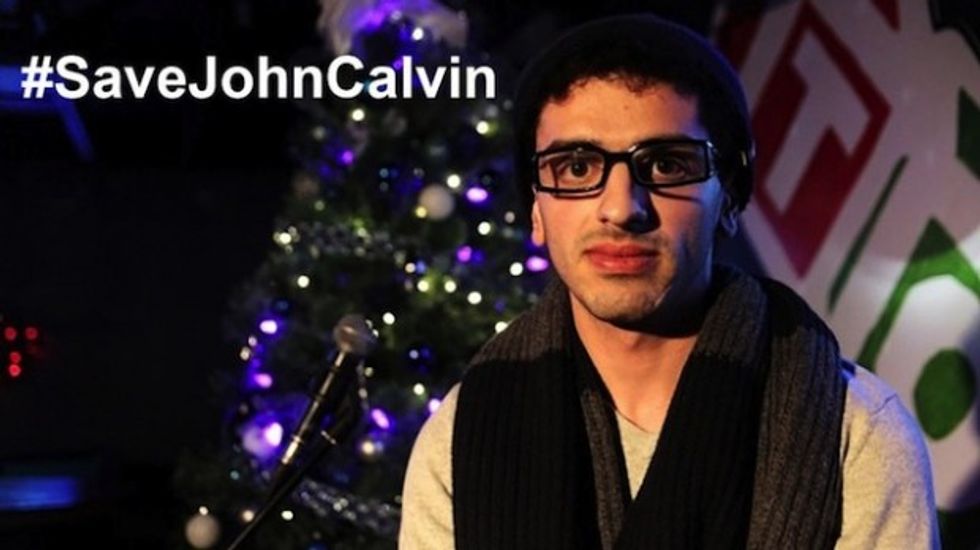 A petition on Change.org is asking the Canadian government to "allow John Calvin to stay." (Image source: Change.org)
"From as early as I can remember, I was taught that Islam was the one true faith, that violence was the only answer, and that the Jews were our enemies," he wrote. "These were facts, as real and obvious as the fact that the sky is blue. These were 'facts' and deep down I wasn't sure if I believed them."
His journey to Christianity began in the most unexpected of places, when he was detained in an Israeli jail.
"My moment arrived in an Israeli jail, after I was arrested for illegally crossing the border, escaping from yet another argument with my family and the violence of my father. I was looking for answers to questions when and where I least expected them," he wrote.
Comparing his experience to the conversion of Paul the Apostle on the road to Damascus, Calvin wrote, "It was in an Israeli jail where the doubts I had about everything I had ever been taught were finally silenced. Another man, a Palestinian man, hurt me in a way I could never have imagined, in a way that just isn't talked about in our society."
In previous interviews, Calvin said directly that he was raped by a Muslim inmate.
"If that was unexpected, that was nothing compared to what came next. The Israelis who worked in the prison – 'the Jews' – looked after me and took care of me, making sure the story never got out to those who would use it against me," he wrote. "The Palestinians I had been taught to die for had hurt and abandoned me while the Israelis I had been taught to kill acted with compassion and helped me heal."
After this experience, he began his conversion process, "opening my eyes and heart to a religion that denounced violence and hatred."
Calvin, 24, recounted that when his father learned he wanted to abandon Islam, he tried to stab him. Later, his father beat him and had him arrested.
After he was released, Calvin got a scholarship at a Christian college in Canada, "a country where no one was going to kill me for who I was, what I believed, and whom I loved. Isn't that what everyone deserves?"
Calvin said his asylum request has been rejected by the Canadian government and he's now facing deportation, which he believes will constitute a mortal danger for him.
"Speaking to Israelis! That is a death penalty. Converting to Christianity! That is a death penalty. Being open about my sexuality! Again, that is certain death. If I am deported, sent back to where I was born and raised, it's only a matter of time before I am found dead," he wrote.
"Hello. My name is John Calvin, and I want to live in a place where I can be free to be Christian, gay, and Palestinian, and a hundred and one other things," he wrote, adding the hashtag #SaveJohnCalvin. "My name is John Calvin, and I want to live in a country where I'm free to forget about the circumstances of my childhood. My name is John Calvin and, most of all, I want to live. My name is John Calvin, and I need your help, desperately."
According to past media reports on his case, Calvin's request for refugee status in Canada was denied earlier this year after an immigration official contended that as a teenager Calvin passed coded messages for Hamas through Israeli checkpoints and shot at Israeli military jeeps.
Calvin told the Edmonton Journal in January that he didn't understand the messages and denied that he had ever shot the gun, which was his birthday present at age 14 from his grandfather.
Calvin told Canada's CTV television in January that his family members were among Hamas's founders.
A petition started on Change.org calling on the Canadian government to reverse its decision had received nearly 1,000 signatures as of this writing.
A Canadian government spokesman was not immediately available for comment on this story.