Though holding a Republican pedigree, former Rhode Island Gov. Lincoln Chafee joined a small group of Democrats challenging Hillary Clinton for the presidency on Wednesday.
He said what made him distinct from other Democratic candidates was his record, his character and his vision.
"Record, that what it should be judged on. You character. have you been ethical? Then what is your vision? That's the three keys," Chafee said told a small gathering at George Mason University in Arlington, Virginia. "Elections are about choices, and that's the way it should be, I'm happy to join the choices out there."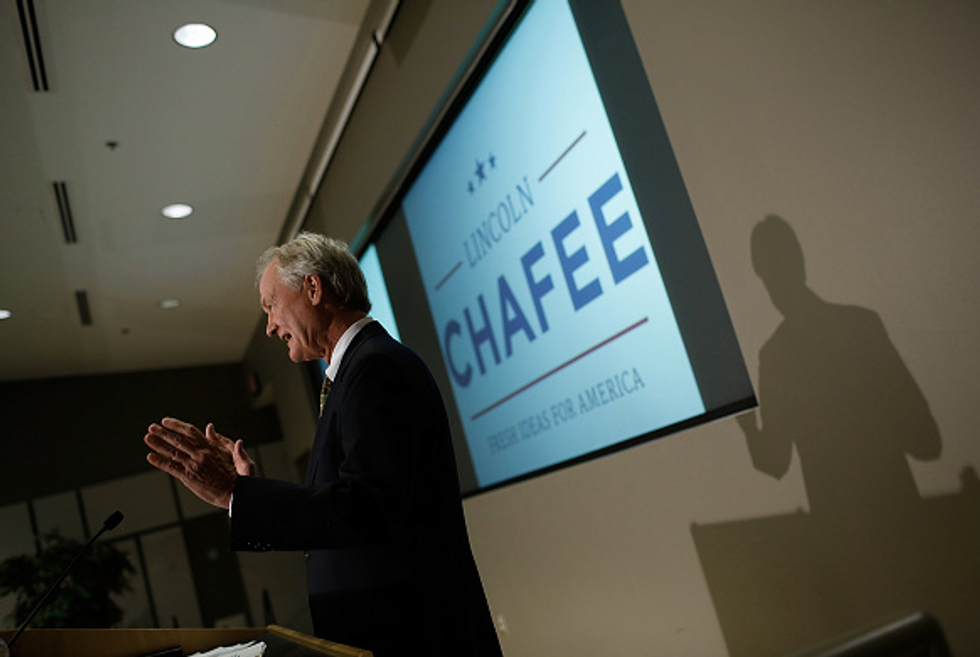 Democratic presidential candidate and former Sen. Lincoln Chafee (D-RI) announces his candidacy for the U.S. presidency at George Mason University June 3, 2015 in Arlington, Virginia. Chafee joins Hillary Clinton, Bernie Sanders and Martin O'Malley in seeking the Democratic nomination. (Win McNamee/Getty Images)
Chafee's unusual political background includes being a Republican senator who refused to vote for George W. Bush for president and an independent governor who insisted on a "holiday tree" — not Christmas tree — in the Rhode Island statehouse.
Among his proposals during the low key speech that included a question and answer session with the audience, Chafee called for the United States to adopt a metric system in line with most of the rest of the world.
"Let's join the rest of the world and go metric. I happened to live in Canada. And they've completed the process. Believe me, it's easy," Chafee said. "It doesn't take long before 34 degrees is hot. Only Myanmar, Liberia and the United States aren't metric, and it will help our economy."
He later added, "I'm not saying we do it tomorrow, but I think it should be something we aspire to in this new American century that we are talking about, that we reach out to the rest of the world, and we are not arrogant and unilateralist as some would propose we would be, and it's always America's way or the highway."
He spent much of his speech reminding voters he opposed the Iraq war.
"I learned in the first nine months of the Bush/Cheney administration, prior to Sept. 11, not to trust them," Chafee said. "As a candidate, Governor Bush said many things that were for the campaign trail only. Governing would be a lot different."
Chafee said that candidate Bush pledged to regulate carbon and have a humble foreign policy.
"The lies never stopped. This was an administration not to be trusted," he said.
Chafee is the son of a longtime Republican politician John Chafee, who was also a governor and U.S. senator for the small state. The senior Chafee also served as secretary of the Navy under President Richard Nixon.
In 2011, Chafee renamed the Christmas tree in the Rhode Island statehouse a "holiday tree," fearing that a Christmas tree would be considered offensive.
Lincoln Chafee was also a Republican city councilman and mayor in Warwick, Rhode Island and a state legislator. He was appointed to his father's Senate seat in 1999 upon John Chafee's death, then won it in his own right in 2000.
A liberal-leaning Republican, Chafee voted against the invasion of Iraq and against the Bush tax cuts. In 2004, he wrote in George H.W. Bush's name for president instead of voting for President George W. Bush.
Sheldon Whitehouse ousted the younger Chafee in the 2006 Democratic wave. Chafee endorsed Barack Obama for president in 2008. In 2010, Chafee ran as an independent for governor. As an independent governor, Chafee spoke at the 2012 Democratic National Convention.
Chafee switched from an independent to a Democrat in 2013. According to NPR, Chafee's now-opponent in the presidential race, former Maryland Gov. Martin O'Malley, actually encouraged Chafee to switch parties.
---