Turns out, if you share a bathroom with someone, there might be more for you to worry about than an accidental toothbrush sharing situation.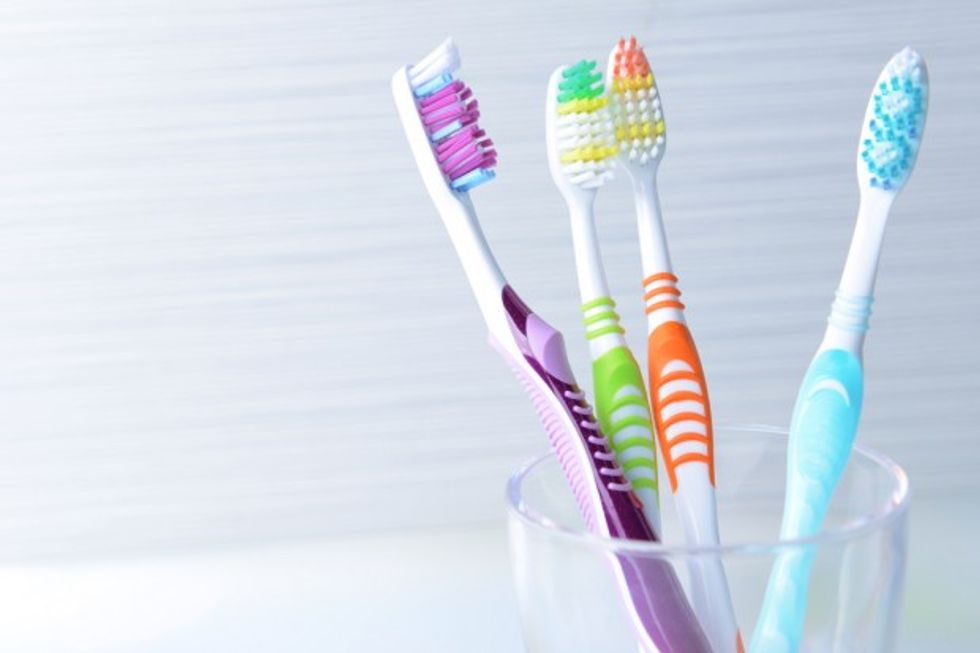 Photo credit: Shutterstock
Research from Quinnipiac University presented annual meeting of the American Society for Microbiology this week described how fecal coliforms — a type of bacteria associated with fecal matter — was found on toothbrushes in communal bathrooms.
"The main concern is not with the presence of your own fecal matter on your toothbrush, but rather when a toothbrush is contaminated with fecal matter from someone else, which contains bacteria, viruses or parasites that are not part of your normal flora," Lauren Aber, a graduate student at Quinnipiac University, said in a statement.
Aber collected toothbrushes from study participants who used communal student bathrooms, averaging about 9 people per bathroom.
Regardless of how the toothbrushes were stored, they found that at least 60 percent of the toothbrushes had fecal coliform contamination, and there was an 80 percent chance that fecal coliform was from another person.
"Using a toothbrush cover doesn't protect a toothbrush from bacterial growth, but actually creates an environment where bacteria are better suited to grow by keeping the bristles moist and not allowing the head of the toothbrush to dry out between uses," Aber said.
Think rinsing your toothbrush after use with cold water, hot water or mouthwash helps? Nope, the study found no difference in any type of these decontamination methods. In fact, they found that 100 percent of the toothbrushes rinsed with mouthwash had fecal contamination.
"Better hygiene practices are recommended for students who share bathrooms both in the storage of their toothbrush but also in personal hygiene," Aber said.
The American Dental Association recommends that toothbrushes be replaced every three to four months. Between replacements though, care suggestions include not sharing toothbrushes, rinsing with tap water and air drying. The ADA also offers other suggestions — rinsing with an antibacterial mouth rinse before brushing, soaking the brush in an antibacterial rinse after brushing, using a toothbrush sanitizer — but it noted that they may "not supported by the currently available clinical evidence."
The ADA also noted that "there is insufficient clinical evidence to support that bacterial growth on toothbrushes will lead to specific adverse oral or systemic health effects." Some people who are at a higher risk for infection though might want to try extra preventative measures.
In addition to proper hand washing after using the restroom and keeping bathroom surfaces that the toothbrush might come into contact with clean, the guys from the Discovery channel's "Mythbusters" also confirmed that closing the toilet lid before you flush can help prevent particles from traveling in water droplets around the bathroom.
(H/T: Daily Mail)
—
Front page image via Shutterstock.