A car carrying a pregnant woman and two others was sliced in half by an Amtrak train in Jacksonville, Florida, on Tuesday, yet somehow everyone in the car escaped without serious injury.
The 171 people on the train were unhurt.
Image source: YouTube
A security camera mounted on a building near the crash captured the moment of impact.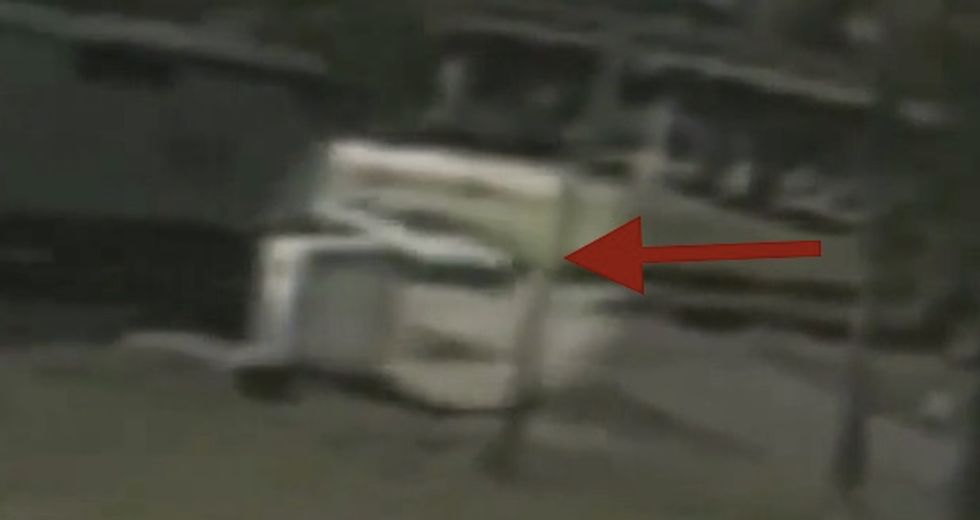 Image source: YouTube
The train's engineer said the driver was attempting to beat the train to the intersection when the collision occurred. The back half of the car was tossed about 20 feet from the point of impact, into a grove of trees.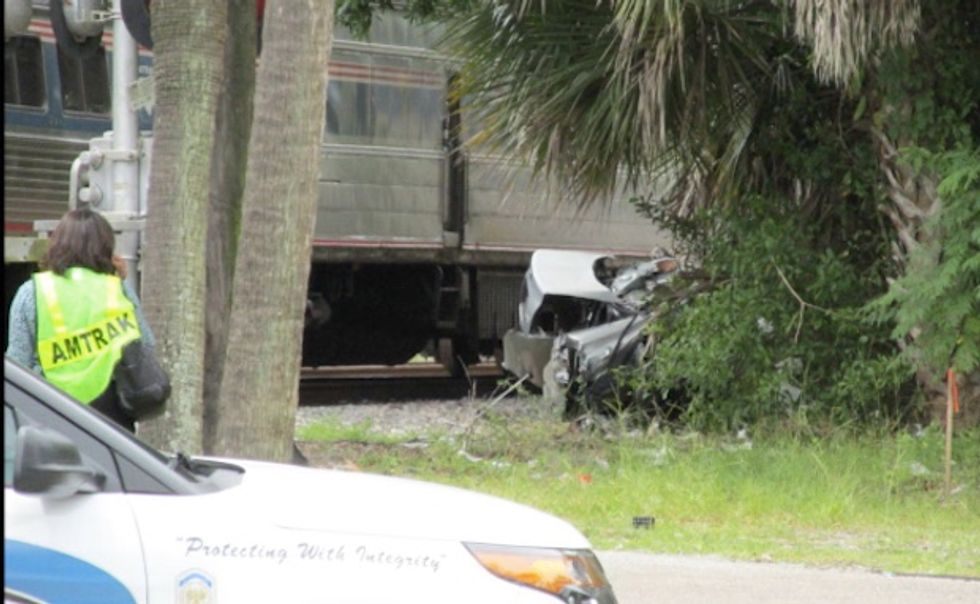 Image source: YouTube
Stacey Peterson Jr., 21, was behind the wheel of the Honda. His uncle, 35-year-old Edward Peterson, was the only passenger in the vehicle reported to be wearing a seat belt. He told reporters, "When I turned around, the back of the car wasn't there."
The driver's pregnant girlfriend, 26-year-old Alexandra Mincey, was sitting in the back seat and ejected from the car as it was ripped in half by the train. Mincey landed on the grass across the street from the impact zone and suffered three cracked vertebrae. She was transported to a local hospital and listed in stable condition.
First Coast News reporter Shelby Danielson stayed on the scene after the wreck and witnessed the driver's father, Stacey Peterson Sr., gathering items from the wreck.
Stacey Peterson holds up rear door & fishing rods that were in trunk. Says will serve as reminder for his son @FCN2go pic.twitter.com/F8lS5LThF8

— Shelby Danielsen (@NewsShelby) June 2, 2015
Surveying the scene, the elder Peterson told the Florida Times-Union, "It's a God-sent miracle" that no lives were lost.
The train suffered only cosmetic damage from the collision and did not derail, though Amtrak travel in the area was delayed for several hours as investigators combed the scene for evidence.
Watch coverage from ABC News:
The Florida Times-Union posted raw video from the post-crash investigation:
The collision comes one month after a New York City-bound Amtrak train derailed in Philadelphia, killing eight people and injuring more than 200 others.
—
Follow Mike Opelka (@Stuntbrain) on Twitter.