Connie Cole, a 32-year-old single mother of three in Asheville, North Carolina, had been struggling to get by after her car broke down and she was unable to pay to fix it.
With desperation in her voice, the mom called Carolina Auto Sales looking for a vehicle she could afford. As fate would have it, the sales manager took Cole's call on speakerphone, just loud enough for one particular stranger to hear, WLOS-TV reported.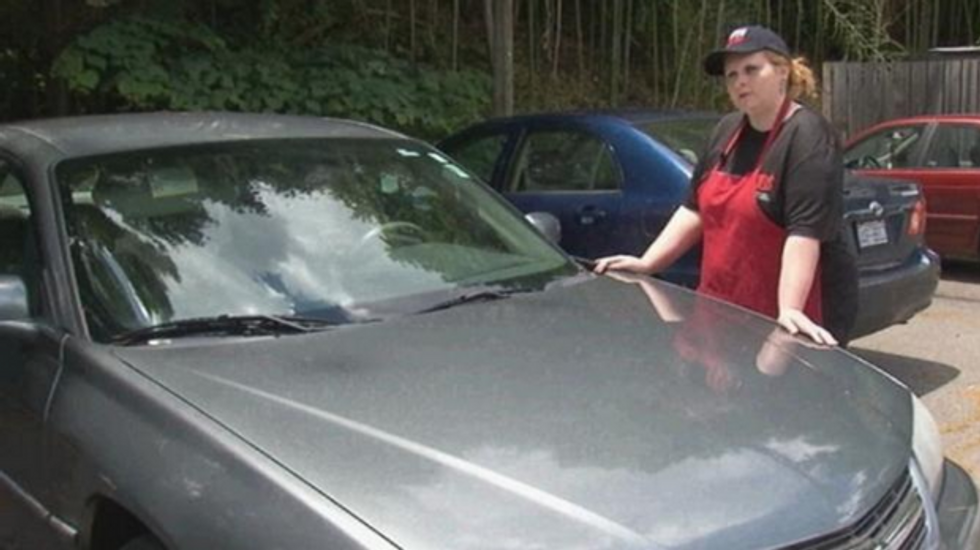 Screengrab via ABC News
There was something about hearing Cole's plight that moved the man, who has asked to remain anonymous, to act.
The unidentified man said he "heard the distress in her voice and he wanted to go home and pray about maybe buying her that car," the dealership's owner, Wesley Gurley, told ABC News.
"Connie sounded so desperate since the car she had broke down," he added.
However, Gurley also said "nobody thought he was serious" about buying the woman a car.
But the man's prayers apparently led him to a clear decision.
When Cole arrived at the car dealership roughly an hour later, the mystery benefactor was there too. He informed her that he was going to buy her that new car.
He kept his word too, paying $2,200 for a 2004 Chevy Impala. He also reportedly gave her $100 for her first tank of gas — and then some. Cole's dad also put down $800 for a down payment to help.
"I cried and thanked him at least a thousand times," Cole told ABC News. "I was speechless."
Gurley said the man's insistence on remaining anonymous made the gesture even more inspiring as it truly was a "good deed without a single gain." The mysterious good Samaritan said his act was merely a reflection of his faith and his desire to do good on days other than Sunday.
"To me that just means the Lord is out there," Cole said, adding that her answered prayer has reinvigorated her faith. "Keep high hopes, pray and don't give up."
More from ABC News:

ABC News Videos | ABC Entertainment News
---