A woman who worked at the New York maximum security prison, from which two inmates escaped over the weekend, became the subject of questioning this week with a report saying she allegedly confessed to agreeing to drive the escapees' getaway car.
According to the source speaking with CNN, Joyce Mitchell, who worked as an instructor at Clinton Correctional Facility in Dannemora, apparently admitted that she agreed to pick up 34-year-old David Sweat and 48-year-old Richard Matt, but backed out of the plan.
The source told CNN Mitchell was being "somewhat cooperative" in the investigation. A law enforcement source also told CNN that Mitchell's cellphone made calls to people who knew Matt.
Watch the news outlet's report regarding its sources' information about Mitchell's alleged involvement:
Mitchell's son though spoke in defense of his mother Tuesday.
"She is not the kind of person that's going to risk her life or other people's lives to let these guys escape from prison," Tobey Mitchell told NBC News.
"She's always been a good person," he added.
Joyce Mitchell, according to NBC, checked into a hospital Saturday with "a case of nerves." Her son though said his mother is a "very nervous person" and believes "the truth will come out."
The search for the two convicted killers, which began Saturday, turned up no signs of them Tuesday. There were reports of two men walking along a road in a small town in the Adirondack foothills. Despite not finding Sweat and Matt, state police said leads continued to be generated and there would be an increased police presence in the area.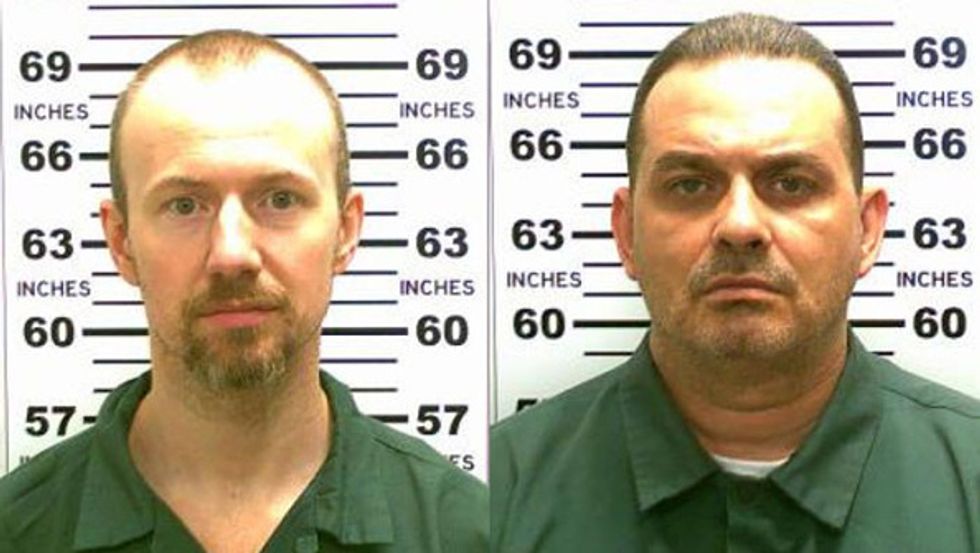 In this handout from New York State Police, convicted murderers David Sweat (L) and Richard Matt are shown i n this composite image. Matt, 48, and Sweat, 34, escaped from the maximum security prison June 6, 2015 using power tools and going through a manhole. (New York State Police via Getty Images)
Searchers walked shoulder-to-shoulder, wearing bulletproof vests and carrying sidearms as they went through hilly woods, fields and swamps of Willsboro, checking every home, garage, shed and outbuilding, then yelling, "Clear!" when there were no signs of the inmates.
By early evening, it appeared the sweep had come up empty, and there was no confirmation from police that the escaped convicts had been there. New York State Police issued a statement Tuesday saying that more than 400 corrections and other law enforcement officers were in the area and planned to go door to door, checking homes and seasonal camps.
The escape from the 3,000-inmate state prison has raised suspicions the men had help on the inside.
Investigators have been questioning prison workers and outside contractors to try to find out who may have supplied the power tools. Contractors have been doing extensive renovations at the 170-year-old prison, a hulking, fortress-like structure that looms over Dannemora's main street.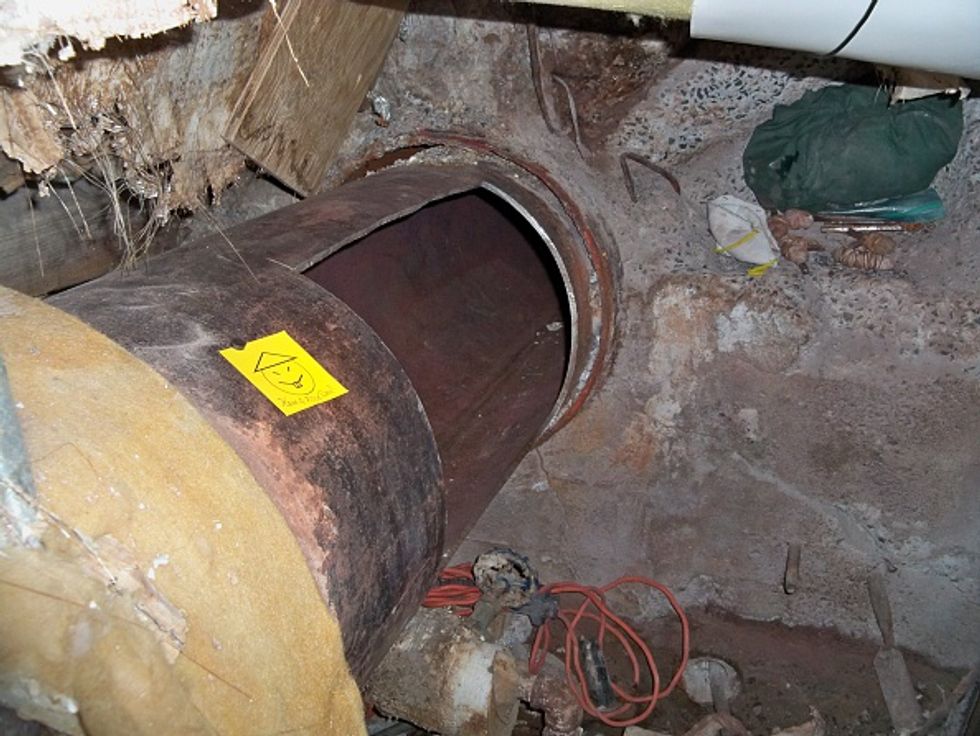 This photo shows where two convicted murderers used power tools to cut through steel pipes at the Clinton Correctional Facility June 6, 2014 in Dannemora, New York. Richard Matt, 48, and David Sweat, 34, escaped from the maximum security prison June 6, 2015 using power tools and going through a manhole. (Darren McGee/New York State Governor's Office via Getty Images)
A $100,000 reward has been posted for information leading to the men's capture.
Sweat was convicted in the 2002 killing of a sheriff's deputy and was doing life without parole. Matt was serving 25 years to life for kidnapping and dismembering his boss in 1997.
(H/T: Daily Mail)
—
The Associated Press contributed to this report.