Andria and Zoey Green wanted to raise some money for their dad's gift for Father's Day, so they opened a lemonade stand in front of their home.
The trouble was, they lacked a county health permit for their operation. So earlier this week, the authorities shut them down.
That hasn't sat well with other residents in Overton, Texas: support has been pouring in for the girls, ages 7 and 8.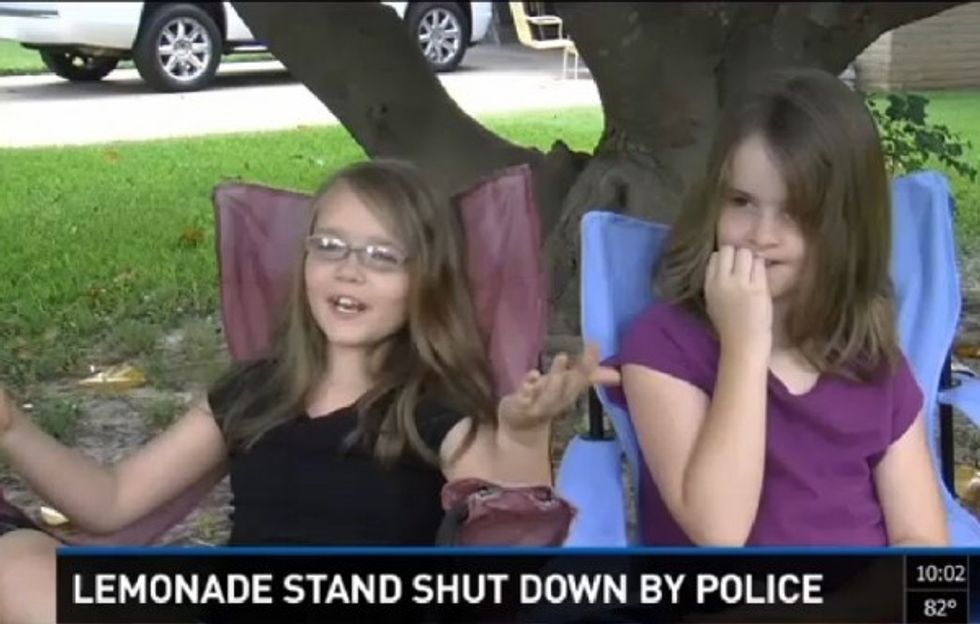 Image source: KYTX-TV
"I can't believe how this took off and how much support we have had," their mother, Sandi Green Evans, told the Tyler Morning Telegraph. "We have two radio stations saying they are going to broadcast from here, TV stations coming out and a local motorcycle group coming to help with traffic."
Before police shut them down, the Green sisters hoped their enterprise would bring in enough money so they could take their dad to a water park for Father's Day — but a legal loophole could actually earn them way more cash than they had hoped for.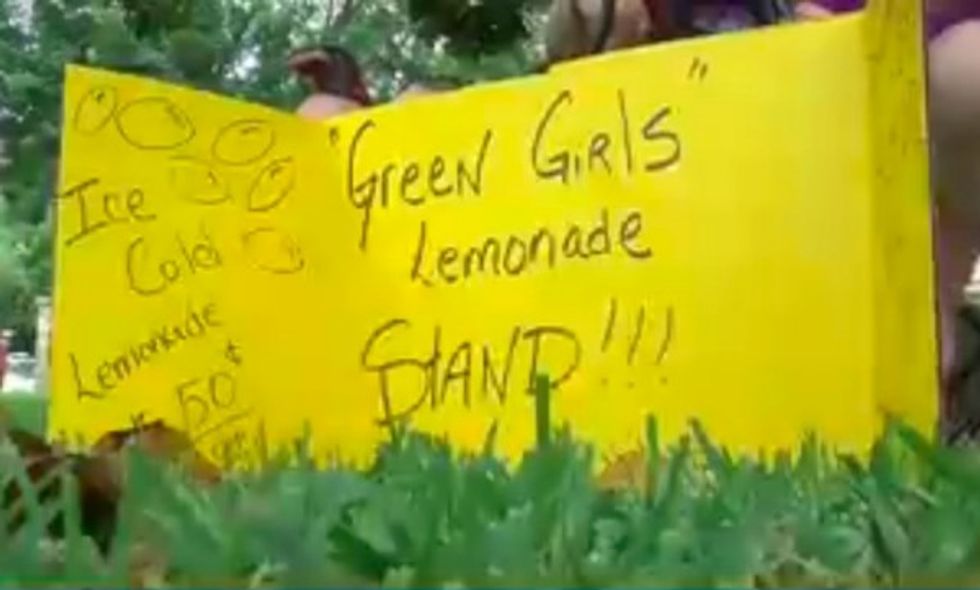 Image source: Tyler Morning Telegraph
Andria and Zoey can reopen their stand as long as they give away their lemonade for free — but they can accept donations.
And that's exactly what they plan on doing Saturday, in anticipation of hundreds of people who've pledged to drop by their house on the 200 block of Garden Club.
Overton City Manager Charles Cunningham said it's against state law to sell lemonade at a stand.
"We are not out looking for people selling lemonade," he told the Morning Telegraph, "but in this case, the police chief was driving around and saw them in the road and stopped due to safety concerns."
Here's partial dashcam video that shows police approaching the stand to shut it down:
Cunningham seemed sympathetic to the sisters' situation: "I'm 72 years old, and when I was a kid, no one gave something like this a thought, but over time, they are placing restrictions on everything."
However much money comes in this weekend, the girls will be donating all proceeds to a high school sports scholarship fund. Why? Because those tickets they wanted to buy for Six Flags and Splash Kingdom were already given to Andria Green when news broke about the lemonade stand.
"She told one of the guys she hadn't made enough money yet from the lemonade sales to pay him the $105 for the tickets, but he told her that they were given to him by the park to give to her and her sister," Sandi Green Evans told the paper.
Right now, Andria and Zoey's mom just hopes there's enough lemonade to give away Saturday: "This entire thing has been a learning process for the girls, but now they are excited about what Saturday will be like and how many people will show up."
KYTX CBS19.tv - News, Weather,
—
Follow Dave Urbanski (@DaveVUrbanski) on Twitter