A New Jersey preschool fired five staff members after a cellphone video that surfaced Wednesday appeared to show an aide roughing up a 2-year-old student — but questions remain regarding what disciplinary steps were initially taken.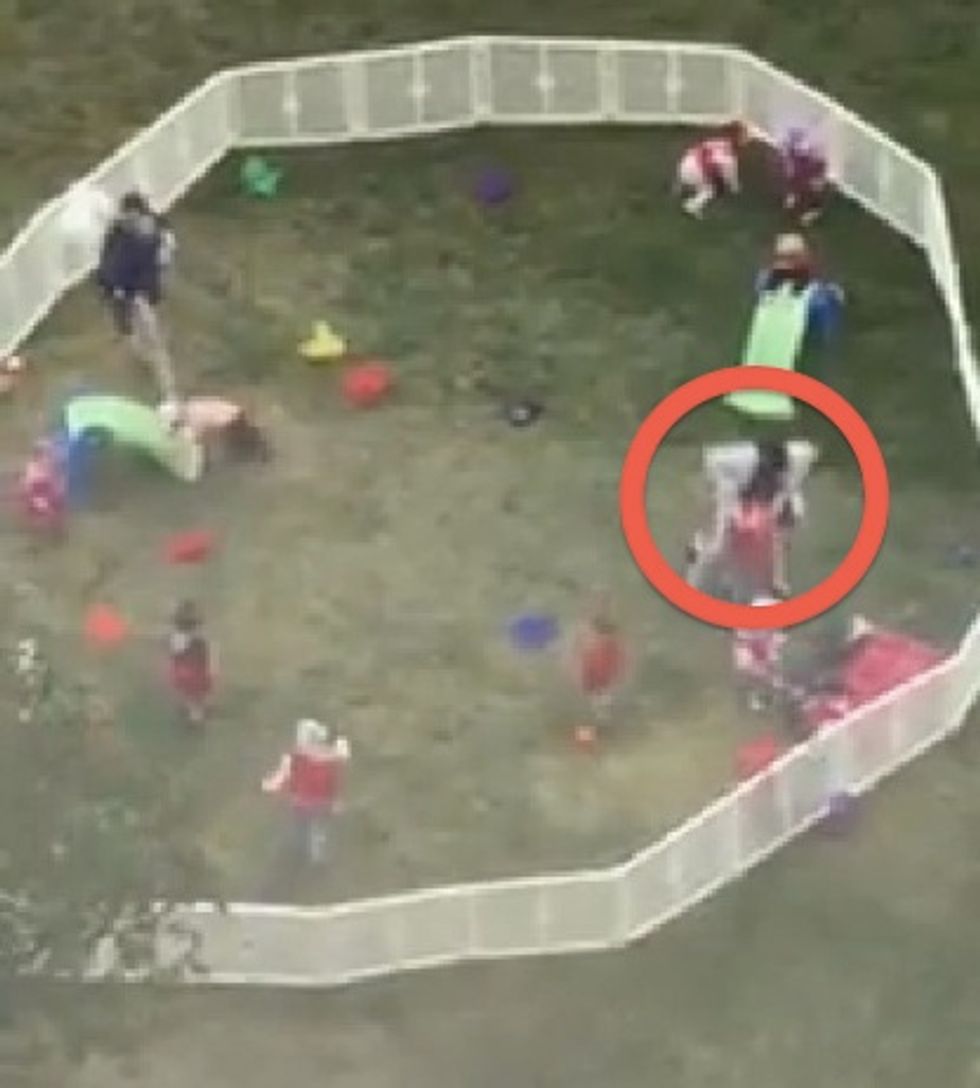 Image source: Facebook
In addition, a new video surfaced Friday appearing to show a different aide at the Apple Montessori School in Hoboken roughing up and yelling at a crying student, WNBC-TV reported.
It all started when a woman in a nearby high-rise observed the playing preschoolers in May and made a cellphone video of an aide getting rough with a 23-month-old girl. The aide — apparently frustrated that she couldn't put a hat on the child — was seen pushing her down, harshly picking her up and then leaving her laying on the grass.
Here's the clip:
NBC NEW YORK IS NOW FOLLOWING AND REPORTING ON THIS STORY. FURTHER DETAILS MAY BE FOUND HERE: http://goo.gl/9jzehuThis was posted by a local mom regarding Apple Montessori School in Hoboken, NJ. The school's response to this behavior is simply a 30 day probation for the instructor. This is absolutely unacceptable to me as a parent and I feel this is grounds for immediate dismissal from her position. Please, share this if you can, as daycare abuse is something any parent is worried about and if this woman is willing to do this out in public, imagine what happens behind closed doors. Even worse, the other instructor did absolutely NOTHING to stop the treatment of this toddler. Disgusting. I can only hope that this video can reach the parents so that they can take legal action and remove their child from this program. The school is refusing to share the video with the family, so they are very likely unaware of the situation."It is with an angry and frustrated heart I post this video of Apple Montessori. My two-year old was due to start there and then I saw troubling behavior and I took a video to show my husband and the school. This is one short clip of several. I am posting so other parents are aware. Edit: I have fully reported incident but alerting parents. This was Hoboken location."Here is a link to a second video of the employee mistreating a different child:

/p>Posted by Sara Elizabeth on Wednesday, June 10, 2015
The school said it didn't see the video until Wednesday but took immediate action to fire the aide in question, as well as another aide and teacher present during the incident.
In a Thursday statement, Apple Montessori said the school's director and assistant director — who had had possession of the video since June 4, WABC-TV reported — were also fired "for their mishandling of this incredibly serious situation."
The woman who shot the video told WNBC she showed the clip to the school's director last week and was told the teacher would be placed on working probation for 30 days — in other words, she would remain at the school and continue working.
But fearing parents wouldn't be notified, the woman posted the video on Facebook — and then a local parents' group reposted it, WNBC reported.
It isn't clear how the family that runs the New Jersey Apple Montessori Schools was made aware of the video, but part of a Wednesday letter to parents said, "We are outraged by the lack of care and concern this employee showed. We do not condone this type of behavior in any way, shape or form."
A WNBC video report said the school didn't respond to multiple phone calls asking if the claim regarding the 30-day working probation is true.
After the initial story ran, a second video from May emerged — and this one showed a different aide grabbing a crying child by her feet and yelling, "Stop! Stop it right now!" The aide then yanked up the child, swung her over a fence by her arms and then walked her into the Montessori building, practically dragging her by the arm, WNBC reported.
A school spokeswoman told the station the aide in the new video was one of the fired employees and had no further comment.
More from WNBC:
The person who shot the video told NBC 4 New York she had observed workers getting increasingly rough with the kids over a period of time. She was cleaning a window in an apartment above the play area when she filmed the incident on May 13, intending to show it to her mother and ask for her opinion.

The tipster, who asked to remain anonymous, never showed it to the school because she had no ties to the school and didn't know how to approach anyone with the video.
As for the girl from the first video, her father Brett Stenhouse said she was shaken up but is OK.
"It was really disturbing," he told WNBC. "We're being told that there had been an incident. I didn't expect it to be as severe as it actually was."
Stenhouse pulled his daughter from the school on Thursday, WNBC said.
"I was really shocked to see it," Larry Sciancalepore, a Hoboken resident, told WABC, "and being an educator for over 43 years ... I'm appalled at the way they treated that child."
While the school said it runs background checks on employees, the station learned that schools like Apple Montessori aren't licensed child care centers and aren't subject to related state regulations.
Apple Montessori added that it was implementing new safety measures to ensure "this type of incident doesn't happen again."
The below report includes clips from the second cellphone video:
—
Follow Dave Urbanski (@DaveVUrbanski) on Twitter