After what appeared to be a crushing defeat in the House Friday, President Barack Obaama sought to spin the trade vote in an upbeat positive light.
Though fast-track authority for the president passed the House, the trade assistance bill failed, meaning that a package won't go forward for Obama to sign.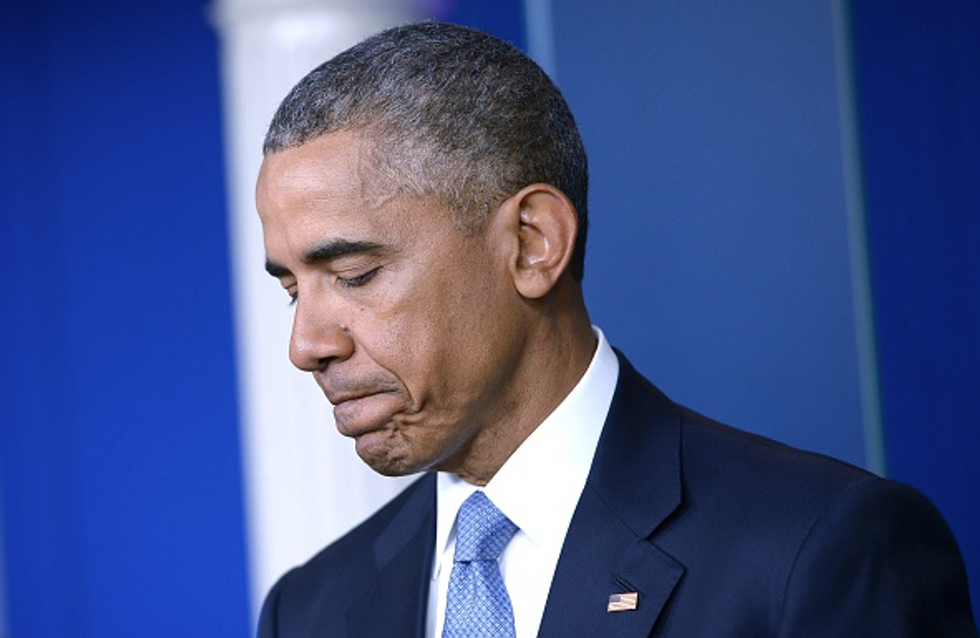 AFP PHOTO/MANDEL NGAN
Two votes were held Friday. One on Trade Assistance Authority (TAA), which provides aid to workers, companies and communities negatively affected by a trade deal. The other was on Trade Promotion Authority (TPA), also known as fast track, would allow the president to send a trade agreement to Congress for an up or down vote — bypassing the amendment process and making it easier for the executive branch to negotiate a deal.
"Trade Adjustment Assistance is an initiative that would give roughly 100,000 American workers access to vital support each year. But it's currently scheduled to expire soon," President Barack Obama said in a statement Friday afternoon. "Republicans and Democrats in the Senate have renewed it. Republicans and Democrats in the House failed to renew it today – and that inaction will directly hurt about 100,000 workers and their communities annually if those Members of Congress don't reconsider. I urge the House to pass TAA without delay so that more middle-class workers can earn the chance to participate and succeed in our global economy."
He then went on to spin the vote as an incomplete victory.
"I thank the bipartisan group of Representatives who came together on behalf of America's workers, our businesses, and our economy," Obama said. "And I urge the House of Representatives to pass TAA as soon as possible, so I can sign them both, and give our workers and businesses even more wind at their backs to do what they do best: imagine, invent, build, and sell goods Made in America to the rest of the world."
House Democratic leader Nancy Pelosi (D-Calif.) led her caucus to vote against the Trade Adjustment Assistance package that would have made Trade Promotion Authority easier to pass among Democrats.
White House press secretary Josh Earnest pointed out that on May 12, the Senate Senate Democrats blocked a trade vote before eventually passing it. Now, exactly one month later, House Democrats dealt a setback to the president's trade agenda, prompting Earnest to quote Yogi Berra saying "it's déjà vu all over again."
"The House of Representatives, based on their vote today, they can't just send the TPA bill to the president's desk and hope that the TAA bill follows," Ernest said. "This is why I would describe this as procedural snafu. We had situation where we had a clear bipartisan majority in the House, we just have to work our way through the procedures to that can make it to the president's desk."
Some Republicans expressed concerns that Obama would use the trade authority to implement new immigration rules and climate rules without Congress. Earnest told TheBlaze that would not happen.
"There is specific language that is included in the legislation that prohibits that. This I think is a pretty good example of where there are significant disagreements between Republicans and this president," Earnest said. "We've made clear we believe immigration reform is a priority because of the economic benefits it would shower on our economy. We've also made clear that dealign with climate change is a top priority. The president has sought very aggressively to make progress in those areas, and he didn't need TPA to do it."
The additional trade authority would make it easier for Obama to negotiate the Trans-Pacific Partnership, which the United States would enter with 11 other countries. The other countries are Australia, Brunei Darussalam, Canada, Chile, Japan, Malaysia, Mexico, New Zealand, Peru, Singapore and Vietnam. Obama argues that it is the "most progressive" free trade deal in history because of its labor and environmental protections.