Hillary Clinton's campaign event Saturday on New York City's Roosevelt Island drew a reported crowd of 5,500 enthusiastic supporters and an additional 550 members of the media.
Today, Hillary laid out her vision—and she's ready to fight for it. First stop: Iowa. #Hillary2016 pic.twitter.com/dcKxiZmkdb

— Hillary Clinton (@HillaryClinton) June 13, 2015
Almost immediately after Clinton wrapped up her speech, CNN cut to Marshalltown, Iowa, where reporter Jeff Zeleny was attending a "Hillary House Party" arranged by the Clinton campaign.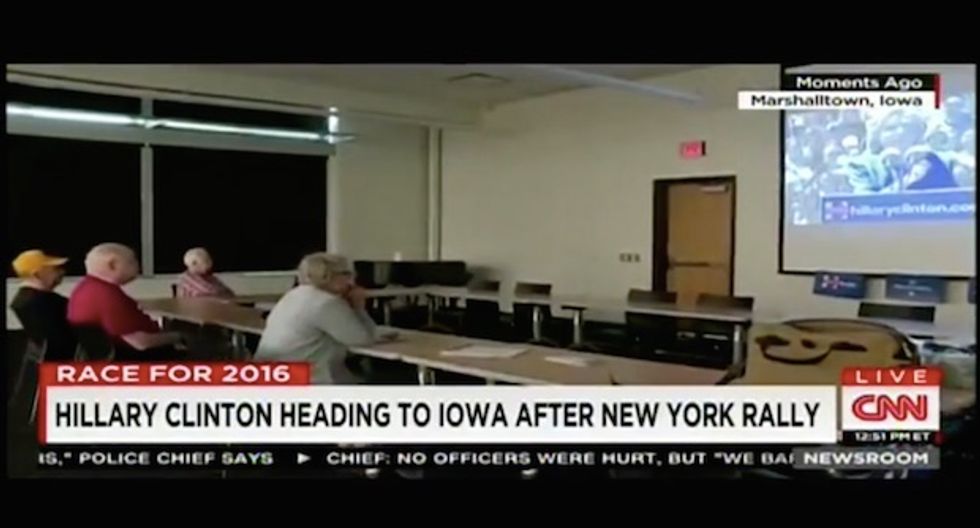 Image source: YouTube
Zeleny told anchor Fredricka Whitfield the event was randomly selected and commented on the meager attendance: "Maybe people were watching at home. But, this one party we picked randomly, only six people were inside watching it here in Marshalltown, Iowa."
Following the New York City rally, Clinton was reportedly flying directly to Iowa for a few scheduled appearances. Zeleny shared that information and also added "She's not out here alone. I can tell you, Senator Bernie Sanders is also having a day of activities out here. And, he's drawing hundreds and hundreds of people to his events here."
Whitfield closed the segment with a stinging comment about the small crowd: "Those images of that house party or watch party, I don't know, looking kinda pitiful. Not really very exciting and boisterous."
Her observation came at 12:52 p.m. ET, according to video below. Less than 20 minutes later, Whitfield called the shooting carried out on Dallas police headquarters "courageous and brave."
__
Follow Mike Opelka (@Stuntbrain) on Twitter.