It's an apparent miracle that no police officers were killed when a gunman opened fire on Dallas police headquarters early Saturday morning, police Chief David Brown said in a press conference.
"Some officers say we're very lucky, I believe we're blessed that our officers survived this ordeal," Brown said.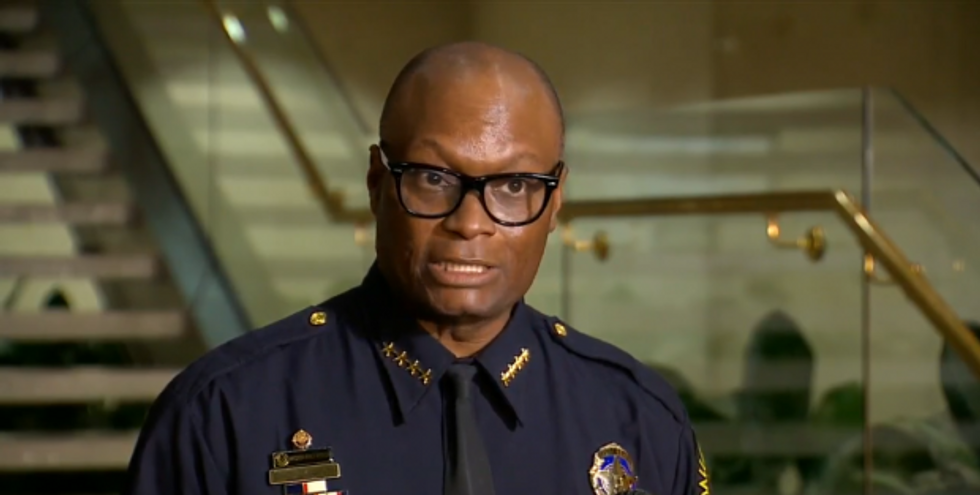 (WFAA-TV)
Brown said staffers stationed in the main lobby of Dallas police headquarters early Saturday got lucky and had moved, and another had "walked away" to get a Coke when the building was hit by heavy gunfire.
"If they had stayed there during the ordeal, they would've been shot and killed, we believe, based on the trajectory of the bullets," Brown said. "Preliminarily, we believe this suspect meant to kill officers and took time to discharge that weapon multiple times to accomplish them wanting to harm our officers."
Brown also said officers barely survived when the armored van used by the suspect, identified as James Boulware, rammed police squad cars. He said if the officers stood still after the ramming, they likely would have died.
MORE: It appears the van used in the #DallasPDShooting is surplus from sheriff's office in Pickens Co., SC. pic.twitter.com/PxR4j6A0iT

— Jason Whitely (@JasonWhitely) June 13, 2015
"Seconds of movements by our officers...saved their lives," he added.
The official Dallas PD Twitter account reported on Saturday that it's "likely that the [the suspect] is deceased."
More from WFAA-TV:
The armored van used in the assault was in a parking lot in suburban Hutchins, where the suspect had been in an hours-long standoff with SWAT team officers.
Brown had said a sniper hit the suspect shortly after 5 a.m. and that officers had lost contact with him for several hours afterward. But officers did not directly approach the van due to the threat of explosives inside. The police chief revealed that a bag with pipe bombs and other explosives inside detonated when a bomb squad robot picked it up.
No one was injured during the incident.
The Associated Press contributed to this report.
---