An attorney representing a prominent Iranian civil rights activist and cartoonist was reportedly arrested for shaking his female client's hand while visiting her in prison, according to the Israeli news site Jerusalem Online.
Attorney Mohammed Moghini is handling the appeal case for 28-year-old Atena Faraghdani, a cartoonist currently serving a 12-year prison sentence for her cartoon criticizing Iran's treatment of women. A human rights activist asserted that the arrest was designed to bar Faraghdani from submitting her appeal within the mandated deadline.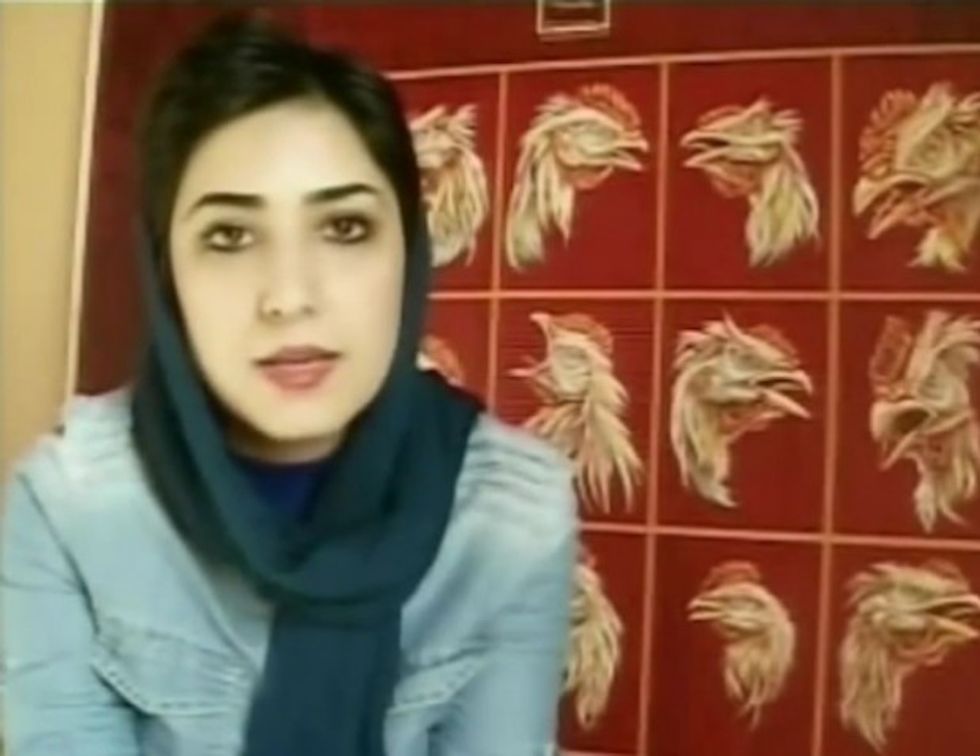 Cartoonist Atena Faraghdani is a political prisoner serving a 12-year prison sentence for a drawing criticizing Iranian lawmakers. (Image source: YouTube)
Iranian human rights activist Shabnam Assadollahi told Jerusalem Online: "The court ruling was delivered to Atena Faraghdani and her lawyer Mr. Moghimi on June 1, 2015. They have only 20 days to appeal the court's decision and as usual regarding the Islamist regime, they arrest the lawyer to have them miss the due date and to stop the appeal application."
Under Islamic religious norms practiced in Iran, there is a strict separation between men and women, who are prohibited from appearing in public with uncovered heads or trousers.
Jerusalem Online noted that the arrest was initially reported by Radio Farda, the Persian-language branch of the U.S. government-funded Radio Free Europe/Radio Liberty.
Faraghdani was initially arrested in August last year after drawing a cartoon depicting Iranian parliament members as animals as they voted for new draft laws which would outlaw vasectomies and restrict contraception, the BBC reported.
A petition calling for the release of both the cartoonist and her attorney asserted that the lawyer is being held at "the notorious Rajai-Shahr Prison in Karaj, where prisoners of conscience are held in truly deplorable conditions."
Faraghdani was reportedly initially held at Evin Prison, known for housing political prisoners.
In a video she posted while out on bail, she described the beatings she was subjected to along with up to nine hours a day of interrogation while she was being held in solitary confinement.
The video led to her being arrested once again.
"Atena Faraghdani embarked on a hunger strike to protest her transfer to the deplorable Gharchak Prison, where political prisoners are not separated from hardened criminals, in violation of the principle of the separation of prisoners," Assadollahi said.
After being moved to the hospital for treatment following her hunger strike, she was moved back to Evin in March, according to various reports.