Francis Thompson has lived the same house in a D.C.-area suburb for nearly four decades, but this after winter he and his wife experienced something like never before.
The house started to shake, and, according to WJLA-TV, Thompson blamed potholes.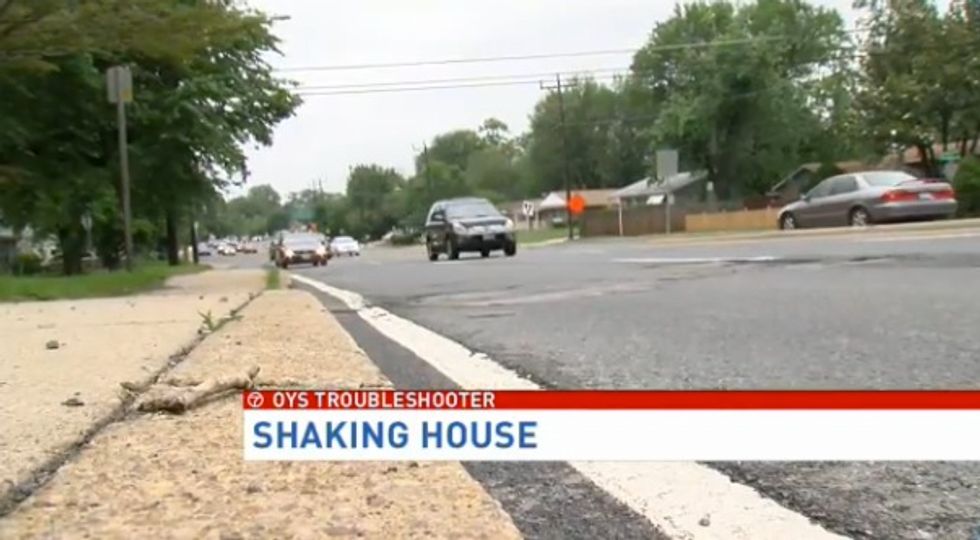 Officials say potholes or rough roads would not cause a house to shake, but since the pavement was smoothed, the homeowners say the shaking stopped. (Image source: WJLA-TV)
It even happened while WJLA reporter Horace Holmes was sitting in the Thompson's living room.
"Did you feel?" the homeowner said, the videographer for the news station then panning down to water glasses with the liquid inside jiggling.
Watch the report:
Though it didn't happened with every vehicle that passed over the potholes in front of his Silver Spring, Maryland, home, Thompson told WJLA city buses and large trucks would trigger the shakes.
"I keep bugging them, you have to do something," Eleanor Thompson, Francis Thompson's wife, told the news station.
After the Thompsons saw a different story by WJLA where "7 On Your Side" helped homeowners in a similar situation get their road fixed, they reached out to the news station. The stretch of pavement in front of the Thompsons home is now pothole-free.
Officials with the Maryland State Highway Administration told WJLA though that vehicles running over potholes would not shake a house.
"There is absolutely no correlation between the roadway patches and the shaking of the houses," David Buck, a spokesman for the administration, told the news station.
Yet, the Thompsons said that since the work was completed, they haven't felt a tremor.
—
Front page image via Shutterstock.