In his first public speech since the death of his son, Vice President Joe Biden tore into skeptics of man-made climate change.
Biden criticized the House Republican budget he said would cut the Energy Department's renewable energy budget by 40 percent.
"As hard as it is to believe, many of these same people continue to deny the reality of climate change," Biden said Tuesday at the White House Clean Energy Investment Summit. "They also deny gravity. But they also deny there is such a thing as climate change. That's the problem. The point is the safety and security of the United States of America and every community across the country."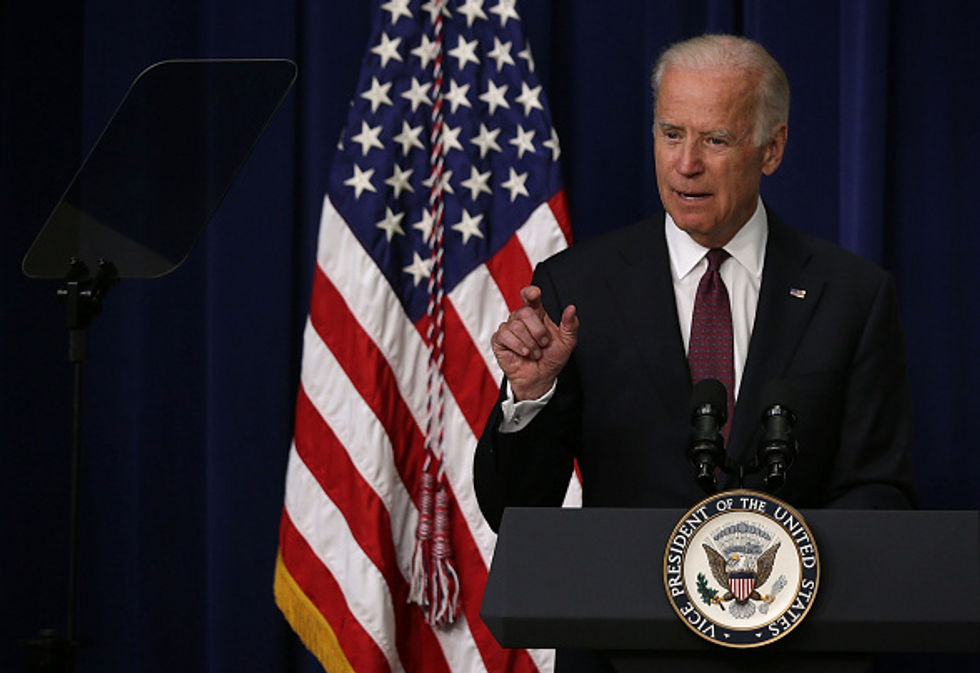 Vice President Joseph Biden speaks during a White House Clean Energy Investment Summit, June 16, 2015 in Washington. The White House held the summit to announce commitments from organizations to fight climate change and new executive actions to encourage private-sector investments in clean energy innovation. (Alex Wong/Getty Images)
"As a consequence of this, many investors are pulling back from early-stage research in clean energy, labs and startups," Biden said. "There has been an 85 percent decline in traditional state early stage venture capital investment in clean energy over the last seven years."
He noted the reports of a leaked Vatican document from Pope France calling for action on climate change and blaming human activity.
"The front page of the Washington Pope – Post," Biden corrected himself and joked. "They sometimes think they are pope."
He read the headline and quoted from the article that said the leaked encyclical said, "The poor of the earth are shouting."
Biden warned the United States was a threshold for taking action.
"This is a critical moment for our country — not only for us but for our children and grandchildren," Biden said.
He later added, "By 2025 we expect to double fuel efficiency to 54.5 miles per gallon—saving American families $1.7 trillion at the pump."