Like many homeowners in California, the Decker's lawn in San Jose is brown. Instead of looking at dead grass for the rest of the summer though, this couple took more than a dozen cans of spray paint and used it as an opportunity to show their patriotism.
Claudia Decker told KPIX-TV that while some people are painting their lawns green amid the state's historic drought, she and her husband took 15 cans of paint and a day to decorate their grass with the image of the American flag.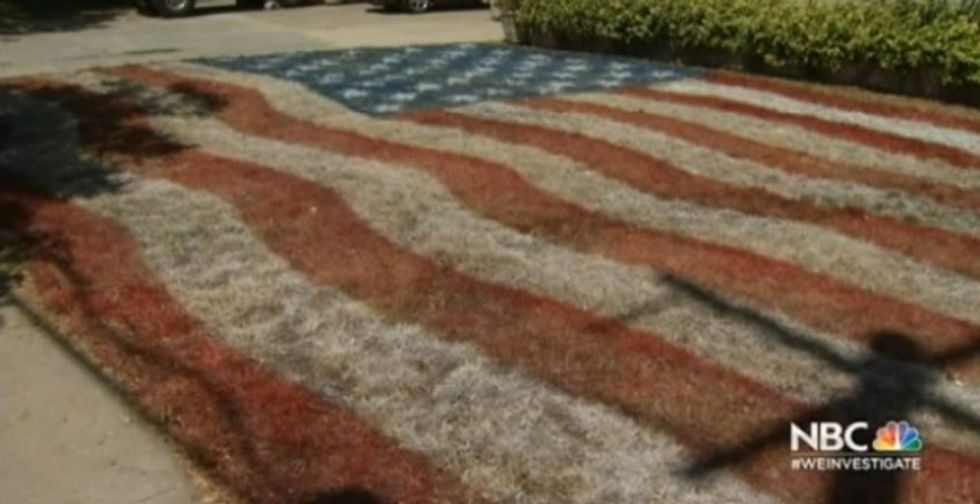 A California couple, inspired by Flag Day, gave their brown lawn a little patriotic color this week. (Image source: KNTV-TV)
"My husband went along and sprayed the edge, and that was it. We measured 21-inches wide, and thirteen stripes," she told the news station.
Dan Decker told KNTV-TV they were inspired to spray on the American flag in honor of Flag Day, which was Sunday, and are thinking about other holiday-themed lawn art they could do in the future.
"I hope everybody enjoys it and maybe the next holiday coming up we'll think about another thing to paint … Maybe a shamrock or two on St. Paddy's Day, but the drought will be over by then," Dan Decker told KNTV.
Watch the news station's report:
Claudia Decker told KPIX neighbors have been asking her and her husband to help them do similar artwork on their lawns.