The Islamic State group has posted a new video purporting to show an executioner hacking off the hand and foot of a captive who was strapped to a cross and then killed.
The four-minute video titled, "Deterring the Spies 1," ended with the barbaric execution and the man's lifeless body hanging from the wooden structure. He was dressed in an orange jumpsuit typical of Islamic State videos.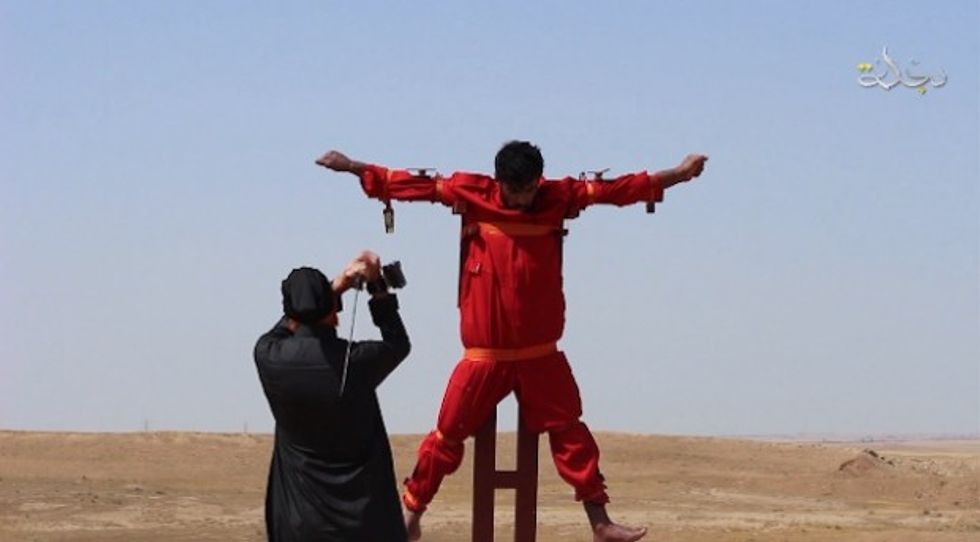 What distinguished this video from others is that the executioner is not masked. (Image source: "Deterring the Spies 1")
TheBlaze is unable to independently authenticate the video, which is reported to have emerged from Iraq. A Middle East expert told Britain's Daily Mail that the man was accused of being a spy.
Aymenn Jawad Al-Tamimi, of the U.S.-based Middle East Forum, told the Daily Mail that a verse of the Koran shown onscreen before the brutal killing explained the design upon which the executioners apparently based their chosen method of execution.
The verse said: "The penalty for those who wage war against Allah and his messenger ... is none but that they be killed or crucified or that their hands and feet be cut off from opposite sides or that they be exiled from the land."
The man's right hand and left foot were hacked first with a sword and then a hunting knife.
Image source: "Deterring the Spies 1"
Contrary to many other Islamic State videos, the executioner appeared without his face masked.
In the beginning of the video, a masked militant describes the man's purported crime of espionage. The prisoner, referred to as "Mahmoud," is then shown being interrogated.
Because the name of the video is "Deterring the Spies 1," the Daily Mail suggested that more execution videos of accused spies were likely to be released by the same group soon.
An Islamic State affiliate in Egypt's Sinai Peninsula last week released a video purporting to show a captive being forced to dig his own grave before being shot in the back of the head.
He was accused of spying for Israel.
(H/T: Daily Mail)