After a beach accident left him paralyzed when he was a sophomore, Frank Haller wasn't sure if he would ever walk again. And yet, on his high school graduation three years later, he took perhaps one of the most important walks of his life.
The 18-year-old surprised his Hylton High School classmates in Va., on June 6 when he stepped out of his wheelchair and steadily walked across the stage in his cap and gown to receive his diploma.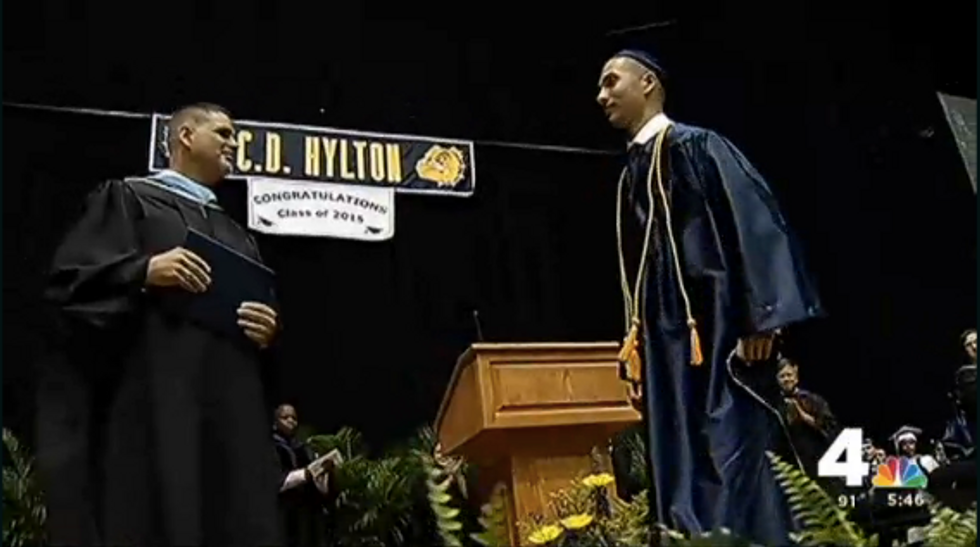 (Image source: WRC-TV)
"It was overwhelming and exciting at the same time," Haller told local Fox affiliate WTTG. "I was trying not to overthink it because I didn't want to fall down and ruin the whole moment. I was just focusing on walking across the stage."
Haller was told by doctors that he only had a 35 percent chance of ever walking again after a fateful accident in Ocean City, Md., in 2012. Then 15, Haller dove into the ocean and slammed his head against the ocean floor, consequently smashing two vertebrae in his spine.
WTTG reported that Haller's next goal is to be able to walk without any kind of assistance, such as the cane he used at the graduation ceremony.