Israeli police are investigating a suspected arson attack that took place early Thursday morning at a Roman Catholic church in Tabgha along the Sea of Galilee traditionally believed to be the site where Jesus miraculously multiplied five loaves and two fish to feed 5,000 people.
Israel's interior minister called the incident at the Church of the Multiplication a "hate crime."
The culprits graffitied a wall, quoting a Jewish prayer translated as: "The idols will be eliminated."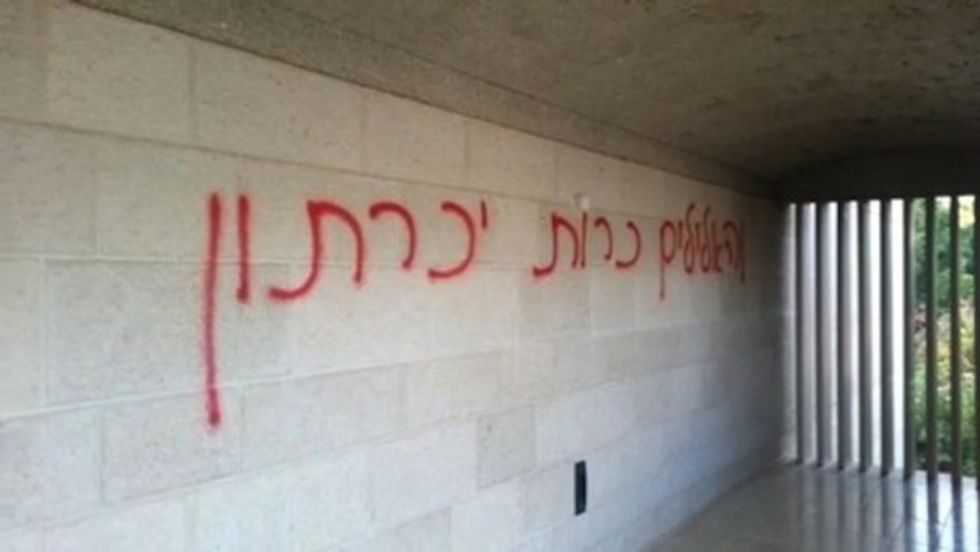 "The idols will be eliminated" was the Hebrew phrase scrawled on the church wall. (Photo: Israel Fire and Rescue Services spokesman)
A police spokesman said two people were treated for minor injuries due to smoke inhalation from the fire, which was set around 4 a.m.
The Israeli website NRG reported that a guest room, prayer room and storage room were damaged.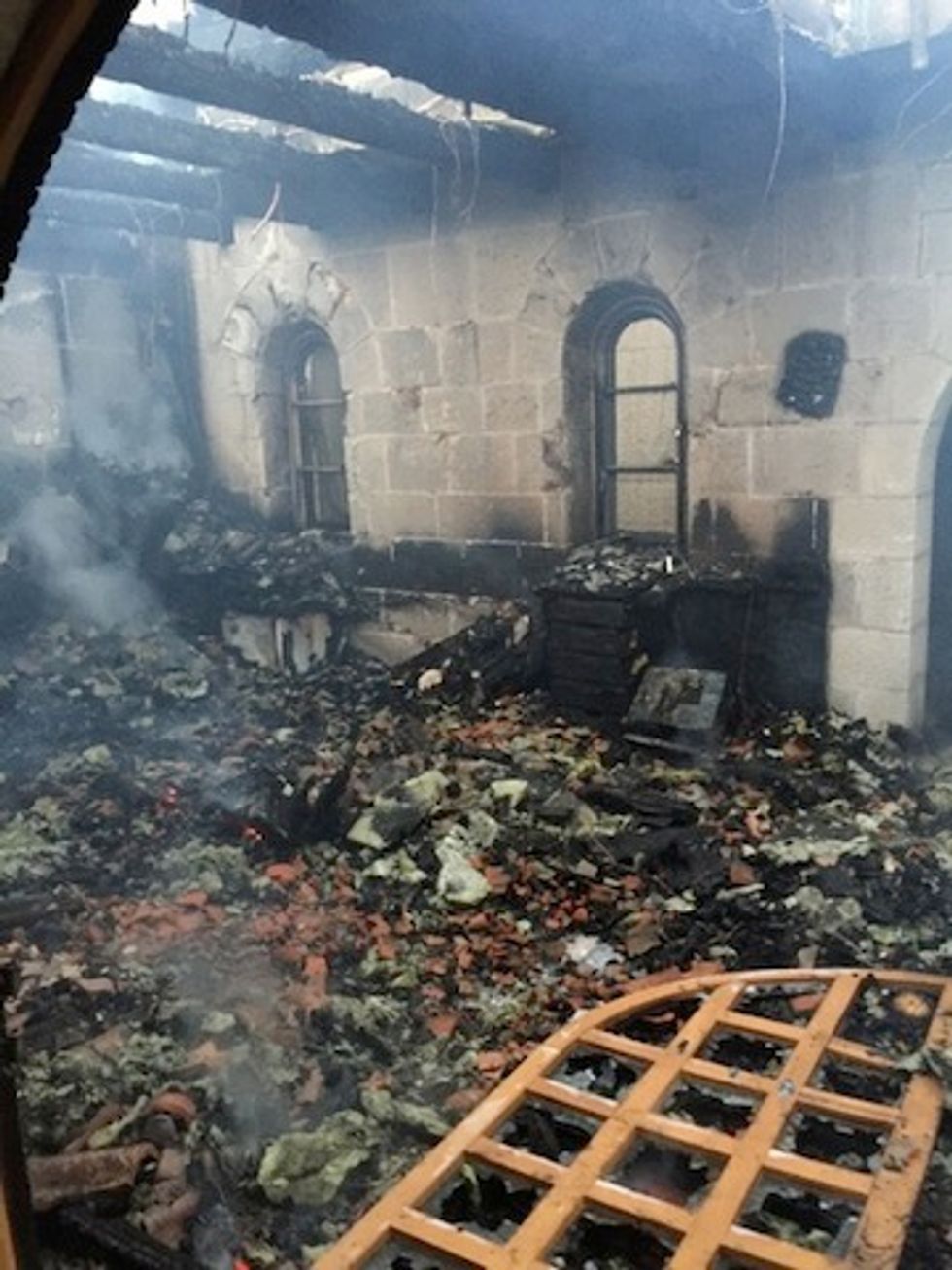 Photo: Israel Fire and Rescue Services spokesman
Chief Superintendent Ran Levi of the Tiberias Police told NRG, "We view this as very serious and we will get to the person who did it."
Police investigating overnight fire at church of the multiplication (Tabgha), Sea of Galilee, Damage caused at scene. pic.twitter.com/HvTGDcMNji

— Micky Rosenfeld (@MickyRosenfeld) June 18, 2015
Army Radio reported that the two treated for smoke inhalation were part of a group of 12 volunteers who were trying to contain the fire.
"We are really at the beginning of the process and we still don't have any leads," Levi said according to the Times of Israel.
Interior Minister Silvan Shalom wrote on Twitter that he called the head of the church, Father Matthias Karl, to voice his sorrow and outrage at the fire, and promised government assistance in rebuilding the church so it could reopen soon.
"A hate crime like this is unbelievable and unacceptable," Shalom said, according to the Times of Israel. "I apologize personally and on behalf of the state for this extremist attack."
"The torching of the church is a cowardly and despicable act which contradicts Israel's basic values," Internal Security Minister Gilad Erdan said in a statement quoted by Reuters.
The head of the Christian IDF Officers Forum reserve Israel Defense Forces Lt. Shadi Halul told Army Radio: "If in this case Jewish zealots are fingered, then, first of all, they clearly don't represent all the Jews. They're criminals who should be in prison and not walking around freely."
"If they think this is how they can help themselves and strengthen their own beliefs then I just want to say it only damages their beliefs and damages their justice, and the justification for their being here in this land," Halul added.
Halul pointed out that because Tabgha is such a widely visited pilgrimage site, the arson conveys to overseas visitors the opposite of religious coexistence that Israel wishes to project.